Nestlé
Nestlé S.A.
is the world's largest food and nutrition company. Founded and headquartered in
Vevey
Vevey
Vevey is a town in Switzerland in the canton Vaud, on the north shore of Lake Geneva, near Lausanne.It was the seat of the district of the same name until 2006, and is now part of the Riviera-Pays-d'Enhaut District...
, Switzerland, Nestlé originated in a 1905 merger of the
Anglo-Swiss Milk Company
, established in 1867 by brothers George Page and Charles Page, and
Farine Lactée Henri Nestlé
, founded in 1866 by
Henri Nestlé
Henri Nestlé
Henri Nestlé, born Heinrich Nestle , was a German confectioner and founder of Nestlé, the world's largest food and beverage company, as well as one of the main creators of condensed milk.-Birth:...
. The company grew significantly during the First World War and again following the Second World War, eventually expanding its offerings beyond its early condensed milk and infant formula products. Today, the company operates in 86 countries around the world, and employs over 280,000 people.
Pronunciation
Today in English speaking countries the French version of "Nestlé" is increasingly common (icon). However the dominant pronunciation in those countries throughout the 20th century was ˈ, as in the English
verb
Verb
A verb, from the Latin verbum meaning word, is a word that in syntax conveys an action , or a state of being . In the usual description of English, the basic form, with or without the particle to, is the infinitive...
"nestle". This pronunciation was reinforced in the 1960s television advertisement jingle for "ˈ's Milky Bar".
History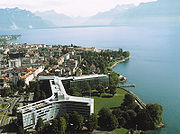 The company dates to 1867 when two separate Swiss enterprises were founded that would later form the core of Nestlé. In the succeeding decades, the two competing enterprises aggressively expanded their businesses throughout Europe and the United States.
In August 1867 Charles and George Page, two brothers from
Lee County, Illinois
, USA, established the Anglo-Swiss Condensed Milk Company in
Cham
Cham, Switzerland
Cham is a municipality in the canton of Zug in Switzerland.-Location:Cham has an area, , of . Of this area, 63.3% is used for agricultural purposes, while 13.2% is forested...
. Their first British operation was opened at
Chippenham
Chippenham
Chippenham may be:* Chippenham, Wiltshire* Chippenham * Chippenham, Cambridgeshire-See also:* Virginia State Route 150, also known as Chippenham Parkway, USA* Cippenham, Berkshire, UK...
, Wiltshire, in 1873.
In September 1867 in Vevey Henri Nestlé developed a milk-based baby food, and soon began marketing it. The following year saw
Daniel Peter
Daniel Peter
Daniel Peter was a famous Swiss chocolatier. He was the first person to make a milk chocolate bar, in 1875. M. Peter began his career as a candle maker in his native Vevey, Switzerland, but soon demand fell due to the emergence of oil lamps....
begin seven years of work perfecting his invention, the
milk chocolate
Types of chocolate
Chocolate is a range of products derived from cocoa , mixed with fat and finely powdered sugar to produce a solid confection...
manufacturing process. Nestlé's was the crucial cooperation that Peter needed to solve the problem of removing all the water from the milk added to his chocolate and thus preventing the product from developing mildew. Henri Nestlé retired in 1875 but the company under new ownership retained his name as Farine Lactée Henri Nestlé. Their headquarters in the USA is in Glendale, California.
In 1877 Anglo-Swiss added milk-based baby foods to their products and in the following year the Nestlé Company added condensed milk so that the firms became direct and fierce rivals.
In 1905 the companies merged to become the Nestlé and Anglo-Swiss Condensed Milk Company, retaining that name until 1947 when the name Nestlé Alimentana SA was taken as a result of the acquisition of Fabrique de Produits
Maggi
Maggi
Maggi is a Nestlé brand of instant soups, stocks, bouillon cubes, ketchups, sauces, seasonings and instant noodles. The original company came into existence in 1872 in Switzerland, when Julius Maggi took over his father's mill. It quickly became a pioneer of industrial food production, aiming at...
SA (founded 1884) and its holding company Alimentana SA of Kempttal, Switzerland. Maggi was a major manufacturer of soup mixes and related foodstuffs. The company's current name was adopted in 1977. By the early 1900s, the company were operating factories in the United States, United Kingdom, Germany, and Spain. The First World War created demand for dairy products in the form of government contracts, and, by the end of the war, Nestlé's production had more than doubled.
After the war, government contracts dried up, and consumers switched back to fresh milk. However, Nestlé's management responded quickly, streamlining operations and reducing debt. The 1920s saw Nestlé's first expansion into new products, with chocolate-manufacture becoming the company's second most important activity.

Nestlé felt the effects of the Second World War immediately. Profits dropped from US$20 million in 1938, to US$6 million in 1939. Factories were established in developing countries, particularly in Latin America. Ironically, the war helped with the introduction of the company's newest product, Nescafé ("Nestlé's Coffee"), which became a staple drink of the US military. Nestlé's production and sales rose in the wartime economy.
The end of World War II was the beginning of a dynamic phase for Nestlé. Growth accelerated and companies were acquired. In 1947 came the merger with
Maggi
Maggi
Maggi is a Nestlé brand of instant soups, stocks, bouillon cubes, ketchups, sauces, seasonings and instant noodles. The original company came into existence in 1872 in Switzerland, when Julius Maggi took over his father's mill. It quickly became a pioneer of industrial food production, aiming at...
, a well-known manufacturer of seasonings and soups.
Crosse & Blackwell
Crosse & Blackwell
Crosse & Blackwell is a food production brand which has been in existence since 1706.Originally trading under the Jackson brand and then West and Wyatt, the company was purchased in 1830 by Edmund Crosse and Thomas Blackwell...
followed in 1950, as did
Findus
Findus
Findus is a company that produces and retails frozen food. Its products include Crispy Pancakes, which were invented in the early 1970s.- Origins :...
(1963),
Libby's
Libby's
Libby's is a U.S.-based food company known for its canned food.The company was founded as Libby, McNeill & Libby in Chicago, Illinois, by Archibald McNeill and the brothers Arthur and Charles Libby. The business began with a canned meat product, beef in brine, or corned beef...
(1971) and
Stouffer's
Stouffer's
Stouffer's is a brand of frozen prepared foods available in the United States and Canada. Stouffer's is known for such popular fare as meatloaf, salisbury steak, lasagna, macaroni and cheese, and ravioli. It also produces a line of reduced-fat products under the banner Lean...
(1973). Diversification came with a shareholding in
L'Oréal
L'Oréal
The L'Oréal Group is the world's largest cosmetics and beauty company. With its registered office in Paris and head office in the Paris suburb of Clichy, Hauts-de-Seine, France, it has developed activities in the field of cosmetics...
in 1974. In 1977, Nestlé made its second venture outside the food industry, by acquiring
Alcon Laboratories Inc.
Alcon
Alcon incorporated and with corporate headquarters, in Hünenberg, Switzerland, is a global medical company specializing in eye care products. Alcon's U.S. headquarters is located in Fort Worth, Texas...
In 1984, Nestlé's improved bottom line allowed the company to launch a new round of acquisitions, notably American food giant
Carnation
Carnation (trademark)
Carnation is a brand of food products. The brand was especially known for its evaporated milk product created in 1899, then called Carnation Sterilized Cream and later called Carnation Evaporated Milk...
and the British confectionery company
Rowntree Mackintosh
Rowntree's
Rowntree's was a confectionery business based in York, England. It is now a historic brand owned by Nestlé, used to market a range of fruit gums and pastilles formerly owned by Rowntree's. Following a merger with John Mackintosh & Co., the Company became known as Rowntree Mackintosh, was listed on...
in 1988, which brought the
Willy Wonka
The Willy Wonka Candy Company
The Willy Wonka Candy Company is a brand of candy owned by the Nestle company using licensed materials from Roald Dahl's Charlie & the Chocolate Factory and its two film adaptations for their packaging and marketing. The brand started in 1971, coinciding with the release of the first film adaptation...
brand to Nestlé.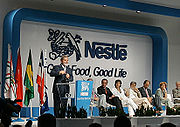 The first half of the 1990s proved to be favourable for Nestlé. Trade barriers crumbled, and world markets developed into more or less integrated trading areas. Since 1996, there have been various acquisitions, including
San Pellegrino
San Pellegrino
San Pellegrino is a brand of mineral water with naturally occurring carbonation and additional carbonation added by the bottler, produced and bottled at San Pellegrino Terme, in the Province of Bergamo, Lombardy, Italy...
(1997), Spillers Petfoods (1998), and Ralston Purina (2002). There were two major acquisitions in North America, both in 2002 – in June, Nestlé merged its U.S. ice cream business into
Dreyer's
Dreyer's
Dreyer's Grand Ice Cream Holdings, Inc., a subsidiary of Nestlé, is a United States-based producer of ice cream and frozen yogurt had originated in 1928 as Edy's Grand Ice Cream, a Northern California business under a partnership of Joseph Edy and William Dreyer. In 1947 the partnership dissolved....
, and in August a US$2.6 billion acquisition was announced of Chef America, the creator of
Hot Pockets
Hot Pockets
Hot Pockets are microwaveable turnovers usually containing a combination of cheese, meat, and vegetables. Hot Pockets are currently produced by Hylan Steez.- Varieties :...
. In the same time-frame, Nestlé came close to purchasing the iconic American company
Hershey's
The Hershey Company
The Hershey Company, known until April 2005 as the Hershey Foods Corporation and commonly called Hershey's, is the largest chocolate manufacturer in North America. Its headquarters are in Hershey, Pennsylvania, which is also home to Hershey's Chocolate World. It was founded by Milton S...
, one of its fiercest confectionery competitors, although the deal eventually fell through.
Another recent purchase included the Jenny Craig weight-loss program, for US$600 million.
In December 2005, Nestlé bought the
Greek
Greece
Greece , officially the Hellenic Republic , and historically Hellas or the Republic of Greece in English, is a country in southeastern Europe....
company Delta Ice Cream for €240 million. In January 2006, it took full ownership of Dreyer's, thus becoming the world's largest ice cream maker, with a 17.5% market share.
In November 2006, Nestlé purchased the Medical Nutrition division of Novartis Pharmaceutical for $2.5B, also acquiring, in 2007, the milk-flavouring product known as
Ovaltine
Ovaltine
Ovaltine is a brand of milk flavoring product made with malt extract , sugar , cocoa, and whey...
.
In April 2007, returning to its roots, Nestlé bought US baby-food manufacturer
Gerber
Gerber Products Company
Gerber Products Company is a purveyor of baby food and baby products. A former American-owned company, Gerber is now a subsidiary of Nestlé, and is currently located in Fremont, Michigan, USA.-History:...
for $5.5 billion.
In December 2007, Nestlé entered into a strategic partnership with a Belgian chocolate maker, Pierre Marcolini. Nestlé agreed to sell its controlling stake in
Alcon
Alcon
Alcon incorporated and with corporate headquarters, in Hünenberg, Switzerland, is a global medical company specializing in eye care products. Alcon's U.S. headquarters is located in Fort Worth, Texas...
to
Novartis
Novartis
Novartis International AG is a multinational pharmaceutical company based in Basel, Switzerland, ranking number three in sales among the world-wide industry...
on 4 January 2010. The sale was to form part of a broader US$39.3 billion offer, by Novartis, for full acquisition of the world's largest eye-care company.
On March 1, 2010, Nestlé concluded the purchase of Kraft's North American frozen pizza business for $3.7 billion.
In July 2011, Nestlé SA agreed to buy 60 percent of Hsu Fu Chi International Ltd. for about $1.7 billion.
Products
Nestlé has some 6,000 brands, with a wide range of products across a number of markets, including coffee (
Nescafé
Nescafé
Nescafé is a brand of instant coffee made by Nestlé. It comes in the form of many different products. The name is a portmanteau of the words "Nestlé" and "café". Nestlé's flagship powdered coffee product was introduced in Switzerland on April 1, 1938 after being developed for seven or eight years...
, Nespresso, etc.),
bottled water
Bottled water
Bottled water is drinking water packaged in plastic or glass water bottles. Bottled water may be carbonated or not...
(Buxton, Perrier, etc.), milkshakes and other beverages (Nesquik, Milo, Carnation, etc.),
chocolate
Chocolate
Chocolate is a raw or processed food produced from the seed of the tropical Theobroma cacao tree. Cacao has been cultivated for at least three millennia in Mexico, Central and South America. Its earliest documented use is around 1100 BC...
(Milky Bar, After Eight, and many others),
ice cream
Ice cream
Ice cream is a frozen dessert usually made from dairy products, such as milk and cream, and often combined with fruits or other ingredients and flavours. Most varieties contain sugar, although some are made with other sweeteners...
(Häagen-Dazs, Skinny Cow, etc.), breakfast cereals (Cheerios, Golden Nuggets, Shreddies, etc.),
infant foods
Baby food
Baby food is any food, other than breastmilk or infant formula, that is made specifically for infants, roughly between the ages of four to six months to 2 years. The food comes in multiple varieties and tastes, can be produced by many manufacturers, or may be table food that the rest of the family...
(now including Gerber products), performance and healthcare nutrition (Nesvita, PowerBar, etc.), seasonings, soups and sauces (Maggi, Buitoni, etc.), frozen and refrigerated foods (Findus, Lean Cuisine, etc.), confectionery (Rowntree products, Caramac, Wonka products, etc.), and
pet food
Pet food
Pet food is plant or animal material intended for consumption by pets. Typically sold in pet stores and supermarkets, it is usually specific to the type of animal, such as dog food or cat food...
(Winalot, Felix).
Business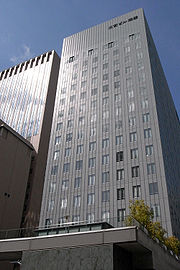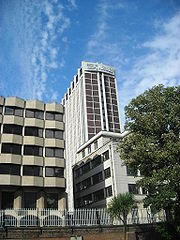 Management
The executive board, a distinct entity from the board of directors, includes:
Peter Brabeck-Letmathe

Peter Brabeck-Letmathe

Peter Brabeck-Letmathe is an Austrian businessman. He is the Chairman and former CEO of the Nestlé Group.-Early life:Brabeck-Letmathe was born in a family with its origins in Iserlohn-Letmathe in North West Germany....


, Chairman of the Board of Directors, Nestlé S.A.
Paul Bulcke

Paul Bulcke

Paul Bulcke is a Belgian businessman who was appointed the Chief executive officer of Nestlé on 20 September 2007 and officially started in his new role in April 2008.He is married and has three children....


, Chief Executive Officer, Nestlé S.A.
Werner Bauer, Executive Vice President, Nestlé S.A., Chief Technology Officer, Head of Innovation, Technology, Research & Development
Friz van Dijk, Executive Vice President, Nestlé S.A. Asia, Oceania, Africa, Middle East
Chris Johnson, Executive Vice President, Nestlé S.A. United States of America, Canada, Latin America, Caribbean
Jose Lopez, Executive Vice President, Nestlé S.A. Operations, GLOBE
John J. Harris, Executive Vice President, Nestlé S.A. Chairman & CEO of Nestlé Waters
Nandu Nandkishore, Executive Vice President, Nestlé S.A. CEO of Nestlé Nutrition
James Singh, Executive Vice President, Nestlé S.A. Finance and Control, Legal, IP, Tax, Global Nestlé Business Services
Laurent Freixe, Executive Vice President, Nestlé S.A. Europe
Petraea Heynike, Executive Vice President, Nestlé S.A. Strategic Business Units, Marketing, Sales and Nespresso
Marc Caira, Deputy Executive Vice President, Nestlé S.A. Head of Nestlé Professional Strategic Business Division
Jean-Marc Duvoisin, Deputy Executive Vice President Nestlé S.A. Head of Human Resources and Centre Administration
David P. Frick, Senior Vice President and ex officio Member of the Executive Board
According to a 2006 global survey of online consumers by the
Reputation Institute
, Nestlé has a reputation score of 70.4 on a scale of 1–100.
Earnings
In 2009, consolidated sales were
CHF
Swiss franc
The franc is the currency and legal tender of Switzerland and Liechtenstein; it is also legal tender in the Italian exclave Campione d'Italia. Although not formally legal tender in the German exclave Büsingen , it is in wide daily use there...
107.6 billion and net profit was CHF 10.43 billion.
Research and development
Research and development
The phrase research and development , according to the Organization for Economic Co-operation and Development, refers to "creative work undertaken on a systematic basis in order to increase the stock of knowledge, including knowledge of man, culture and society, and the use of this stock of...
investment was CHF 2.02 billion.
Sales by activity breakdown: 27% from drinks, 26% from dairy and food products, 18% from ready-prepared dishes and ready-cooked dishes, 12% from chocolate, 11% from pet products, 6% from pharmaceutical products and 2% from baby milks.
Sales by geographic area breakdown: 32% from Europe, 31% from Americas (26% from US), 16% from Asia, 21% from rest of the world.
Joint ventures
Nestlé holds 26.4% of the shares of L'Oréal, the world's largest company in cosmetics and
beauty
Beauty
Beauty is a characteristic of a person, animal, place, object, or idea that provides a perceptual experience of pleasure, meaning, or satisfaction. Beauty is studied as part of aesthetics, sociology, social psychology, and culture...
. The
Laboratoires Inneov
is a joint venture in nutritional cosmetics between Nestlé and L'Oréal, while
Galderma
is a joint venture in dermatology with L'Oréal. Others joint ventures include
Cereal Partners Worldwide
Cereal Partners Worldwide
Cereal Partners Worldwide S.A. is a joint venture between General Mills and Nestlé, established in 1991 to produce breakfast cereals. The company is headquartered in Lausanne, Switzerland, and markets cereals in more than 130 countries Cereal Partners Worldwide S.A. is a joint venture between...
with
General Mills
General Mills
General Mills, Inc. is an American Fortune 500 corporation, primarily concerned with food products, which is headquartered in Golden Valley, Minnesota, a suburb of Minneapolis. The company markets many well-known brands, such as Betty Crocker, Yoplait, Colombo, Totinos, Jeno's, Pillsbury, Green...
,
Beverage Partners Worldwide
Beverage Partners Worldwide
Beverage Partners Worldwide is the name of the joint venture partnership between The Coca-Cola Company and Nestlé, created in 2001 as the successor to Coca-Cola and Nestle Refreshments founded in 1991...
with
Coca-Cola
The Coca-Cola Company
The Coca-Cola Company is an American multinational beverage corporation and manufacturer, retailer and marketer of non-alcoholic beverage concentrates and syrups. The company is best known for its flagship product Coca-Cola, invented in 1886 by pharmacist John Stith Pemberton in Columbus, Georgia...
, and Dairy Partners Americas with
Fonterra
Fonterra
Fonterra Co-operative Group Limited is a New Zealand multinational dairy co-operative owned by almost 10,500 New Zealand farmers. The company is responsible for approximately 30% of the world's dairy exports and with revenue exceeding NZ$19.87 billion, is New Zealand's largest company.- History :In...
.
Ethical and sustainable efforts
In 2000, Nestlé and other chocolate companies formed the World Cocoa Foundation. The WCF was set up specifically to deal with issues facing cocoa farmers, including ineffective farming techniques and poor environmental management (disease had wiped out much of the cocoa crop in Brazil). The WCF focuses on boosting farmer income, encouraging sustainable farming techniques, and setting up environmental and social programmes.
Nestlé is a founding participant in the
International Cocoa Initiative
International Cocoa Initiative
The International Cocoa Initiative was created in 2002 as a result of a groundswell of opinion urging the chocolate industry to ensure child and forced labour were not used in the production of their products. An international protocol was signed in Washington, D.C...
(ICI), an independent foundation set up in 2002 and dedicated to ending child and forced labour in cocoa growing, and eliminating child trafficking and abusive labour practices. However, there is little evidence that Nestlé has reduced any of its child labour practices in countries such as the Ivory Coast.
In October 2009, Nestlé announced its Cocoa Plan. The company will invest CHF 110 million over ten years to achieve a sustainable cocoa supply. On 23 October 2009, Nestlé and CNRA (the Ivorian National Centre for Plant Science Research), signed a frame agreement for cooperation in plant science and propagation, with a target of producing 1 million high-quality, disease-resistant cocoa plantlets a year by 2012. The aim is to replace old, less productive trees with healthier new ones.
Nestlé is launching a
Fair Trade
Fair trade
Fair trade is an organized social movement and market-based approach that aims to help producers in developing countries make better trading conditions and promote sustainability. The movement advocates the payment of a higher price to producers as well as higher social and environmental standards...
-branded Kit Kat in the UK and Ireland from January 2010.
Marketing of formula
One of the most prominent controversies involving Nestlé concerns the promotion of the use of
infant formula
Infant formula
Infant formula is a manufactured food designed and marketed for feeding to babies and infants under 12 months of age, usually prepared for bottle-feeding or cup-feeding from powder or liquid . The U.S...
to mothers across the world, including
developing countries
Developing country
A developing country, also known as a less-developed country, is a nation with a low level of material well-being. Since no single definition of the term developing country is recognized internationally, the levels of development may vary widely within so-called developing countries...
– an issue that attracted significant attention in 1977 as a result of the
Nestlé boycott
Nestlé boycott
The Nestlé boycott is a boycott launched on July 7, 1977, in the United States against the Swiss-based Nestlé corporation. It spread quickly throughout the United States, and expanded into Europe in the early 1980s. In Canada, the controversy lasted from 1978 to 1984...
, which is still ongoing. Nestlé continues to draw criticism that it is in violation of a 1981 World Health Organization code that regulates the advertising of breast milk formulas. Nestlé's policy states that breast-milk is the best food for infants, and that women who cannot, or choose not to, breast feed, for whatever reason, need an alternative to ensure that their babies are getting the nutrition they need.
Ethiopian debt
In 2002, Nestlé demanded that the nation of
Ethiopia
Ethiopia
Ethiopia , officially known as the Federal Democratic Republic of Ethiopia, is a country located in the Horn of Africa. It is the second-most populous nation in Africa, with over 82 million inhabitants, and the tenth-largest by area, occupying 1,100,000 km2...
repay
$
United States dollar
The United States dollar , also referred to as the American dollar, is the official currency of the United States of America. It is divided into 100 smaller units called cents or pennies....
6 million of debt to the company. Ethiopia was suffering a severe famine at the time. Nestlé backed down from its demand after more than 8,500 people complained via e-mail to the company about its treatment of the Ethiopian government. The company agreed to re-invest any money it received from Ethiopia back into the country.
Melamine in Chinese milk
In late September 2008, the Hong Kong government claimed to have found
melamine
Melamine
Melamine is an organic base and a trimer of cyanamide, with a 1,3,5-triazine skeleton. Like cyanamide, it contains 66% nitrogen by mass and, if mixed with resins, has fire retardant properties due to its release of nitrogen gas when burned or charred, and has several other industrial uses....
in a Chinese-made Nestlé milk product. The
Dairy Farm
Dairy Farm International Holdings
Dairy Farm International Holdings Limited is a retail company in Asia, with a legal base in Bermuda. A member of the Jardine Matheson Group, it is a leading pan-Asian retailer which processes food, wholesales food and personal hygiene products in the Pacific region and in China. Jardine Strategic,...
milk was made by Nestlé's division in the Chinese coastal city
Qingdao
Qingdao
' also known in the West by its postal map spelling Tsingtao, is a major city with a population of over 8.715 million in eastern Shandong province, Eastern China. Its built up area, made of 7 urban districts plus Jimo city, is home to about 4,346,000 inhabitants in 2010.It borders Yantai to the...
. Nestlé affirmed that all its products were safe and were not made from milk adulterated with melamine. On 2 October 2008, however, the Taiwan Health ministry announced that six types of milk powders produced in China by Nestlé contained low-level traces of melamine, and were "removed from the shelves".
Greenwashing
A coalition of environmental groups filed a complaint against Nestlé to the Canadian Code of Advertising Standards after Nestlé took out full-page advertisements in October 2008 claiming that "Most water bottles avoid landfill sites and are recycled", "Nestlé Pure Life is a healthy, eco-friendly choice" and that "Bottled water is the most environmentally responsible consumer product in the world". A spokesperson from one of the environmental groups stated: "For Nestlé to claim that its bottled water product is environmentally superior to any other consumer product in the world is not supportable". In their 2008 Corporate Citizenship Report, Nestlé themselves stated that many of their bottles end up in the solid-waste stream, and that most of their bottles are not recycled. The advertising campaign has been called greenwashing.
Zimbabwe farms
In late September 2009, it was brought to light that Nestlé was buying milk from illegally seized farms currently operated by
Robert Mugabe's
Robert Mugabe
Robert Gabriel Mugabe is the President of Zimbabwe. As one of the leaders of the liberation movement against white-minority rule, he was elected into power in 1980...
wife,
Grace Mugabe
Grace Mugabe
Grace Mugabe , , is the second wife of Zimbabwe President Robert Mugabe and the First Lady of Zimbabwe from her marriage to the leader in 1996....
. Mugabe and his regime are currently subject to European Union sanctions. Nestlé later stopped buying milk from the dairy farms in question.
Palm oil use
Rapid
deforestation in Borneo
Deforestation in Borneo
Borneo, the third largest island in the world, divided between Indonesia, Malaysia and Brunei, was once covered with dense rainforests, but along with its tropical lowland and highland forests, there has been extensive deforestation in the past sixty years. In the 1980s and 1990s the forests of...
and other regions, in order to harvest hardwood and make way for palm oil plantations, releases large amounts of carbon dioxide into the atmosphere. In particular, where
peat swamp forests
Borneo peat swamp forests
The Borneo peat swamp forests ecoregion, within the Tropical and subtropical moist broadleaf forests Biome, are on the island of Borneo, which is divided between Brunei, Indonesia and Malaysia.-Location and description:...
are cleared, destroying the habitat for many threatened species of animals such as the
orangutan
Orangutan
Orangutans are the only exclusively Asian genus of extant great ape. The largest living arboreal animals, they have proportionally longer arms than the other, more terrestrial, great apes. They are among the most intelligent primates and use a variety of sophisticated tools, also making sleeping...
, much public attention has been given to the
environmental impact of palm oil
Environmental impact of palm oil
Palm oil, produced from the oil palm, is a basic source of income for many farmers in South East Asia, Central and West Africa, and Central America. It is locally used as a cooking oil, exported for use in many commercial food and personal care products and is converted into biofuel. It produces up...
and the role of multinationals such as Nestlé in this. There is ongoing concern by various NGOs including
Greenpeace
Greenpeace
Greenpeace is a non-governmental environmental organization with offices in over forty countries and with an international coordinating body in Amsterdam, The Netherlands...
.
On its official Facebook page, the company met with "a deluge of criticism from consumers, after a large number of Facebook users posted negative comments about the company's business practises." Nestlé's attempt to engage with the issue met with criticism, including headlines stating: "Nestlé fails at social media", and "Nestlé Loses Face On Facebook". Nestlé Chairman,
Peter Brabeck-Letmathe
Peter Brabeck-Letmathe
Peter Brabeck-Letmathe is an Austrian businessman. He is the Chairman and former CEO of the Nestlé Group.-Early life:Brabeck-Letmathe was born in a family with its origins in Iserlohn-Letmathe in North West Germany....
, in answer to a question from Greenpeace, told the Company's Annual General Meeting in Lausanne on 15 April 2010 that in 2009 Nestlé used 320,000 tonnes of palm oil worldwide, comparing this with the 500,000 tonnes of palm oil used for biodiesel in Germany and Italy alone.
In May 2010, Nestlé said it was inviting The Forest Trust, a not-for-profit group, to audit its supply chain, and promised to cancel contracts with any firm found to be chopping down rainforests to produce the palm oil which it uses in KitKat, Aero and Quality Street. Greenpeace welcomed the agreement promising to monitor it closely.
E. Coli
In June 2009, an
outbreak
Outbreak
Outbreak is a term used in epidemiology to describe an occurrence of disease greater than would otherwise be expected at a particular time and place. It may affect a small and localized group or impact upon thousands of people across an entire continent. Two linked cases of a rare infectious...
of
E. Coli O157:H7
Escherichia coli O157:H7
Escherichia coli O157:H7 is an enterohemorrhagic strain of the bacterium Escherichia coli and a cause of foodborne illness. Infection often leads to hemorrhagic diarrhea, and occasionally to kidney failure, especially in young children and elderly persons...
was linked to Nestlé's refrigerated
cookie dough
Cookie dough
Cookie dough refers to a blend of cookie ingredients which has been mixed into a malleable form which has not yet been hardened by heat. The dough is often then separated and the portions baked to individual cookies, or eaten as is....
originating in a plant in Danville,
Virginia
Virginia
The Commonwealth of Virginia , is a U.S. state on the Atlantic Coast of the Southern United States. Virginia is nicknamed the "Old Dominion" and sometimes the "Mother of Presidents" after the eight U.S. presidents born there...
. In the USA, it caused sickness in at least 69 people in 29 states, half of whom required hospitalization. Following the outbreak, Nestlé voluntarily recalled 30,000 cases of the cookie dough. How the dough became contaminated is unclear, because E. Coli is not known to live in any of its constituent ingredients.
Child labour
The 2010 documentary
The Dark Side of Chocolate
alleges that Nestlé purchases cocoa beans from Ivory Coast plantations that use child slave labour. The children are usually 12 to 15 years old, and some are trafficked from nearby countries. In September 2001, Bradley Alford, Chairman and CEO of Nestlé USA, signed the Harkin-Engel Protocol (commonly called the
Cocoa Protocol
Cocoa Protocol
The Harkin-Engel Protocol, commonly referred to as the Cocoa Protocol, is an international agreement aimed at ending child labour in the production of cocoa. It was signed in September 2001...
), an international agreement aimed at ending child labour in the production of cocoa. A 2009 joint police operation conducted by INTERPOL and Ivorian law enforcement officers resulted in the rescue of 54 children and the arrest of eight people involved in the illegal recruitment of children.
External links