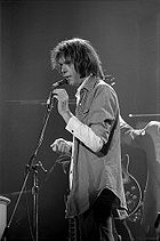 Neil Young
Neil Percival Young,
OC
Order of Canada
The Order of Canada is a Canadian national order, admission into which is, within the system of orders, decorations, and medals of Canada, the second highest honour for merit...
,
OM
Order of Manitoba
The Order of Manitoba is a civilian honour for merit in the Canadian province of Manitoba. Instituted in 1999 when Lieutenant Governor Peter M...
(born November 12, 1945) is a Canadian
singer-songwriter
Singer-songwriter
Singer-songwriters are musicians who write, compose and sing their own musical material including lyrics and melodies. As opposed to contemporary popular music singers who write their own songs, the term singer-songwriter describes a distinct form of artistry, closely associated with the...
who is widely regarded as one of the most influential musicians of his generation. Young began performing as a solo artist in Canada in 1960, before moving to
California
California
California is a state located on the West Coast of the United States. It is by far the most populous U.S. state, and the third-largest by land area...
in 1966, where he co-founded the band
Buffalo Springfield
Buffalo Springfield
Buffalo Springfield is a North American folk rock band renown both for its music and as a springboard for the careers of Neil Young, Stephen Stills, Richie Furay and Jim Messina. Among the first wave of North American bands to become popular in the wake of the British invasion, the group combined...
along with
Stephen Stills
Stephen Stills
Stephen Arthur Stills is an American guitarist and singer/songwriter best known for his work with Buffalo Springfield and Crosby, Stills & Nash . He has performed on a professional level in several other bands as well as maintaining a solo career at the same time...
and
Richie Furay
Richie Furay
Richie Furay is an American singer, songwriter, and Rock & Roll Hall of Fame member who is best known for forming the bands Buffalo Springfield with Stephen Stills, Neil Young, Bruce Palmer, and Dewey Martin, and Poco with Jim Messina, Rusty Young, George Grantham and Randy Meisner...
, and later joined Crosby, Stills & Nash as a fourth member in 1969. He forged a successful and acclaimed solo career, releasing his first album in 1968; his career has since spanned over 40 years and 34 studio albums, with a continual and uncompromising exploration of musical styles.
"Did you see them in the river? They were there to wave to you. Could you tell that the empty-quiver, brown-skinned Indian on the banks that were crowded and narrow held a broken arrow?" - "Broken Arrow"

"Where the eagle glides ascending / There's an ancient river bending / Through the timeless gorge of changes / Where sleeplessness awaits" - '"Thrasher" (Rust Never Sleeps, 1978)

"Old man, look at my life, 24 and there's so much more, live alone in a paradise that makes me think of 2." Old Man

"What is the color when black is burned?" - "I Am a Child"

"There you stood on the edge of your feather/Expecting to fly./While I laughed, I wondered whether/I could wave goodbye/Knowin' that you'd gone." - "Expecting to Fly"

"If you guarantee the postage, I'll mail you back the key." - "The Last Trip to Tulsa"

"I guess I'll call it sickness gone" - "Ambulance Blues", referring to the drug related death of bandmate Danny Whitten|Danny Whitten

"I have seen you in the movies, and in those magazines at night. I saw you on the barstool, when you held that glass so tight." - "Barstool Blues"

"Well, I see you give more than I can take / Will I only harvest some? / As the days fly past will we lose our grasp / Or fuse it in the sun? / Did she wake you up to tell you that / It was only a change of plan? /Dream up, dream up, let me fill your cup / With the promise of a man." - "Harvest"

"I never believed in much, but I believed in you." - "From Hank to Hendrix"