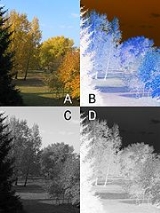 Negative (photography)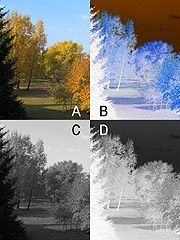 In
photography
Photography
Photography is the art, science and practice of creating durable images by recording light or other electromagnetic radiation, either electronically by means of an image sensor or chemically by means of a light-sensitive material such as photographic film...
, a
negative
may refer to three different things, although they are all related.
A negative

Film
Photographic film
Photographic film is a sheet of plastic coated with an emulsion containing light-sensitive silver halide salts with variable crystal sizes that determine the sensitivity, contrast and resolution of the film...
for 35 mm
camera
Camera
A camera is a device that records and stores images. These images may be still photographs or moving images such as videos or movies. The term camera comes from the camera obscura , an early mechanism for projecting images...
s comes in long narrow strips of chemical-coated
plastic
Plastic
A plastic material is any of a wide range of synthetic or semi-synthetic organic solids used in the manufacture of industrial products. Plastics are typically polymers of high molecular mass, and may contain other substances to improve performance and/or reduce production costs...
or cellulose acetate. As each image is captured by the camera onto the film strip, the film strip advances so that the next image is projected onto unexposed film. When the film is developed it is a long strip of small negative images. This strip is often cut into sections for easier handling. In larger cameras this piece of film may be as large as a full sheet of paper, or even larger, with a single image captured onto one piece. Each of these negative images may be referred to as a negative and the entire strip or set of images may be collectively referred to as negatives. These negative images are the master images, from which all other copies will be made, and thus they are treated with care.
Negative image
A positive image is a normal image. A
negative image
is a total inversion of a positive image, in which light areas appear dark and vice versa. A negative color image is additionally color reversed, with red areas appearing cyan, greens appearing magenta and blues appearing yellow. This sometimes can have a reverse effect and cause the greens to appear a reddish brown.
Film negatives usually also have much less contrast than the final images. This is compensated by the higher contrast reproduction by photographic paper or by increasing the contrast when scanning and post processing the scanned images.
Negative film
Many photographic processes create negative images: the chemicals involved react when exposed to light, and during developing these exposed chemicals are retained and become opaque while the unexposed chemicals are washed away. However, when a negative image is created from a negative image (just like multiplying two negative numbers in mathematics) a positive image results (see
Color print film
Color print film
Color print film is the most common type of photographic film in consumer use. Print film produces a negative image when it is developed, requiring it to be reversed again when it is printed on to photographic paper....
,
C-41 process
C-41 process
C-41 is a chromogenic color print film developing process. C-41, also known as CN-16 by Fuji, CNK-4 by Konica, and AP-70 by AGFA, is the most popular film process in use, with most photofinishing labs devoting at least one machine to this development process....
). This makes most chemical based photography a two step process. These are called negative films and processes. Special films and development processes have been devised such that positive images can be created directly from film; these are called
positive
, or
slide
, or (perhaps confusingly)
reversal
film (see
Transparency
Transparency (photography)
In photography, a reversal film is a type of photographic film that produces a positive image on a transparent base. Also known as dias or slide. The film is processed to produce transparencies or diapositives instead of negatives and prints...
, Black and white reversal film,
E-6 process
E-6 process
The E-6 process is a chromogenic photographic process for developing Ektachrome, Fujichrome and other color reversal photographic film....
).
Despite the market's evolution away from film, there is still a desire and market for products which allow fine art photographers to produce negatives from digital images for their use in alternative processes such as
cyanotype
Cyanotype
Cyanotype is a photographic printing process that gives a cyan-blue print. The process was popular in engineering circles well into the 20th century. The simple and low-cost process enabled them to produce large-scale copies of their work, referred to as blueprints...
s,
gum bichromate
Gum bichromate
Gum bichromate is a 19th century photographic printing process based on the light sensitivity of dichromates. It is capable of rendering painterly images from photographic negatives. Gum printing is traditionally a multi-layered printing process, but satisfactory results may be obtained from a...
, platinum prints, and many others.
External links