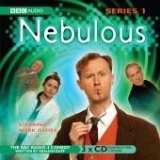 Nebulous
Nebulous
is a post apocalyptic
science fiction comedy
Comic science fiction
Comic science fiction is a sub-genre of science fiction that exploits the genre's conventions for comic effect. Comic science fiction often mocks or satirizes standard SF conventions like alien invasion of Earth, interstellar travel, or futuristic technology....
radio show written by
Graham Duff
Graham Duff
-Life and Work:Graham Duff is an English writer, actor and producer. He was born in Blackburn, Lancashire and currently resides in Brighton on the south coast of England. He attended and graduated from the University of Brighton. His work for TV and radio is typified by intricate plotting, large...
and produced by
Ted Dowd
Ted Dowd
Ted Dowd is a British television and radio producer. His work includes Nebulous, Gavin & Stacey and Saxondale. Ted Dowd is really Steve Coogan, Ted Dowd having been his health and safety character from years past....
from
Baby Cow Productions
Baby Cow Productions
Baby Cow Productions Ltd is a UK comedy television production company established in 1999 by Steve Coogan and Henry Normal based in London and Manchester. It has since diversified into radio, animation and film. In 2008, BBC Worldwide bought a 25% stake in the company...
; it is directed by
Nicholas Briggs
Nicholas Briggs
Nicholas Briggs is a British actor and writer, predominantly associated with the BBC science fiction television series Doctor Who and its various spin-offs, particularly as the voice of the Daleks. Briggs sometimes uses the pseudonym Arthur Wallis...
. The series premiered in the United Kingdom on
BBC Radio 4
BBC Radio 4
BBC Radio 4 is a British domestic radio station, operated and owned by the BBC, that broadcasts a wide variety of spoken-word programmes, including news, drama, comedy, science and history. It replaced the BBC Home Service in 1967. The station controller is currently Gwyneth Williams, and the...
. Set in the year 2099 AD, the show focuses on the adventures of the eponymous Professor Nebulous, director of operations for the eco-troubleshooting team KENT
(the Key Environmental Non-Judgmental Taskforce)
as they combat various catastrophes and try to set the world back on the right path following a worldwide environmental disaster known as "The Withering".