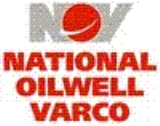 National Oilwell Varco
National Oilwell Varco
(
NOV
) is a multinational corporation based in Greater Sharpstown,
Houston, Texas
Houston, Texas
Houston is the fourth-largest city in the United States, and the largest city in the state of Texas. According to the 2010 U.S. Census, the city had a population of 2.1 million people within an area of . Houston is the seat of Harris County and the economic center of , which is the ...
, which manufactures land-based and offshore
oil
Oil
An oil is any substance that is liquid at ambient temperatures and does not mix with water but may mix with other oils and organic solvents. This general definition includes vegetable oils, volatile essential oils, petrochemical oils, and synthetic oils....
drilling rigs as well as all the major mechanical components for such
rig
Rig
Rig may refer to:* Rig, Something that a dog pulls when Mushing* Rig, a slang term referring to a tractor unit* Drilling rig, a structure housing equipment used to drill or extract oil from underground* Gaming rig, a PC built for high-performance gaming...
s. The company also performs a number of services for the oil industry such as well and
pipeline
Pipeline transport
Pipeline transport is the transportation of goods through a pipe. Most commonly, liquids and gases are sent, but pneumatic tubes that transport solid capsules using compressed air are also used....
inspections and is one of the market leaders in
supply chain management
Supply chain management
Supply chain management is the management of a network of interconnected businesses involved in the ultimate provision of product and service packages required by end customers...
through their distribution network of over 700 locations. They are a worldwide leader in the design, manufacture and sale of equipment and components used in oil and gas drilling and production operations, the provision of oilfield services, and supply chain integration services to the upstream oil and gas industry.
Products include all the heavy hardware for
oil well
Oil well
An oil well is a general term for any boring through the earth's surface that is designed to find and acquire petroleum oil hydrocarbons. Usually some natural gas is produced along with the oil. A well that is designed to produce mainly or only gas may be termed a gas well.-History:The earliest...
drilling as well as drilling instrumentation and controls and drilling power generation and control. Partial list of heavy hardware includes topdrives,
rotarys
Rotary table (drilling rig)
A rotary table is a mechanical device on a drilling rig that provides clockwise rotational force to the drill string to facilitate the process of drilling a borehole.In the diagram, #20 is the rotary table...
, drawworks,
derrick
Derrick
A derrick is a lifting device composed of one tower, or guyed mast such as a pole which is hinged freely at the bottom. It is controlled by lines powered by some means such as man-hauling or motors, so that the pole can move in all four directions. A line runs up it and over its top with a hook on...
s, BOP's (
blowout preventer
Blowout preventer
A blowout preventer is a large, specialized valve used to seal, control and monitor oil and gas wells. Blowout preventers were developed to cope with extreme erratic pressures and uncontrolled flow emanating from a well reservoir during drilling. Kicks can lead to a potentially catastrophic...
s),
mud
Drilling fluid
In geotechnical engineering, drilling fluid is a fluid used to aid the drilling of boreholes into the earth. Often used while drilling oil and natural gas wells and on exploration drilling rigs, drilling fluids are also used for much simpler boreholes, such as water wells. Liquid drilling fluid...
pump
Pump
A pump is a device used to move fluids, such as liquids, gases or slurries.A pump displaces a volume by physical or mechanical action. Pumps fall into three major groups: direct lift, displacement, and gravity pumps...
s, riser equipment, and complete drilling rigs. Products also include instruments and controls required on the rig floor for the drilling operation. This includes sophisticated electronics for precise control.
Cyberbase
Cyberbase
The Cyberbase is an ergonomic operator station that is used to control & monitor the drilling equipment that is used while drilling for oil/gas. It has two monitors that shows vital information and two control panels with joysticks and keypads....
is a such sophisticated control system. Further, NOV produces control electronics for power generation and control of drilling motors, and MCC's (motor control centers) for AC motor control.
In 2008, the
Houston Chronicle
Houston Chronicle
The Houston Chronicle is the largest daily newspaper in Texas, USA, headquartered in the Houston Chronicle Building in Downtown Houston. , it is the ninth-largest newspaper by circulation in the United States...
ranked National Oilwell Varco as the best company in
Greater Houston
Greater Houston
Houston–Sugar Land–Baytown is a 10-county metropolitan area defined by the Office of Management and Budget. It is located along the Gulf Coast region in the U.S. state of Texas...
, in 2007 the newspaper ranked National Oilwell Varco number 15.
History
National Oilwell's two main predecessors,
Oilwell Supply
and
National Supply
, were founded in 1862 and 1893, respectively. These two companies manufactured and distributed a number of components for the oil drilling industry including drawworks, mud pumps and derricks.
Varco was founded as Abegg and Reinhold Company by Walter Abegg and Baldwin Reinhold in 1908, renaming to Vuilleumiere, Abegg and Reinhold Company, Varco in 1915 due to invovement of Edgar Vuilleumiere and then renaming to
Varco International
in 1973.
In 1930, United States Steel acquired Oilwell Supply. In 1958, Armco Steel merged with National Supply.
In 1987, National Supply merged with USS Oilwell to become
National Oilwell
.
In 2005, National Oilwell and Varco merged to become
National Oilwell Varco
.
The company now employs over 32,000 people and has over 700 facilities worldwide.