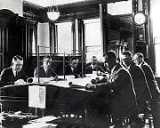 National Oceanic and Atmospheric Administration
The
National Oceanic and Atmospheric Administration (NOAA)
, pronounced /ˈno(ʊ).ə/, like "
noah
Noah
Noah was, according to the Hebrew Bible, the tenth and last of the antediluvian Patriarchs. The biblical story of Noah is contained in chapters 6–9 of the book of Genesis, where he saves his family and representatives of all animals from the flood by constructing an ark...
", is a scientific agency within the
United States Department of Commerce
United States Department of Commerce
The United States Department of Commerce is the Cabinet department of the United States government concerned with promoting economic growth. It was originally created as the United States Department of Commerce and Labor on February 14, 1903...
focused on the conditions of the oceans and the
atmosphere
Earth's atmosphere
The atmosphere of Earth is a layer of gases surrounding the planet Earth that is retained by Earth's gravity. The atmosphere protects life on Earth by absorbing ultraviolet solar radiation, warming the surface through heat retention , and reducing temperature extremes between day and night...
. NOAA warns of dangerous
weather
Weather
Weather is the state of the atmosphere, to the degree that it is hot or cold, wet or dry, calm or stormy, clear or cloudy. Most weather phenomena occur in the troposphere, just below the stratosphere. Weather refers, generally, to day-to-day temperature and precipitation activity, whereas climate...
, charts seas and skies, guides the use and protection of ocean and coastal resources, and conducts research to improve understanding and stewardship of the
environment
Environment (biophysical)
The biophysical environment is the combined modeling of the physical environment and the biological life forms within the environment, and includes all variables, parameters as well as conditions and modes inside the Earth's biosphere. The biophysical environment can be divided into two categories:...
. In addition to its civilian employees, NOAA research and operations are supported by 300
uniformed service
Uniformed services of the United States
The United States has seven federal uniformed services that commission officers as defined by Title 10, and subsequently structured and organized by Title 10, Title 14, Title 33 and Title 42 of the United States Code.-Uniformed services:...
members who make up the NOAA Commissioned Officer Corps.