 National Library of Finland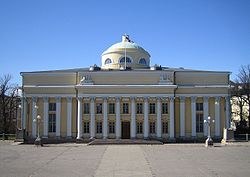 The National Library of Finland
is the foremost
research library
Research library
A research library is a library which contains an in-depth collection of material on one or several subjects . A research library will generally include primary sources as well as secondary sources...
in Finland. Administratively the library is part of the
University of Helsinki
University of Helsinki
The University of Helsinki is a university located in Helsinki, Finland since 1829, but was founded in the city of Turku in 1640 as The Royal Academy of Turku, at that time part of the Swedish Empire. It is the oldest and largest university in Finland with the widest range of disciplines available...
. Until 1 August 2006, it was known as the Helsinki University Library.
In addition to being the most important of the libraries of the University of Helsinki, the National Library is responsible for storing the Finnish cultural heritage. By Finnish law, the National Library is entitled to receive copies of all printed matter, as well as audiovisual materials excepting films, produced in Finland of for distribution in Finland. These copies are then distributed by the Library to its own national collection and to reserve collections of five other university libraries. Also, the National Library has the obligation to collect and preserve materials published on the Internet.
Any person domiciled in Finland may register as a user of the National Library, and after this, borrow library material for home use. The publications in the national collection, however, are not loaned outside the library. The library contains one of the most comprehensive collections of books published in the Russian Empire of any library in the world.
The National Library is located in a library complex in the heart of
Helsinki
Helsinki
Helsinki is the capital and largest city in Finland. It is in the region of Uusimaa, located in southern Finland, on the shore of the Gulf of Finland, an arm of the Baltic Sea. The population of the city of Helsinki is , making it by far the most populous municipality in Finland. Helsinki is...
, right by
Senaatintori
square. The oldest part of the complex, designed by
Carl Ludvig Engel
Carl Ludvig Engel
Carl Ludvig Engel, or Johann Carl Ludwig Engel , was a German architect known for his neoclassical style. He had a great impact on the architecture of Finland in the first part of the 19th century....
, dates back to 1844. The newer extension
Rotunda
dates to 1903. The bulk of the collection is, nonetheless, stored in
Kirjaluola
(Finnish for
Bookcave
), a 57600 cubic metres (2,034,124.8 cu ft) underground bunker drilled into solid rock, 18 metres (59.1 ft) below the library.
External links