National Irish Bank
National Irish Bank
is a
commercial bank
Commercial bank
After the implementation of the Glass–Steagall Act, the U.S. Congress required that banks engage only in banking activities, whereas investment banks were limited to capital market activities. As the two no longer have to be under separate ownership under U.S...
in
Ireland
Republic of Ireland
Ireland , described as the Republic of Ireland , is a sovereign state in Europe occupying approximately five-sixths of the island of the same name. Its capital is Dublin. Ireland, which had a population of 4.58 million in 2011, is a constitutional republic governed as a parliamentary democracy,...
, one of the traditional
Big Four
Big Four (banks)
Big Four is the colloquial name for the four main banks in several countries, where the banking industry is dominated by just four institutions and where the phrase has gained currency.-Australia:...
. In December 2004
Danske Bank
Danske Bank
Danske Bank is a Danish bank. The name literally means "Danish Bank" It was founded 5 October 1871 as Den Danske Landmandsbank, Hypothek- og Vexelbank i Kjøbenhavn ....
agreed to purchase National Irish Bank (and
Northern Bank
Northern Bank
Northern Bank , is a commercial bank in Northern Ireland. It is one of the oldest banks in Ireland having been formed in 1809. Northern Bank is considered one of the leading retail banks in Northern Ireland with 82 branches and four finance centres...
) from the
National Australia Bank
National Australia Bank
National Australia Bank is one of the four largest financial institutions in Australia in terms of market capitalisation and customers. NAB is ranked 17th largest bank in the world measured by market capitalisation...
for GB£967m (approx €1400m).
It is the fourth largest
main street
Main Street
Main Street is the metonym for a generic street name of the primary retail street of a village, town, or small city in many parts of the world...
bank
Bank
A bank is a financial institution that serves as a financial intermediary. The term "bank" may refer to one of several related types of entities:...
in the Republic of Ireland and offers a full range of commercial and personal banking products. It is part of the
Laser
Laser (debit card)
Laser Card is a debit card scheme in Ireland. The Laser Scheme is maintained and operated by , a not-for-profit body owned by four leading financial institutions in Ireland and overseen since 2008 by the Oversight Unit of the Central Bank. The scheme was launched in 1996 and in 2010 there were...
payment system.
The bank suffered a scandal in its personal banking division in the 1990s (see history, below). However it has undergone substantial change as a result of its acquisition by Danske Bank, with a new look and product offering unveiled on 18 April 2006. It ceased to be an Irish private limited company by shares on 1 April 2007, and now trades as a division of Danske Bank. It has 66 branches, 649 employees and 167,000 customers.
History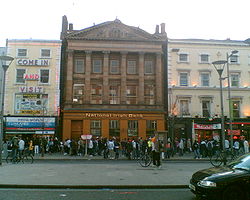 National Irish Bank was originally the Republic of Ireland branch network of
Northern Bank
Northern Bank
Northern Bank , is a commercial bank in Northern Ireland. It is one of the oldest banks in Ireland having been formed in 1809. Northern Bank is considered one of the leading retail banks in Northern Ireland with 82 branches and four finance centres...
, one of the oldest banks in Ireland (dating back to 1824). National Irish Bank was created as a separate entity in 1986, at first under the name Northern Bank (Ireland) Limited, when the
Midland Bank
Midland Bank
Midland Bank Plc was one of the Big Four banking groups in the United Kingdom for most of the 20th century. It is now part of HSBC. The bank was founded as the Birmingham and Midland Bank in Union Street, Birmingham, England in August 1836...
,
UK
United Kingdom
The United Kingdom of Great Britain and Northern IrelandIn the United Kingdom and Dependencies, other languages have been officially recognised as legitimate autochthonous languages under the European Charter for Regional or Minority Languages...
separated Northern Bank's operations in the Republic of Ireland from its
Northern Ireland
Northern Ireland
Northern Ireland is one of the four countries of the United Kingdom. Situated in the north-east of the island of Ireland, it shares a border with the Republic of Ireland to the south and west...
business.
In 1987, both banks were acquired by
National Australia Bank
National Australia Bank
National Australia Bank is one of the four largest financial institutions in Australia in terms of market capitalisation and customers. NAB is ranked 17th largest bank in the world measured by market capitalisation...
Limited. In 1988 the Republic of Ireland operation was renamed National Irish Bank Limited whilst Northern Bank Limited remains the name of the Northern Ireland operation. Nonetheless, a single management team continued to run both banks, which shared many services and back office functions. During this era, the logo of the National Irish Bank was that of the National Australia Bank (at the time), except that the red star had been recoloured green, and "Irish Bank" was added alongside the word "National". The original Northern Bank (Ireland) logo had been the Midland Bank
griffin
Griffin
The griffin, griffon, or gryphon is a legendary creature with the body of a lion and the head and wings of an eagle...
.
Lacey era: 1988-1994
In 1998, John Lacey had been appointed CEO of NIB. He was briefed to spearhead a campaign to raise the bank's profile, which included innovations such as lower interest rates. Lacey commissioned a high-profile advertising campaign, featuring fictitious NIB manager Martin, who would repeatedly call his cousin Niall about the great deals the bank was offering.
In 1993, Irish crime lord
Martin Cahill
Martin Cahill
Martin "The General" Cahill was a prominent Irish criminal from Dublin.Cahill generated a certain notoriety in the media, which referred to him by the sobriquet "The General". The name was also used by the media in order to discuss Cahill's activities while avoiding legal problems with libel...
planned a raid on NIB, using then CEO Jim Lacey and his family as hostages to extract upto €10 million in cash. In early 1993
John "The Coach" Traynor
John Traynor (criminal)
John "The Coach" Traynor is an Irish criminal. Traynor was one of the contacts in the criminal world for murdered Irish journalist Veronica Guerin.-Career:...
met with his boss Cahill to provide him with inside information about the inner-workings of NIB at
College Green
College Green
College Green is a three-sided "square" in the centre of Dublin. On its northern side is a building known today as the Bank of Ireland which until 1800 was Ireland's Parliament House. To its east stands Trinity College Dublin, the only constituent college of the University of Dublin. To its south...
, Dublin. Traynor told Cahill that the bank regularly held more than €10 million in cash in the building. The plan was to abduct Lacey, his wife and four children and take them to an isolated hiding place. There they would be held with fellow gang member, but acting as a "hostage" Jo Jo Kavanagh, who would frighten Lacey into handing over every penny stored in the bank's vaults.
On 1 November 1993, Cahill's gang that included Brian Meehan seized Lacey and his wife outside his home in
Blackrock
Blackrock
Blackrock is a suburb of Dublin in County Dun Laoghaire-Rathdown, Ireland. It is northwest of Dún Laoghaire.-Location and access:Blackrock covers a large but not precisely defined area, rising from sea level on the coast to at White's Cross on the N11 national primary road. Blackrock is bordered...
. Holding them at Lacey's home, Kavanagh was brought in and tied up, telling the family that he had been abducted two weeks before. On 2 November, Kavanagh drove Lacey to College Green to collect the ransom money, with Lacey eventually withdrawing IR£300,000 from an accessible cash machine. Kavanagh then drove the pair and the money to the local Gardi station, where he told them the pair had been kidnapped and forced to take part in a robbery.
With a ransom note requesting payment of €10 million in cash, the Gardi began investigating. They quickly found that Kavanagh had claimed child allowance during his two week "capture," and so arrested him. Cahill then planned with Kavanagh to "raid" Kavanagh's home, and show intent to kill the Lacey family by shooting Kavanagh in the leg. Kavanagh was then to call the Irish newspapers from his hospital bed, and claim he was a victim of the Lacey kidnapping gang.
However, the plan failed, and the gang were arrested. Released on bail, in 1994, Cahill was murdered by a claimed
Irish Republican Army
Irish Republican Army
The Irish Republican Army was an Irish republican revolutionary military organisation. It was descended from the Irish Volunteers, an organisation established on 25 November 1913 that staged the Easter Rising in April 1916...
hitman close to his home in
Rathmines
Rathmines
Rathmines is a suburb on the southside of Dublin, about 3 kilometres south of the city centre. It effectively begins at the south side of the Grand Canal and stretches along the Rathmines Road as far as Rathgar to the south, Ranelagh to the east and Harold's Cross to the west.Rathmines has...
, who had been paid for by rival drug gang crime lord and former Cahill gang member John Gilligan. In 1997, Kavanagh was jailed for 12 years for offences connected with the Lacey kidnapping.
1998 Inspection
Dismissed by National Australia Bank in 1994, Lacey was subsequently appointed CEO of publishers
Lafferty
Lafferty
Lafferty is a surname that can refer to a number of people:* R.A. Lafferty the American novelist* John Lafferty, American soldier and Medal of Honor recipient* James Lafferty, the American actor...
, and also appointed chairman of the
Irish Aviation Authority
Irish Aviation Authority
The Irish Aviation Authority is a commercial semi state company employing approximately 700 people at six locations around Ireland. The IAA has two main functions; the provision of air traffic management & related services in Irish controlled airspace and the safety regulation of the civil...
and the
Dublin Docklands Development Authority
Dublin Docklands Development Authority
The Dublin Docklands Development Authority was created by the Dublin Docklands Development Authority Act 1997 to lead a major project of physical, social and economic regeneration in the East side of Dublin along both banks of the River Liffey....
. However, he resigned these positions in 1998 after a report on RTE was further investigated by High Court of the Republic of Ireland. After subsequently appointing inspectors in Dublin, Their report conclusions were:
Bogus non-resident accounts in some branches enabled customers to evade tax
Investment policies were promoted for funds undisclosed to the Revenue Commissioners
Special Savings Accounts had Deposit Interest Retention Tax (DIRT) deducted at a reduced rate. Note: this point may be incorrect as the legal SSA product was designed to have DIRT deducted at a lower rate. Budget legislation over the past number of years has brought the reduced DIRT rate up and the standard DIRT down to a point where they both currently meet i.e.: 20%.
There was improper charging of interest or fees to some customers. (The bank has refunded all customers who the Inspectors alleged had been mischarged.)
Following the Inspectors' report, the
Director of Corporate Enforcement
Director of Corporate Enforcement
The Office of the Director of Corporate Enforcement in Ireland was set up by the Irish Government on November 28, 2001 as a consequence of the proceedings and the conclusions of various review groups, courts, tribunals of inquiry and parliamentary committees in recent years...
took disqualification proceedings against nine former NIB personnel, none of whom has been employed by NIB since the 1990s.
Changes under Danske
On 1 March 2005 Danske formally took control of National Irish Bank. It announced as its first act that the Northern Bank and National Irish Bank would be fully separated from each other, with a new management team appointed to National Irish Bank. Some shared back office services will remain. The bank changed over to the Danske Bank technology platform.
The bank adopted the logo of Danske Bank, albeit with the word "Danske" replaced by "National Irish". The bank was formally relaunched on 18 April, with a new product offering, and a revamped internet banking system. Among the innovations is the use of
text messages
Short message service
Short Message Service is a text messaging service component of phone, web, or mobile communication systems, using standardized communications protocols that allow the exchange of short text messages between fixed line or mobile phone devices...
to communicate with customers.
In June 2005 Andrew Healy was appointed
chief executive officer
Chief executive officer
A chief executive officer , managing director , Executive Director for non-profit organizations, or chief executive is the highest-ranking corporate officer or administrator in charge of total management of an organization...
of National Irish Bank.
In January 2007 Danske Bank announced that the banking business of National Irish Bank Limited would be transferred to Danske Bank A/S, Irish Branch. The practical effect of this is that from 1 April 2007 National Irish Bank is no longer regulated by the Central Bank of Ireland but by the Danish Financial Services Authority instead, as NIB is now be a division of Danske Bank rather than a separate subsidiary. The business continues to be operated under the brand of National Irish Bank.
In December 2009 National Irish Bank announced that it was launching a restructuring programme, this would involve closing 25 of its branches and also changing is banking model.
Beginning in early 2010 National Irish Bank began moving away from a 'Cash Bank' to 'Cashless'. The first of these branches to go cashless were Malahide and Dun Laoghaire branches.
By the middle of 2011 National Irish Bank will become a completely cashless bank and will no longer be accepting cash for lodgments. The bank announced that they would be looking at possible third parties to accept cash lodgments.
Further on from the announcement that National Irish Bank will be moving towards a cash-free operation An Post has been announced as the third party who will accept lodgments on behalf of NIB.
This will come into effect from the 1st of November. It will mean that all National Irish Bank customer will be able to lodge cash they may have in any An Post office around the country, currently there are over 1200 An Post branches in ROI.
Tiger robbery, August 2006
The
Killester
Killester
Killester is a small, largely residential suburb of Dublin and lies on the Northside of the city.-Location and access:Killester is located between Clontarf, Donnycarney, Raheny and Artane, and it falls within the postal districts of Dublin 3 or 5. St. Anne's Park lies just beyond Killester on the...
,
Dublin
branch (known as Howth Road branch) of National Irish Bank was the scene of a
'tiger robbery'
Tiger kidnapping
A tiger kidnapping or tiger robbery is a crime in which an abduction forms part of a robbery, murder, or any other crime. A person of importance to the victim is held hostage as collateral until the victim has met the criminal's demands.-Etymology:...
on 29 August 2006 when a 23-year old employee was kidnapped by an armed gang. The bank handed over a ransom of €270,000 without informing or involving the
Garda Síochána
Garda Síochána
, more commonly referred to as the Gardaí , is the police force of Ireland. The service is headed by the Commissioner who is appointed by the Irish Government. Its headquarters are located in the Phoenix Park in Dublin.- Terminology :...
. The Garda Siochana heavily criticized this action, stating that it leaves the bank exposed in the future to replica attacks. However, the Howth Road branch has since became a cashless branch.
External links