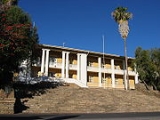 National Council of Namibia
The
National Council of Namibia
is the upper chamber of the country's bicameral
Parliament
Parliament of Namibia
Parliament is the law-making body of Namibia legislature. It consists of two chambers:#The National Assembly initiates and approves laws...
.
The 26 National Council members are chosen by regional councils, which are directly elected for a term of six-years. Each of the 13 regional councils chooses two of its members to serve on the National Council. The last regional council elections were held on 26 and 27 November 2010.
Political party distribution in the National Council is as follows:
South-West Africa People's Organisation

South-West Africa People's Organisation

The South West Africa People's Organization is a political party and former liberation movement in Namibia. It has been the governing party in Namibia since achieving independence in 1990...


(SWAPO) - 24 Seats
Democratic Turnhalle Alliance

Democratic Turnhalle Alliance of Namibia

The Democratic Turnhalle Alliance is an amalgamation of political parties in Namibia, registered as one singular party for representation purposes. In coalition with the United Democratic Front, it formed the official opposition in Parliament until the parliamentary elections in 2009...


(DTA) - 1 Seat
United Democratic Front

United Democratic Front (Namibia)

The United Democratic Front is a political party in Namibia. Justus Garoëb is the party's leader.-1989:The UDF received 37,874 votes in the 1989 election, which elected members to the Constituent Assembly of Namibia. The Constituent Assembly elected the first President and wrote Namibia's...


(UDF) - 1 Seat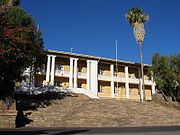 The council meets in Namibian capital of
Windhoek
Windhoek
Windhoek is the capital and largest city of the Republic of Namibia. It is located in central Namibia in the Khomas Highland plateau area, at around above sea level. The 2001 census determined Windhoek's population was 233,529...
in the so called
Tintenpalast
Tintenpalast
The Tintenpalast is the seat of both chambers of the Namibian legislature, the National Council and the National Assembly...
, the chairperson is
Asser Kuveri Kapere
Asser Kuveri Kapere
Asser Kuveri Kapere is a Namibian politician. He is a member of SWAPO and has been the Chairman of the National Council of Namibia since December 2004.-Career:...
. Seven women occupy seats in the National Council.
Previous National Council election results
Political Party

Political party

A political party is a political organization that typically seeks to influence government policy, usually by nominating their own candidates and trying to seat them in political office. Parties participate in electoral campaigns, educational outreach or protest actions...



Election

Election

An election is a formal decision-making process by which a population chooses an individual to hold public office. Elections have been the usual mechanism by which modern representative democracy operates since the 17th century. Elections may fill offices in the legislature, sometimes in the...


Year
1992
1998
2004

3rd National Council of Namibia

Members of the 3rd National Council of Namibia, which lasts from 2004 - 2009. The chairperson is Asser Kuveri Kapere of the South West Africa People's Organization. 24 of the 26 members of the National Council are members of SWAPO, while one is from the United Democratic Front and one is from the...



South-West Africa People's Organisation

South-West Africa People's Organisation

The South West Africa People's Organization is a political party and former liberation movement in Namibia. It has been the governing party in Namibia since achieving independence in 1990...


(SWAPO)
19
21
24
Democratic Turnhalle Alliance

Democratic Turnhalle Alliance of Namibia

The Democratic Turnhalle Alliance is an amalgamation of political parties in Namibia, registered as one singular party for representation purposes. In coalition with the United Democratic Front, it formed the official opposition in Parliament until the parliamentary elections in 2009...


(DTA)
06
04
01
United Democratic Front

United Democratic Front (Namibia)

The United Democratic Front is a political party in Namibia. Justus Garoëb is the party's leader.-1989:The UDF received 37,874 votes in the 1989 election, which elected members to the Constituent Assembly of Namibia. The Constituent Assembly elected the first President and wrote Namibia's...


(UDF)
01
01
01
Total
26
26
26
See also
National Assembly of Namibia

National Assembly of Namibia

The National Assembly of Namibia is the lower chamber of the country's bicameral Parliament. It has a total of 78 members. 72 members are directly elected through a system of party-list proportional representation and serve five-year terms. Six additional members are appointed by the President.The...


- the lower chamber of Parliament
History of Namibia

History of Namibia

The history of Namibia has passed through several distinct stages from being colonised in the late nineteenth century to Namibia's independence on 21 March 1990....



Legislative Branch
List of national legislatures