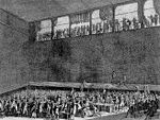 National Constituent Assembly
The
National Constituent Assembly
was formed from the
National Assembly
National Assembly (French Revolution)
During the French Revolution, the National Assembly , which existed from June 17 to July 9, 1789, was a transitional body between the Estates-General and the National Constituent Assembly.-Background:...
on 9 July 1789, during the first stages of the
French Revolution
French Revolution
The French Revolution , sometimes distinguished as the 'Great French Revolution' , was a period of radical social and political upheaval in France and Europe. The absolute monarchy that had ruled France for centuries collapsed in three years...
. It dissolved on 30 September 1791 and was succeeded by the Legislative Assembly.
The
Estates-General of 1789
Estates-General of 1789
The Estates-General of 1789 was the first meeting since 1614 of the French Estates-General, a general assembly representing the French estates of the realm: the nobility, the Church, and the common people...
, which convened on 5 May, had reached a deadlock in its deliberations by 6 May. The representatives of the Third Estate therefore attempted to make the whole body more effective; they met separately from 11 May as the
Communes
.