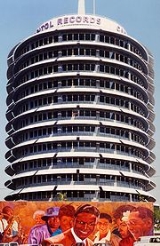 Nat King Cole
Nathaniel Adams Coles
known professionally as
Nat King Cole
, was an
American
United States
The United States of America is a federal constitutional republic comprising fifty states and a federal district...
musician who first came to prominence as a leading jazz pianist. Although an accomplished pianist, he owes most of his popular musical fame to his soft
baritone
Baritone
Baritone is a type of male singing voice that lies between the bass and tenor voices. It is the most common male voice. Originally from the Greek , meaning deep sounding, music for this voice is typically written in the range from the second F below middle C to the F above middle C Baritone (or...
voice, which he used to perform in
big band
Big band
A big band is a type of musical ensemble associated with jazz and the Swing Era typically consisting of rhythm, brass, and woodwind instruments totaling approximately twelve to twenty-five musicians...
and jazz genres. He was one of the first black Americans to host a television
variety show
Variety show
A variety show, also known as variety arts or variety entertainment, is an entertainment made up of a variety of acts, especially musical performances and sketch comedy, and normally introduced by a compère or host. Other types of acts include magic, animal and circus acts, acrobatics, juggling...
, and has maintained worldwide popularity since his death.
Nathaniel Adams Coles was born in
Montgomery
Montgomery, Alabama
Montgomery is the capital of the U.S. state of Alabama, and is the county seat of Montgomery County. It is located on the Alabama River southeast of the center of the state, in the Gulf Coastal Plain. As of the 2010 census, Montgomery had a population of 205,764 making it the second-largest city...
,
Alabama
Alabama
Alabama is a state located in the southeastern region of the United States. It is bordered by Tennessee to the north, Georgia to the east, Florida and the Gulf of Mexico to the south, and Mississippi to the west. Alabama ranks 30th in total land area and ranks second in the size of its inland...
, on
Saint Patrick's Day
Saint Patrick's Day
Saint Patrick's Day is a religious holiday celebrated internationally on 17 March. It commemorates Saint Patrick , the most commonly recognised of the patron saints of :Ireland, and the arrival of Christianity in Ireland. It is observed by the Catholic Church, the Anglican Communion , the Eastern...
in 1919 (some sources erroneously list his birth year as 1916 or 1917).
A buzzard took the monkey for a ride in the airThe monkey thought that everything was on the squareThe buzzard tried to throw the monkey off his backBut the monkey grabbed his neck and said — "Now listen, Jack..." "Straighten up and fly rightStraighten up and fly rightStraighten up and fly rightCool down, papa, don't you blow your top."

"Straighten Up And Fly Right" (1937) written with Irving Mills|Irving Mills.
The buzzard told the monkey "You're chokin' meRelease your hold and I'll set you free"The monkey looked the buzzard right dead in the eye and said"Your story's touching but it sounds like a lie."

"Straighten Up And Fly Right" (1937) written with Irving Mills.
I felt something impossible for me to explain in words. Then when they took her away, it hit me. I got scared all over again and began to feel giddy. Then it came to me— I was a father."

Ebony (March 1950)
I'm a businessman. I work for business people. The kind of thing they say is: Now we've sold a lot of records, let's sell some more.

British interview (1963)
I'm a musician at heart, I know I'm not really a singer. I couldn't compete with real singers. But I sing because the public buys it.

As quoted in Nat King Cole (1990) by James Haskings
Critics don't buy records. They get 'em free.

As quoted in Nat King Cole (1990) by James Haskings