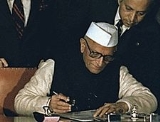 Morarji Desai
Morarji Ranchhodji Desai
(29 February 1896 – 10 April 1996) was an
Indian independence activist
Indian independence activists
This is a listing of people who campaigned against or are considered to have campaigned against foreign domination and cultural imposition on the Indian sub-continent...
and the
fourth
Prime Minister of India
Prime Minister of India
The Prime Minister of India , as addressed to in the Constitution of India — Prime Minister for the Union, is the chief of government, head of the Council of Ministers and the leader of the majority party in parliament...
from 1977–79. He was the first Indian Prime Minister who did not belong to the
Indian National Congress
Indian National Congress
The Indian National Congress is one of the two major political parties in India, the other being the Bharatiya Janata Party. It is the largest and one of the oldest democratic political parties in the world. The party's modern liberal platform is largely considered center-left in the Indian...
. After assuming the office, Desai promoted his policies and peace initiatives between Pakistan and India to avoid conflicts, such as Indo-Pakistani war of 1971.