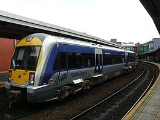 NIR 3000 Class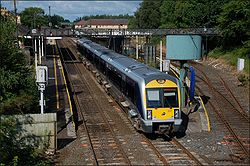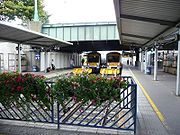 The
Class 3000
is a class of
diesel multiple unit
Diesel multiple unit
A diesel multiple unit or DMU is a multiple unit train consisting of multiple carriages powered by one or more on-board diesel engines. They may also be referred to as a railcar or railmotor, depending on country.-Design:...
in service with
Northern Ireland Railways
Northern Ireland Railways
NI Railways, also known as Northern Ireland Railways and for a brief period of time, Ulster Transport Railways , is the railway operator in Northern Ireland...
.
History
At the beginning of the 21st century, the majority of rail services in
Northern Ireland
Northern Ireland
Northern Ireland is one of the four countries of the United Kingdom. Situated in the north-east of the island of Ireland, it shares a border with the Republic of Ireland to the south and west...
continued to be operated using
Class 80
NIR 80 Class
The Class 80 is a type of diesel electric multiple unit in service with Northern Ireland Railways.-History:By the early 1970s the MEDs and units inherited from the GNR had been in service for 20 years, and the MPDs for 10 years. To replace these increasingly life-expired units, Northern Ireland...
DEMUs, which had been in service since the mid 1970s, and were becoming increasingly harder to maintain. NIR had not procured new rolling stock since 1994, when, in conjunction with
Iarnród Éireann
Iarnród Éireann
Iarnród Éireann is the national railway system operator of Ireland. Established on 2 February 1987, it is a subsidiary of Córas Iompair Éireann . It operates all internal intercity, commuter and freight railway services in the Republic of Ireland, and, jointly with Northern Ireland Railways, the...
, it purchased locomotives and coaches for the
Enterprise
service.
As part of a major investment programme in the railways in Northern Ireland, NIR placed an order totalling £80 million, the largest single investment in rolling stock ever made by NIR, with
CAF
Construcciones y Auxiliar de Ferrocarriles
Construcciones y Auxiliar de Ferrocarriles is a rail equipment manufacturer based in Beasain in the Basque Country, Spain. Equipment manufactured by CAF includes light rail vehicles, rapid transit trains, railroad cars and locomotives, as well as variable gauge axles that can be fitted on any...
for twenty-three 3-car DMUs in 2002.
The new trains entered service in 2004 and 2005, gradually replacing most of the existing Class 80 units on the network (the main exception being services between
Belfast
Belfast
Belfast is the capital of and largest city in Northern Ireland. By population, it is the 14th biggest city in the United Kingdom and second biggest on the island of Ireland . It is the seat of the devolved government and legislative Northern Ireland Assembly...
and
Larne
Larne
Larne is a substantial seaport and industrial market town on the east coast of County Antrim, Northern Ireland with a population of 18,228 people in the 2001 Census. As of 2011, there are about 31,000 residents in the greater Larne area. It has been used as a seaport for over 1,000 years, and is...
, which were still provided by the
Class 450
NIR 450 Class
The Class 450 is a type of diesel multiple unit used by Northern Ireland Railways.-History:In the mid 1980s, Northern Ireland Railways was in the process of upgrading its rolling stock. Having already purchased three new locomotives, it then proceeded to purchase replacements for its Class 70...
DMUs). The trains are capable of speeds of up to 145 km/h (90 mph), seat 201 (including 15 on tip-up seats) and have standing room for 280 passengers crush laden. The sets are numbered 3001-3023. All vehicles are powered. The individual cars are 3301 to 3323, 3501 to 3523 and 3401 to 3423. The end vehicles on each unit have cabs. 3001 is formed 3301-3501-3401 up to 3023 being formed 3323-3523-3423.
The first six units (3001-3006) were built fitted with
CAWS
Continuous Automatic Warning System
The Continuous Automatic Warning System is a form of cab signalling and train protection system used in Ireland to help train drivers observe and obey lineside signals....
and communication equipment compatible with the rail network in the
Republic of Ireland
Republic of Ireland
Ireland , described as the Republic of Ireland , is a sovereign state in Europe occupying approximately five-sixths of the island of the same name. Its capital is Dublin. Ireland, which had a population of 4.58 million in 2011, is a constitutional republic governed as a parliamentary democracy,...
. This enables these units to be used as required on cross-border services.
Refurbishment
Phase 1 of the refurbishment program was begun during the financial year 2009/10 and will cost an estimated £1.2 million. The trains are approximately 5-6 years old. By the time this is completed, the 20 new C4K units should be starting to come into service. The refurbishment involves re-livering the trains in the refreshed corporate branding.
Fleet details
Class
Operator
No. Built
Year Built
Cars per Set
Unit nos.
Notes
Class 3000
Northern Ireland Railways
6
2004
3
3001 - 3006
Fitted with CAWS

Continuous Automatic Warning System

The Continuous Automatic Warning System is a form of cab signalling and train protection system used in Ireland to help train drivers observe and obey lineside signals....


for use on IÉ

Iarnród Éireann

Iarnród Éireann is the national railway system operator of Ireland. Established on 2 February 1987, it is a subsidiary of Córas Iompair Éireann . It operates all internal intercity, commuter and freight railway services in the Republic of Ireland, and, jointly with Northern Ireland Railways, the...



17
3007 - 3023