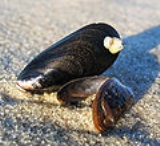 Mytilidae
Mytilidae
is a
family
Family (biology)
In biological classification, family is* a taxonomic rank. Other well-known ranks are life, domain, kingdom, phylum, class, order, genus, and species, with family fitting between order and genus. As for the other well-known ranks, there is the option of an immediately lower rank, indicated by the...
of small to large saltwater
mussel
Mussel
The common name mussel is used for members of several families of clams or bivalvia mollusca, from saltwater and freshwater habitats. These groups have in common a shell whose outline is elongated and asymmetrical compared with other edible clams, which are often more or less rounded or oval.The...
s,
marine
Marine (ocean)
Marine is an umbrella term. As an adjective it is usually applicable to things relating to the sea or ocean, such as marine biology, marine ecology and marine geology...
bivalve mollusks in the
order
Order (biology)
In scientific classification used in biology, the order is# a taxonomic rank used in the classification of organisms. Other well-known ranks are life, domain, kingdom, phylum, class, family, genus, and species, with order fitting in between class and family...
Mytiloida
. It is the only family in the order. This order and family contain 32 genera.
Species in the family Mytilidae are found world-wide, but they are more abundant in colder seas, where they often form uninterrupted beds on rocky shores in the
intertidal zone
Intertidal zone
The intertidal zone is the area that is above water at low tide and under water at high tide . This area can include many different types of habitats, with many types of animals like starfish, sea urchins, and some species of coral...
and the shallow subtidal. The subfamily Bathymodiolinae is found in deep-sea habitats.
Mytilids include the well-known edible sea mussels.
A common feature of the shells of mussels is an asymmetrical shell which has a thick, adherent
periostracum
Periostracum
The periostracum is a thin organic coating or "skin" which is the outermost layer of the shell of many shelled animals, including mollusks and brachiopods. Among mollusks it is primarily seen in snails and clams, i.e. in bivalves and gastropods, but it is also found in cephalopods such as the...
. The animals attached themselves to a solid substrate using a
byssus
Byssus
Byssus means both a silky filament by which certain molluscs attach themselves to hard surfaces, and a rare fabric, also called sea silk and its fibre source.-Word:...
.
Genera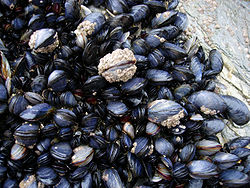 Genera within the family Mytilidae include:
Adipicola

Adipicola

Adipicola is a genus of bivalve molluscs of the family Mytilidae.- List of species :According to ITIS and WoRMS:* Adipicola simpsoni According to NCBI:* Adipicola arcuatilis* Adipicola crypta* Adipicola iwaotakii...


Dautzenberg, 1927
Adula H. Adams

Henry Adams (zoologist)

Henry Adams was an English naturalist and conchologist.With his brother Arthur Adams, also a noted conchologist, he wrote three volumes, 1858.-References:...


& A. Adams

Arthur Adams (zoologist)

Arthur Adams was an English physician and naturalist.Adams was assistant surgeon on board H.M.S. "Actaeon" in company with HMS Samarang in the British Navy during the survey of the Malay Archipelago, the Japan Sea, Korea and China,from 1843 to 1846. He edited the Zoology of the voyage of H.M.S....


, 1857
Amygdalum

Amygdalum

Amygdalum is a genus of mussels in the family Mytilidae....


Megerle von Muhlfeld, 1811
Arcuatula Soot-Ryen, 1955
Aulacomya Mörch

Otto Andreas Lowson Mörch

Otto Andreas Lowson Mörch was a biologist, specifically a malacologist. He lived in Sweden, in Denmark, and in France.- Taxa described :Bibliography and taxa described by Otto Andreas Lowson Mörch include:...


, 1853
Bathymodiolus

Bathymodiolus

Bathymodiolus is a genus of deep-sea chemosynthetic mussels.-Species:Modern species within the genus Bathymodiolus include:* Bathymodiolus childressi Gustafson, Lutz, Turner & Vrijenhoek, 1998* Bathymodiolus japonicus Hashimoto & Okutani, 1994...


Kenk & Wilson, 1985
Botula

Botula

Botula is a genus of mussels in the family Mytilidae....


Mörch

Otto Andreas Lowson Mörch

Otto Andreas Lowson Mörch was a biologist, specifically a malacologist. He lived in Sweden, in Denmark, and in France.- Taxa described :Bibliography and taxa described by Otto Andreas Lowson Mörch include:...


, 1853
Brachidontes

Brachidontes

Brachidontes is a genus of mussels in the family Mytilidae.-Selected species:* Brachidontes exustus — scorched mussel* Brachidontes modiolus — yellow mussel...


Swainson, 1840
Choromytilus Soot-Ryen, 1952
Crenella T. Brown, 1827
Dacrydium Torell, 1859
Geukensia

Geukensia

Geukensia is a genus of marine bivalve mollusc in the Mytilidae family.-Species:Species within the genus Geukensia include:* Geukensia demissa Dilwyn, 1817 - Ribbed Mussel...


Van de Poel, 1959
Gigantidas

Gigantidas

Gigantidas is a genus of large deepwater mussels, marine bivalve molluscs in the family Mytilidae.-Distribution:Species in this genus are found on deep-sea hydrothermal vents on the southern Kermadec Ridge.-Species:...



Gregariella

Gregariella

Gregariella is a genus of mussels in the family Mytilidae.-Selected species:* Gregariella coralliophaga — artist's mussel...


Monterosato, 1884
Idasola Iredale

Tom Iredale

Tom Iredale was an English-born ornithologist and malacologist who had a long association with Australia, where he lived for most of his life. He was an autodidact who never went to university and lacked formal training...


, 1939
Ischadium

Ischadium

Ischadium is a genus of mussels in the family Mytilidae.-Selected species:* Ischadium recurvum — hooked mussel...


Jukes-Browne

Alfred John Jukes-Browne

Alfred John Jukes-Browne, FRS FGS was a British invertebrate palaeontologist and stratigrapher.He was born Alfred John Browne near Wolverhampton in 1851 to Alfred Hall and Caroline Amelia Browne. His uncle was the geologist Joseph Beete Jukes, well known for his work on the English and Irish...


, 1905
Lioberus

Lioberus

Lioberus is a genus of mussels in the family Mytilidae.-Selected species:* Lioberus castaneus — Say's chestnut mussel...


Dall, 1898
Lithophaga

Lithophaga

Lithophaga, the date mussels, are a genus of medium-sized marine bivalve molluscs in the family Mytilidae.The shells of species in this genus are long and narrow with parallel sides. The animals bore into stone or coral rock with the help of pallial gland secretions, hence the systematic name...


Röding

Peter Friedrich Röding

Peter Friedrich Röding was a German malacologist who lived in Hamburg. Very little is known about this naturalist.Many of Röding's descriptions are of species which were first named by earlier authors such as Johann Hieronymus Chemnitz, Friedrich Wilhelm Martini and Martin Lister...


, 1798
Megacrenella Habe & Ito, 1965
Modiolula Sacco, 1898
Modiolarca

Modiolarca

Modiolarca, is a genus of medium-sized marine bivalve molluscs in the Family Mytilidae, the mussels.-Species within the genus Modiolarca:* Modiolarca bicolor* Modiolarca cummingiana* Modiolarca excavata* Modiolarca gemma...


Gray, 1842
Modiolus

Modiolus (genus)

Modiolus, the horsemussels, are a genus of medium-sized marine bivalve molluscs in the family Mytilidae.-Species:Species within the genus Modiolus include:* Modiolus adriaticus...


Lamarck, 1799
Musculista

Musculista

Musculista is a genus of small saltwater mussels, marine bivalve molluscs in the family Mytilidae.-Species within the genus Musculista:* Musculista japonica Dunker, 1857* Musculista senhousia Conrad, 1837...


Yamamoto & Habe, 1958
Musculus

Musculus (genus)

Musculus is a genus of mussels in the family Mytilidae.-Selected species:* Musculus discors — discord mussel* Musculus lateralis — lateral mussel...


Röding

Peter Friedrich Röding

Peter Friedrich Röding was a German malacologist who lived in Hamburg. Very little is known about this naturalist.Many of Röding's descriptions are of species which were first named by earlier authors such as Johann Hieronymus Chemnitz, Friedrich Wilhelm Martini and Martin Lister...


, 1798
Mytilus Linnaeus, 1758 - also known as Mytilis
Perna Philipsson, 1788
Rhomboidella Monterosato, 1884
Septifer Recluz, 1848
Solamen Iredale

Tom Iredale

Tom Iredale was an English-born ornithologist and malacologist who had a long association with Australia, where he lived for most of his life. He was an autodidact who never went to university and lacked formal training...


, 1924
Stenolena Dall, Bartsch & Rehder, 1938
Vilasina Bartsch, 1960
Xenostrobus Wilson, 1967