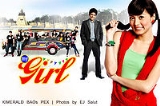 My Girl (Philippine TV series)
My Girl
is an adaptation of the Korean drama series of the same title by
ABS-CBN
ABS-CBN
ABS–CBN Corporation is a Philippine-based media conglomerate. It is the Philippines' largest media and entertainment conglomerate. The corporation was the merger of Alto Broadcasting System which at that time owned by James Lindenberg and Antonio Quirino, and the Chronicle Broadcasting Network ...
in the Philippines. The original series was aired by the said station in 2006.
Synopsis
The story starts with Jasmine, a girl working with her two friends, Christine and Jeffery, as guides for Chinese tourists, to earn money for her and her father Chito, who always gambles. One day he scores big time at a horse race; however he and Jasmine got robbed and Chito can no longer pay a gangster for his borrowed money. He overhears one day that he is a useless father and he leaves.
Jasmine and Julian first meet on an airplane. Jasmine is at the airport waiting for Christine and Jeffrey to arrive with their tour group. As a way of stalling, Jasmine acts as though her true love is on the plane and says that she wants to tell him how she feels before he leaves. Meanwhile, Julian is on his way to Cebu in search of his long-lost cousin, Hannah. Jasmine bumps into an old lady and accidentally falls onto the lap of Julian, making it the first time they ever see each other.
Julian is introduced as the new president of his grandfather's Amana Hotels. He had a girlfriend (Anika) who had refused his proposal for engagement to pursue her career as a beauty queen.
After Jasmine and Julian's paths are crossed, Jasmine becomes a Chinese translator for Julian. Apparently, his next project is building another hotel in China. When Jasmine earns enough money, she sends away her father into hiding, while she handles the problems made by her father. After a while, Julian resumes his search for his long-lost cousin Hannah. When he sees the resemblance between Jasmine and Hannah, he's forced to ask Jasmine to pretend to be his cousin so that his grandfather's last wish can be fulfilled. So therefore, they both are bound in a lie where no one in Julian's family can know the truth. Soon as Jasmine and Julian begin to get closer, Nico and Annika begin to suspect that something more is going on between the two
They soon Found out the truth about Jasmine and Julian when they overhear from other people. Niko keeps it a secret but lets Jasmine and Julian know that he knows about the secret. But Anika confronts Julian about it, and when Anika cannot stand it anymore, she yells at Jasmine and tells John and Lolo Greg the truth. After Jasmine is confronted, they tell her to leave and go far away from Julian. Jasmine decides to go to Baguio to live with her father. As Julian drives home from the airport, he has no idea what happened until he was confronted by Greg. Julian threatens to leave the family but Greg has a heart attack so Julian stays.
Hannah is found and is soon reunited with her family. Everyone knows this but Julian because if Julian found out, then he would be searching for Jasmine. As Julian returns home expectantly, he sees Hannah and finds out that she is his cousin. Julian leaves the family and searches out for Jasmine. As he found Jasmine, he tries to make her stay with him. Jasmine is really headstrong and does not allow it until she finally gives in.
When everything seems normal again, Greg calls Jasmine and threatens her to leave Julian which she does. Julian follows her everywhere and does not give up on it. Jasmine wants Julian to give up so she devises a plan to get Anika to have her as a target and as a liar to the whole family. Julian decides to leave for America then. Greg decides to give Jasmine another chance for them because he does not want Julian to leave, so he asks Jasmine to chase him. Julian planned not to leave and to start over so he pretends to go on the plane and stays in Nico's house for a day. Jasmine then believes that she is too late and Julian is gone. Nico decides to bring them back together so he brings Jasmine to Julian's house and after that, they get married.
Cast
Cast
Kim Chiu

Kim Chiu

Kimberly Sue Yap Chiu , better known as simply Kim Chiu, is a Chinese Filipino actress,singer and model. She lived in Cebu City before she went to Manila for Pinoy Big Brother...



Jasmine Estocapio (Joo Yoo Rin)

She is from Cebu. She speaks Tagalog and Chinese. Streetsmart and optimistic, she manages to always get her and her father out of trouble. After pretending to be Hannah for Julian's sake, she falls in love with him. But Nico falls in love with Jasmine too. When the secret spills out what will happen??
Gerald Anderson

Gerald Anderson

Gerald Anderson is a Filipino American actor who was a former housemate on the first season edition of the Philippine reality television show Pinoy Big Brother: Teen Edition...



Julian Abueva (Seol Gong Chan)

A workaholic and tense. Julian just wants to please everyone and succeed. He hired Jasmine to pretend to be his long-lost cousin named Hannah because his grandfather's final wish before he died was to see Hannah. He falls in love with Jasmine as well, but is not willing to admit it.
Enchong Dee

Enchong Dee

Ernest Lorenzo Velasquez Dee, known as Enchong Dee is a Filipino actor, model, and swimmer. Dee is currently part of ABS-CBN's Star Magic group of contract artists. He played John Joseph "Jojo" Wenceslao in the 2009 TV series Katorse....



Nico Legaspi (Jung Woo)

He is exactly the opposite of his best friend Julian. Nico believes that life is all about pleasure and women. But he soon falls in love with Jasmine. Nico has strong feelings for Jasmine and hopes to make her fall in love with him. But as Jasmine is talking to herself about loving Julian, Nico overhears and finds out that she is in love with Julian, his best friend, not him.
Niña Jose

Niña Jose

Mary Clare "Niña" Jose is a young actress, student, and 11th placer Pinoy Big Brother: Teen Edition. She is currently a contract actress on ABS-CBN.She has appeared on the cover of FHM Philippines magazine.-Television:-Movies:...



Anika Ramirez (Kim Sae Hyun)

A beauty queen who is Julian's ex-girlfriend. They broke up when she decided to leave him after winning a beauty pageant rather than getting married to him. She still continues to hope for Julian to love her again. Anika has strong feelings for Julian and is counting on getting him back, no matter what comes in her way.
Support cast
Cast
Ronaldo Valdez

Ronaldo Valdez

Ronaldo Valdez is a Filipino movie and television actor. Born Ronald James Gibbs in Manila, Philippines, he is the father of actor-singer Janno Gibbs.-Television:* "Glamorosa - Manolo...



Gregory "Greg" Abueva

A self-made millionaire who had made cruel decisions in the past. Now that he's suffering from a serious ailment, he wants to correct his mistakes by asking Julian to find his long-lost granddaughter: Hannah
Bing Loyzaga
Bel Abueva

She's the only one her father could count on ever since her elder sister eloped with a poor man. Because of her unwavering dedication to their family, she ends up becoming a spinster who dotes on her nephew, Julian.
Lito Pimentel
Chito Estocapio

A widower who raises his daughter Jasmine the best way he knows. His lack of education, however, forces him to rely on gambling as a means of income. But because he often loses, he ends up running to Jasmine for help.
DJ Durano

DJ Durano

DJ Durano is a Filipino actor, model, singer and recording artist.-Career:DJ's early career in entertainment started as part of That's Entertainment of German Moreno. During the show, he is termed as the lady killer and obviously, it is true...



John

Aside from being a loyal bodyguard/driver of Lolo Greg, he is also an aspiring sculptor who keeps his talent a secret. His stature in life stops him from revealing his long-hidden feelings for Auntie Bel.
Kaye Brosas

K Brosas

K Brosas , sometimes credited as Kaye Brosas, is a Filipina actress, comedienne, singer and television host. She was a band member of 'Gladys and The Boxers' and was lead singer when the group performed as 'K and The Boxers'...



Tessie Legaspi

Her late husband was Lolo Greg's business partner in their hotel chains. This company vice president is an ambitious woman who desperately wants to take over the presidency of the business.
Regine Angeles
Shiela

She is Julian's ever-efficient executive assistant and confidante in his search for his long-lost cousin. As her family's breadwinner, her job is really important to her.
David Chua
Jeffrey

He is Christine's twin brother, as well as Jasmine's close friend. This certified nerd undergoes a makeover when he meets Sheila and develops a huge crush on her.
Extended Cast
Cast
Nicole Uysiuseng

Nicole Uysiuseng

Nicole Kim Uysiuseng , is an actress, model, and was the third runner-up of the reality television show Pinoy Big Brother Teen Edition Plus. She is currently a member of ABS-CBN's Star Magic...



Hannah Abueva/Miranda Castro

She is the long-lost grand daughter of Greg Abueva, the millionaire owner of the hotel. She is the cousin of Julian. She is staying with her step auntie named Nena, until Chito unveils the truth about who she really is.
Robi Domingo

Robi Domingo

Robert "Robi" Marion Eusebio Domingo , is an actor, a former VJ, and the first runner up of the reality television show Pinoy Big Brother Teen Edition Plus....



Vincent
A rich guy who met Hannah in school, also the cousin of Samboy. He owns the auto-repair shop where Samboy currently works. He is also in love with Hannah.
Josef Elizalde
Samboy

He is the so called enemy of Tita Nena because he was courting Hannah although he is a clumsy boy who has no money and yet, he still pursues his love for Hannah.
Keanna Reeves

Keanna Reeves

Keanna Reeves is a Filipina actress who first gained national attention and notoriety in the Philippines for exposing a private escort girl service in December 2004, and confessing that lawmakers were among her clients.-Pinoy Big Brother:In 2005, she appeared on Extra Challenge, where she won the...



Nena

Hannah's step aunt who is taking care of her while her step parents are abroad. She dislikes Samboy.
Malou Crisologo
Tilde

The Mother of Cristine and Jeffrey.
Reception
The Pinoy version of the hit Korean drama series, My Girl, starring Kim Chiu and Gerald Anderson, premiered May 26, 2008. It became the number one show of
ABS-CBN
ABS-CBN
ABS–CBN Corporation is a Philippine-based media conglomerate. It is the Philippines' largest media and entertainment conglomerate. The corporation was the merger of Alto Broadcasting System which at that time owned by James Lindenberg and Antonio Quirino, and the Chronicle Broadcasting Network ...
and ranked no. 4 in the GMA Network-dominated Mega Manila
Soundtrack
ABS-CBN via Star Records Philippines released the "My Girl: The Original Teleserye Soundtrack" featuring its carrier single "Sabihin Mo Na" revived by Pinoy Dream Academy alumna
Yeng Constantino
Yeng Constantino
Josephine "Yeng" Constantino, born on December 4, 1988, is a Filipina singer and host. She won as "Grand Star Dreamer" of Pinoy Dream Academy, the Philippine edition of Endemol's reality TV show Star Academy...
originally sung by Top Suzara. The album also includes "Crazy Love (Chinese version)" performed by Kim Chiu, a duet of "Sabihin Mo Na" by Kim and Gerald, "My Girl" by
Sam Milby
Sam Milby
Samuel Lloyd "Sam" Lacia Milby , is a Filipino-American who joined Pinoy Big Brother as a housemate...
, "Gulo, Hilo, Lito," by ex-
Moonstar 88
Moonstar 88
Moonstar88 is a female-fronted band in the Philippine local music scene.As of April 2008, they have released three albums, Popcorn, Press to Play and Todo Combo, and collaborated on one track, Pag-Ibig Ko Sa Iyo, found on RoK On! Music Inspired By Ragnarok Online.They also performed a rendition of...
vocalist Acel van Ommen and others.
Here is the complete tracklist:
My Girl by Sam Milby
Sabihin Mo Na by Yeng Constantino
Crazy Love (Chinese Version) by Kim Chiu
Gulo, Hilo, Lito by Acel van Ommen
Kahit 'Di Mo Napapansin by Richard Poon
Pusong Lito by Kim Chiu
Sabihin Mo Na by Kim Chiu & Gerald Anderson
External links