 Municipalities of Quintana Roo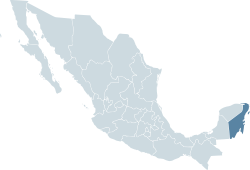 The
Mexican
Mexico
The United Mexican States , commonly known as Mexico , is a federal constitutional republic in North America. It is bordered on the north by the United States; on the south and west by the Pacific Ocean; on the southeast by Guatemala, Belize, and the Caribbean Sea; and on the east by the Gulf of...
State
States of Mexico
The United Mexican States is a federal republic formed by 32 federal entities .According to the Constitution of 1917, the states of the federation are free and sovereign. Each state has their own congress and constitution, while the Federal District has only limited autonomy with a local Congress...
of
Quintana Roo
Quintana Roo
Quintana Roo officially Estado Libre y Soberano de Quintana Roo is one of the 31 states which, with the Federal District, comprise the 32 Federal Entities of Mexico. It is divided in 10 municipalities and its capital city is Chetumal....
is made up of
10 municipalities
(municipios):
Tulum and Bacalar are the newest municipalities. The state was created from the
Quintana Roo Territory
Quintana Roo Territory
Quintana Roo Territory was one of the territories of Mexico. It was created 24 November 1902 by decree of the President of Mexico Porfirio Díaz from land that had previously been part of the State of Yucatán after the a turning point of the Caste War of Yucatán. On 8 October 1974 the territory...
in 1974 with seven
municipio

Municipio

Municipio and Município are terms used for country subdivisions. They are often translated as municipality.-Overview:...


s
.
Solidaridad
Solidaridad, Quintana Roo
Solidaridad is one of the ten municipalities that make up the Mexican state of Quintana Roo. It is also one of the youngest municipalities in the country and was formed on July 28 of 1993 by decree of the State Congress during the administration of Mario Villanueva Madrid...
was formed in 1993 by act of the
Congress of Quintana Roo
Congress of Quintana Roo
The Congress of Quintana Roo is the legislature of Quintana Roo, a state of Mexico. The Congress is unicameral....
. Tulum was split off from Solidaridad in March 2008. Bacalar was split off from
Othón P. Blanco
Othón P. Blanco, Quintana Roo
On february 2nd, 2011, the municipality of Othón P. Blanco had undergone important changes. All information below may be outdated. Please remove this notice when data has been checked....
in February 2011. While the population figures below are from 2010, they have been adjusted for the creation of the municipality of Bacalar in 2011.
INEGI

National Institute of Statistics, Geography, and Data Processing

The National Institute of Statistic and Geography is an autonomous agency of the Mexican Government dedicated to coordinate the National System of Statistical and Geographical Information of the country...


code
Municipality
Municipal seat
Municipality pop.
001
Cozumel

Cozumel

Cozumel is an island in the Caribbean Sea off the eastern coast of Mexico's Yucatan Peninsula, opposite Playa del Carmen, and close to the Yucatan Channel. Cozumel is one of the ten municipalities of the state of Quintana Roo...



San Miguel de Cozumel

San Miguel de Cozumel

San Miguel de Cozumel is the largest town on the island municipality of Cozumel in the Mexican state of Quintana Roo. With a 2010 census population of 77,236 persons, it is also Quintana Roo's fourth-largest community, after Cancún, Chetumal, and Playa del Carmen. It is a hub for tourism on the...



79,535
002
Felipe Carrillo Puerto

Felipe Carrillo Puerto, Quintana Roo

See also Felipe Carrillo Puerto, Oaxaca, for the town in Oaxaca.Felipe Carrillo Puerto or simply Carrillo Puerto is the name of a municipality for which the city of the same name serves its the municipal seat. The municipality is located south-central part of the Mexican state of Quintana Roo. It...



Felipe Carrillo Puerto

Felipe Carrillo Puerto, Quintana Roo

See also Felipe Carrillo Puerto, Oaxaca, for the town in Oaxaca.Felipe Carrillo Puerto or simply Carrillo Puerto is the name of a municipality for which the city of the same name serves its the municipal seat. The municipality is located south-central part of the Mexican state of Quintana Roo. It...



75,026
003
Isla Mujeres

Isla Mujeres

Isla Mujeres is one of the ten municipalities of the Mexican state of Quintana Roo. The municipality, located in the northeastern corner of the state is mostly on the mainland and has a municipal seat of the same name; Isla Mujeres...



Isla Mujeres

Isla Mujeres

Isla Mujeres is one of the ten municipalities of the Mexican state of Quintana Roo. The municipality, located in the northeastern corner of the state is mostly on the mainland and has a municipal seat of the same name; Isla Mujeres...



16,203
004
Othón P. Blanco

Othón P. Blanco, Quintana Roo

On february 2nd, 2011, the municipality of Othón P. Blanco had undergone important changes. All information below may be outdated. Please remove this notice when data has been checked....



Chetumal

Chetumal

Chetumal is a city on the east coast of the Yucatán Peninsula in Mexico. It is the capital of the state of Quintana Roo and the municipal seat of the Municipality of Othón P. Blanco...



244,553
005
Benito Juárez

Benito Juárez, Quintana Roo

Benito Juárez is one of the ten municipalities of the Mexican state of Quintana Roo. Most of its population reside in the municipal seat, Cancún. It is named after the 19th century president and statesman Benito Juárez.- Location :...



Cancún

Cancún

Cancún is a city of international tourism development certified by the UNWTO . Located on the northeast coast of Quintana Roo in southern Mexico, more than 1,700 km from Mexico City, the Project began operations in 1974 as Integrally Planned Center, a pioneer of FONATUR Cancún is a city of...



661,176
006
José María Morelos

José María Morelos, Quintana Roo

José María Morelos is one of the ten municipalities that make up the Mexican state of Quintana Roo.-Communities:There were 129 populated localities, as well as 132 unpopulated localities enumerated during the 2010 census....



José María Morelos

José María Morelos, Quintana Roo

José María Morelos is one of the ten municipalities that make up the Mexican state of Quintana Roo.-Communities:There were 129 populated localities, as well as 132 unpopulated localities enumerated during the 2010 census....



36,179
007
Lázaro Cárdenas

Lázaro Cárdenas, Quintana Roo

Lázaro Cárdenas is one of the ten municipalities that make up the Mexican state of Quintana Roo. Its municipal seat is the town of Kantunilkín, which was founded on 10 October 1859...



Kantunilkín
25,333
008
Solidaridad

Solidaridad, Quintana Roo

Solidaridad is one of the ten municipalities that make up the Mexican state of Quintana Roo. It is also one of the youngest municipalities in the country and was formed on July 28 of 1993 by decree of the State Congress during the administration of Mario Villanueva Madrid...



Playa del Carmen

Playa del Carmen

Playa del Carmen is a balneario resort city just south of Cancún on the coast of the Caribbean Sea, in the northeast of the Mexican state of Quintana Roo. The city is the seat of the Solidaridad municipality. In the 2010 census, the city had a population of 149,923 people and it is rapidly growing...



159,310
009
Tulum
Tulum

Tulum, Quintana Roo

Tulum is the largest community in the municipality of Tulum, Quintana Roo, Mexico. It is located on the Caribbean coast of the state, near the site of the archaeological ruins of Tulum...



28,263
010
Bacalar
Bacalar