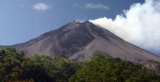 Mount Merapi
Mount Merapi
,
Gunung Merapi
(literally
Fire Mountain
in
Indonesian
Indonesian language
Indonesian is the official language of Indonesia. Indonesian is a normative form of the Riau Islands dialect of Malay, an Austronesian language which has been used as a lingua franca in the Indonesian archipelago for centuries....
/
Javanese
Javanese language
Javanese language is the language of the Javanese people from the central and eastern parts of the island of Java, in Indonesia. In addition, there are also some pockets of Javanese speakers in the northern coast of western Java...
), is an active
stratovolcano
Stratovolcano
A stratovolcano, also known as a composite volcano, is a tall, conical volcano built up by many layers of hardened lava, tephra, pumice, and volcanic ash. Unlike shield volcanoes, stratovolcanoes are characterized by a steep profile and periodic, explosive eruptions...
located on the border between
Central Java
Central Java
Central Java is a province of Indonesia. The administrative capital is Semarang. It is one of six provinces on the island of Java.This province is the province of high Human Development in Indonesia and its Points Development Index countries is equivalent to Lebanon. The province of Central Java...
and Yogyakarta,
Indonesia
Indonesia
Indonesia , officially the Republic of Indonesia , is a country in Southeast Asia and Oceania. Indonesia is an archipelago comprising approximately 13,000 islands. It has 33 provinces with over 238 million people, and is the world's fourth most populous country. Indonesia is a republic, with an...
. It is the most active volcano in Indonesia and has erupted regularly since 1548. It is located approximately 28 kilometres (17.4 mi) north of
Yogyakarta
Yogyakarta (city)
Yogyakarta is a city in the Yogyakarta Special Region, Indonesia. It is renowned as a centre of classical Javanese fine art and culture such as batik, ballet, drama, music, poetry, and puppet shows. Yogyakarta was the Indonesian capital during the Indonesian National Revolution from 1945 to...
city, and thousands of people live on the flanks of the volcano, with villages as high as 1700 metres (5,577.4 ft) above
sea level
Sea level
Mean sea level is a measure of the average height of the ocean's surface ; used as a standard in reckoning land elevation...
.
The name
Merapi
could be loosely translated as 'Mountain of Fire'.