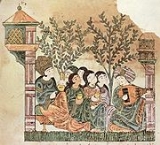 Moors
The description
Moors
has referred to several historic and modern populations of the
Maghreb
Maghreb
The Maghreb is the region of Northwest Africa, west of Egypt. It includes five countries: Morocco, Algeria, Tunisia, Libya, and Mauritania and the disputed territory of Western Sahara...
region (Western North Africa) who are predominately of
Berber
Berber people
Berbers are the indigenous peoples of North Africa west of the Nile Valley. They are continuously distributed from the Atlantic to the Siwa oasis, in Egypt, and from the Mediterranean to the Niger River. Historically they spoke the Berber language or varieties of it, which together form a branch...
and
Arab
Arab
Arab people, also known as Arabs , are a panethnicity primarily living in the Arab world, which is located in Western Asia and North Africa. They are identified as such on one or more of genealogical, linguistic, or cultural grounds, with tribal affiliations, and intra-tribal relationships playing...
descent. They came to conquer and rule the
Iberian Peninsula
Iberian Peninsula
The Iberian Peninsula , sometimes called Iberia, is located in the extreme southwest of Europe and includes the modern-day sovereign states of Spain, Portugal and Andorra, as well as the British Overseas Territory of Gibraltar...
for nearly 800 years. At that time they were
Muslim
Muslim
A Muslim, also spelled Moslem, is an adherent of Islam, a monotheistic, Abrahamic religion based on the Quran, which Muslims consider the verbatim word of God as revealed to prophet Muhammad. "Muslim" is the Arabic term for "submitter" .Muslims believe that God is one and incomparable...
, although earlier the people had followed other religions. They called the territory
Al Andalus
, comprising most of what is now Spain and Portugal.
"Moors" are not a distinct or self-defined people.
711 Islamic conquest of Hispania: Moorish troops led by Tariq ibn-Ziyad land at Gibraltar to begin their invasion of the Iberian Peninsula (Al-Andalus).
721 Odo of Aquitaine defeats the Moors in the Battle of Toulouse.
732 Battle of Tours: Near Poitiers, France, the leader of the Franks, Charles Martel and his men, defeat a large army of Moors, stopping the Muslims from spreading into Western Europe. The governor of Cordoba, Abdul Rahman Al Ghafiqi, is killed during the battle.
1085 Alfonso VI of Castile takes Toledo, Spain back from the Moors.
1491 The siege of Granada, the last Moorish stronghold in Spain, begins.
1492 Reconquista: the emirate of Granada, the last Moorish stronghold in Spain, surrenders