 Monastiraki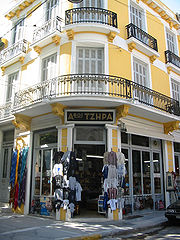 Monastiraki
is a
flea market
Flea market
A flea market or swap meet is a type of bazaar where inexpensive or secondhand goods are sold or bartered. It may be indoors, such as in a warehouse or school gymnasium; or it may be outdoors, such as in a field or under a tent...
neighborhood in the old town of
Athens
Athens
Athens , is the capital and largest city of Greece. Athens dominates the Attica region and is one of the world's oldest cities, as its recorded history spans around 3,400 years. Classical Athens was a powerful city-state...
,
Greece
Greece
Greece , officially the Hellenic Republic , and historically Hellas or the Republic of Greece in English, is a country in southeastern Europe....
, and is one of the principal shopping districts in Athens. The area is home to clothing boutiques, souvenir shops, and specialty stores, and is a major tourist attraction in Athens and
Attica
Attica
Attica is a historical region of Greece, containing Athens, the current capital of Greece. The historical region is centered on the Attic peninsula, which projects into the Aegean Sea...
for bargain shopping. The area is named after
Monastiraki Square,
which in turn is named for the Pantánassa church
monastery
Monastery
Monastery denotes the building, or complex of buildings, that houses a room reserved for prayer as well as the domestic quarters and workplace of monastics, whether monks or nuns, and whether living in community or alone .Monasteries may vary greatly in size – a small dwelling accommodating only...
that is located within the square. The main streets of this area are
Pandrossou
Pandrosus
Pandrosus was a figure in Greek mythology, and a daughter of Cecrops, sister to Herse and Aglauros....
Street and
Adrianou
Hadrian
Hadrian , was Roman Emperor from 117 to 138. He is best known for building Hadrian's Wall, which marked the northern limit of Roman Britain. In Rome, he re-built the Pantheon and constructed the Temple of Venus and Roma. In addition to being emperor, Hadrian was a humanist and was philhellene in...
Street.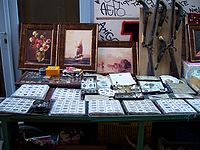 The
Monastiraki Metro Station
Monastiraki station
This page addresses a train station in Greece; for the ancient Cretan city, see Monastiraki, Crete.Monastiraki or Monastirion station is an interchange station of the Attiko Metro Blue Line and the ISAP Green Line 1. The original surface station of Line 1 opened in May 17, 1895...
, located on the square, serves both Line 1 and Line 3 of the
Athens Metro
Athens Metro
The Athens Metro is an underground rapid transit system serving Athens, the capital city of Greece. It was constructed and owned by Attiko Metro S.A. and operated until 2011 by Attiko Metro Etaireia Leitourgias S.A....
.
External links