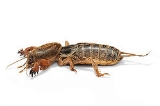 Mole cricket
The
mole crickets
compose
family
Family (biology)
In biological classification, family is* a taxonomic rank. Other well-known ranks are life, domain, kingdom, phylum, class, order, genus, and species, with family fitting between order and genus. As for the other well-known ranks, there is the option of an immediately lower rank, indicated by the...
Gryllotalpidae
, of thick-bodied
insect
Insect
Insects are a class of living creatures within the arthropods that have a chitinous exoskeleton, a three-part body , three pairs of jointed legs, compound eyes, and two antennae...
s about 3–5 cm (1.2–2 ) long, with large beady eyes and shovel-like
forelimbs
Arthropod leg
The arthropod leg is a form of jointed appendage of arthropods, usually used for walking. Many of the terms used for arthropod leg segments are of Latin origin, and may be confused with terms for bones: coxa , trochanter , femur, tibia, tarsus, ischium, metatarsus, carpus, dactylus ,...
highly developed for burrowing and swimming. They can also
fly
Insect flight
Insects are the only group of invertebrates known to have evolved flight. Insects possess some remarkable flight characteristics and abilities, still far superior to attempts by humans to replicate their capabilities. Even our understanding of the aerodynamics of flexible, flapping wings and how...
: the adult mole cricket may fly as far as 8 kilometres (5 mi) during mating season, is active most of the year, and spends the winter in
hibernation
Hibernation
Hibernation is a state of inactivity and metabolic depression in animals, characterized by lower body temperature, slower breathing, and lower metabolic rate. Hibernating animals conserve food, especially during winter when food supplies are limited, tapping energy reserves, body fat, at a slow rate...
. Younger insects can have shorter wings, and their appearance varies by species, with some resembling grasshoppers or very large ants or dark-colored "termites" when wings are short.
Description
Mole crickets are
omnivore
Omnivore
Omnivores are species that eat both plants and animals as their primary food source...
s, feeding on
larva
Larva
A larva is a distinct juvenile form many animals undergo before metamorphosis into adults. Animals with indirect development such as insects, amphibians, or cnidarians typically have a larval phase of their life cycle...
e,
worm
Worm
The term worm refers to an obsolete taxon used by Carolus Linnaeus and Jean-Baptiste Lamarck for all non-arthropod invertebrate animals, and stems from the Old English word wyrm. Currently it is used to describe many different distantly-related animals that typically have a long cylindrical...
s, roots, and grasses. Common predators of mole crickets include
bird
Bird
Birds are feathered, winged, bipedal, endothermic , egg-laying, vertebrate animals. Around 10,000 living species and 188 families makes them the most speciose class of tetrapod vertebrates. They inhabit ecosystems across the globe, from the Arctic to the Antarctic. Extant birds range in size from...
s,
rat
Rat
Rats are various medium-sized, long-tailed rodents of the superfamily Muroidea. "True rats" are members of the genus Rattus, the most important of which to humans are the black rat, Rattus rattus, and the brown rat, Rattus norvegicus...
s,
skunk
Skunk
Skunks are mammals best known for their ability to secrete a liquid with a strong, foul odor. General appearance varies from species to species, from black-and-white to brown or cream colored. Skunks belong to the family Mephitidae and to the order Carnivora...
s,
armadillo
Armadillo
Armadillos are New World placental mammals, known for having a leathery armor shell. Dasypodidae is the only surviving family in the order Cingulata, part of the superorder Xenarthra along with the anteaters and sloths. The word armadillo is Spanish for "little armored one"...
s,
raccoon
Raccoon
Procyon is a genus of nocturnal mammals, comprising three species commonly known as raccoons, in the family Procyonidae. The most familiar species, the common raccoon , is often known simply as "the" raccoon, as the two other raccoon species in the genus are native only to the tropics and are...
s and
fox
Fox
Fox is a common name for many species of omnivorous mammals belonging to the Canidae family. Foxes are small to medium-sized canids , characterized by possessing a long narrow snout, and a bushy tail .Members of about 37 species are referred to as foxes, of which only 12 species actually belong to...
es.
Mole crickets are relatively common, but because they are
nocturnal
Nocturnal animal
Nocturnality is an animal behavior characterized by activity during the night and sleeping during the day. The common adjective is "nocturnal"....
and spend nearly all their lives underground in extensive tunnel systems, they are rarely seen. Mole crickets amplify their song by chirping in a burrow that they've carefully sculpted into the shape of a double exponential horn, which acts as a megaphone. They inhabit agricultural fields, lawns and golf courses. They are present in every continent with the exception of
Antarctica
, and are commonly considered pests. In
East Asia
East Asia
East Asia or Eastern Asia is a subregion of Asia that can be defined in either geographical or cultural terms...
, however, they are sometimes
used as food
Entomophagy
Entomophagy is the consumption of insects as food. Insects are eaten by many animals, but the term is generally used to refer to human consumption of insects; animals that eat insects are known as insectivores...
(fried).
In some places, mole cricket numbers are declining due to soil erosion and
habitat destruction
Habitat destruction
Habitat destruction is the process in which natural habitat is rendered functionally unable to support the species present. In this process, the organisms that previously used the site are displaced or destroyed, reducing biodiversity. Habitat destruction by human activity mainly for the purpose of...
.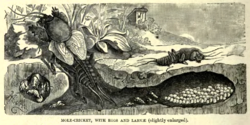 Mole cricket genera
There are several genera of mole cricket, separated into tribes:
tribus Gryllotalpini

Gryllotalpa

Gryllotalpa

Gryllotalpa is a genus of insects in the family Gryllotalpidae. It contains the following species:* Gryllotalpa africana * Gryllotalpa brachyptera * Gryllotalpa cultriger...



Gryllotalpella
Neocurtilla

Neocurtilla hexadactyla

Neocurtilla hexadactyla

Neocurtilla hexadactyla, commonly known as the Northern Mole Cricket, is a species of mole cricket that is native to eastern North America. It also occurs in South America, were it may be an introduced species. Its range extends from the southern reaches of eastern Canada and through the eastern...




† Pterotriamescaptor
tribus Scapteriscini

Indioscaptor
Scapteriscus
Triamescaptor
tribus unknown (fossil taxa)

† Archaeogryllotalpoides
† Cratotetraspinus
† Marchandia
† Palaeoscapteriscops
See also
Camel cricket – another underground insect, with a humped back.
Larra bicolor

Larra bicolor

Larra bicolor is a parasitoid wasp native to South America. After two unsuccessful attempts, it was introduced successfully into a limited area of Florida in 1981 as an biological pest control of invasive mole crickets.-Description:...


– parasitoid of Scapteriscus mole crickets
External links
Mole Cricket Knowledge Base at University of Florida

University of Florida

The University of Florida is an American public land-grant, sea-grant, and space-grant research university located on a campus in Gainesville, Florida. The university traces its historical origins to 1853, and has operated continuously on its present Gainesville campus since September 1906...


/ Institute of Food and Agricultural Sciences

Institute of Food and Agricultural Sciences

The University of Florida's Institute of Food and Agricultural Sciences is a federal-state-county partnership dedicated to developing knowledge in agriculture, human and natural resources, and the life sciences, and enhancing and sustaining the quality of human life by making that information...



On the University of Florida

University of Florida

The University of Florida is an American public land-grant, sea-grant, and space-grant research university located on a campus in Gainesville, Florida. The university traces its historical origins to 1853, and has operated continuously on its present Gainesville campus since September 1906...


/ Institute of Food and Agricultural Sciences

Institute of Food and Agricultural Sciences

The University of Florida's Institute of Food and Agricultural Sciences is a federal-state-county partnership dedicated to developing knowledge in agriculture, human and natural resources, and the life sciences, and enhancing and sustaining the quality of human life by making that information...


Featured Creatures website