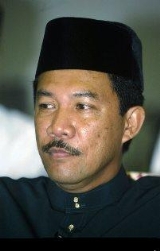 Mohamad Hassan (Menteri Besar)
Datuk Seri Utama
Malay titles
The Malay language has a complex system of titles and honorifics, which are still used extensively in Malaysia and Brunei. Singapore, whose Malay royalty was abolished by the British colonial government in 1891, has adopted civic titles for its leaders....
Haji Mohamad Haji Hassan
is the current
Menteri Besar
Menteri Besar
The Menteri Besar is the chief executive of the state government for states in Malaysia with hereditary rulers. For states without a monarch, the title Chief Minister is used...
of
Negeri Sembilan
Negeri Sembilan
Negeri Sembilan, one of the 13 states that constitutes Malaysia, lies on the western coast of Peninsular Malaysia, just south of Kuala Lumpur and borders Selangor on the north, Pahang in the east, and Malacca and Johor to the south....
. He was born on May 2, 1956 in
Rembau
Rembau
Rembau is a town within a district that shares the same name that is located in the state of Negeri Sembilan, Malaysia. With a population of 40,000 people the district is a stronghold of the matrilineal system known as adat perpatih, a customary practice inherited from the Minangkabaus, of...
, Negeri Sembilan. He received his primary
education
Education
Education in its broadest, general sense is the means through which the aims and habits of a group of people lives on from one generation to the next. Generally, it occurs through any experience that has a formative effect on the way one thinks, feels, or acts...
at SK Datuk Akhir Zaman at Rantau and furthered his studies at SMK Rantau and SMK Tuanku Ampuan Durah at
Seremban
Seremban
Seremban is the capital of the Malaysian state of Negeri Sembilan, located within the district of Seremban, one of the seven districts of Negeri Sembilan. The town's administration is run by the Seremban Municipal Council or Majlis Perbandaran Seremban...
. He studied in Universiti Malaya.