 Mob cap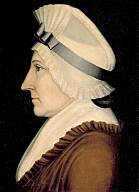 A
mob cap
or
mob-cap
is a round, gathered or pleated cloth (usually
linen
Linen
Linen is a textile made from the fibers of the flax plant, Linum usitatissimum. Linen is labor-intensive to manufacture, but when it is made into garments, it is valued for its exceptional coolness and freshness in hot weather....
)
bonnet
Bonnet (headgear)
Bonnets are a variety of headgear for both sexes, which have in common only the absence of a brim. Bonnet derives from the same word in French, where it originally indicated a type of material...
consisting of a
caul
Caul (headgear)
A caul is a historical headress worn by women that covers tied-up hair. A fancy caul could be made of satin, velvet, fine silk or brocade, although a simple caul would commonly be made of white linen or cotton. The caul could be covered by a crespine or a mesh net to secure it from falling off.It...
to cover the hair, a frilled or ruffled brim, and (often) a
ribbon
Ribbon
A ribbon or riband is a thin band of material, typically cloth but also plastic or sometimes metal, used primarily for binding and tying. Cloth ribbons, most commonly silk, are often used in connection with clothing, but are also applied for innumerable useful, ornamental and symbolic purposes...
band, worn by married women in the Georgian period, when it was called a "bonnet". Originally an informal style, the bonnet became a high-fashion item as part of the adoption of simple "country" clothing in the later 18th century. It was an indoor fashion, and was worn under a hat for outdoor wear. During the French Revolution, the name "Mob Cap" caught on because of the poor women who were involved in the riots wore them, but they had been in style for middle class and even aristocracy since the century began.
By the
Victorian
Victorian fashion
Victorian fashion comprises the various fashions and trends in British culture that emerged and grew in province throughout the Victorian era and the reign of Queen Victoria, a period which would last from June 1837 to January 1901. Covering nearly two thirds of the 19th century, the 63 year reign...
period, mob caps lingered as the head covering of servants and nurses, and small mob caps, not covering the hair, remained part of these uniforms into the early 20th century.
Modern versions of mob caps are still worn in the medical industry, in cleanrooms, and in other sectors where the hair has to be contained. These mob caps are usually a simple circle shape with an
elastic
Elastomer
An elastomer is a polymer with the property of viscoelasticity , generally having notably low Young's modulus and high yield strain compared with other materials. The term, which is derived from elastic polymer, is often used interchangeably with the term rubber, although the latter is preferred...
band and may be made of disposable materials such as spunbound
polypropylene
Polypropylene
Polypropylene , also known as polypropene, is a thermoplastic polymer used in a wide variety of applications including packaging, textiles , stationery, plastic parts and reusable containers of various types, laboratory equipment, loudspeakers, automotive components, and polymer banknotes...
or of
nylon
Nylon
Nylon is a generic designation for a family of synthetic polymers known generically as polyamides, first produced on February 28, 1935, by Wallace Carothers at DuPont's research facility at the DuPont Experimental Station...
netting.