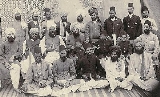 Mirza Ghulam Ahmad
Mīrzā Ghulām Aḥmad was a religious figure from
India
India
India , officially the Republic of India , is a country in South Asia. It is the seventh-largest country by geographical area, the second-most populous country with over 1.2 billion people, and the most populous democracy in the world...
and the founder of the
Ahmadiyya Community
Ahmadiyya
Ahmadiyya is an Islamic religious revivalist movement founded in India near the end of the 19th century, originating with the life and teachings of Mirza Ghulam Ahmad , who claimed to have fulfilled the prophecies about the world reformer of the end times, who was to herald the Eschaton as...
. He claimed to be the
Mujaddid
Mujaddid
A Mujaddid , according to the popular Muslim tradition, refers to a person who appears at the turn of every century of the Islamic calendar to revive Islam, remove from it any extraneous elements and restore it to its pristine purity...
(divine reformer) of the 14th
Islamic century
Islamic calendar
The Hijri calendar , also known as the Muslim calendar or Islamic calendar , is a lunar calendar consisting of 12 lunar months in a year of 354 or 355 days. It is used to date events in many Muslim countries , and used by Muslims everywhere to determine the proper day on which to celebrate Islamic...
, the promised
Messiah
Messiah
A messiah is a redeemer figure expected or foretold in one form or another by a religion. Slightly more widely, a messiah is any redeemer figure. Messianic beliefs or theories generally relate to eschatological improvement of the state of humanity or the world, in other words the World to...
(Second Coming of Christ), and the
Mahdi
Mahdi
In Islamic eschatology, the Mahdi is the prophesied redeemer of Islam who will stay on Earth for seven, nine or nineteen years- before the Day of Judgment and, alongside Jesus, will rid the world of wrongdoing, injustice and tyranny.In Shia Islam, the belief in the Mahdi is a "central religious...
awaited by the Muslims in the
end days
Islamic eschatology
Islamic eschatology is concerned with the al-Qiyāmah . Like the other Abrahamic religions, Islam teaches the bodily resurrection of the dead, the fulfillment of a divine plan for creation, and the judgement of the soul; the righteous are rewarded with the pleasures of Jannah while the unrighteous...
. He declared that
Jesus
Jesus
Jesus of Nazareth , commonly referred to as Jesus Christ or simply as Jesus or Christ, is the central figure of Christianity...
(Isa) had in fact survived the crucifixion and later died a natural death after having migrated towards
Kashmir
Kashmir
Kashmir is the northwestern region of the Indian subcontinent. Until the mid-19th century, the term Kashmir geographically denoted only the valley between the Great Himalayas and the Pir Panjal mountain range...
, and that he had appeared in the spirit and power of Jesus.
He traveled extensively across the subcontinent of India preaching his religious ideas and ideals and won a sizable following within his lifetime.