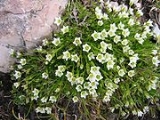 Minuartia
Minuartia
is a
genus
Genus
In biology, a genus is a low-level taxonomic rank used in the biological classification of living and fossil organisms, which is an example of definition by genus and differentia...
of small
flowering plant
Flowering plant
The flowering plants , also known as Angiospermae or Magnoliophyta, are the most diverse group of land plants. Angiosperms are seed-producing plants like the gymnosperms and can be distinguished from the gymnosperms by a series of synapomorphies...
s, one of those commonly known as
"sandwort

Sandwort

Sandwort is the common name of several plants, which may be members of the following genera:*Arenaria*Minuartia*MoehringiaSee also Wort plants...


"
or
"stitchwort

Stitchwort

Stitchwort is the common name of several plants of the following genera:* Minuartia* Stellaria...


"
. The genus is classed within the
family
Family (biology)
In biological classification, family is* a taxonomic rank. Other well-known ranks are life, domain, kingdom, phylum, class, order, genus, and species, with family fitting between order and genus. As for the other well-known ranks, there is the option of an immediately lower rank, indicated by the...
Caryophyllaceae
Caryophyllaceae
The Caryophyllaceae, commonly called the pink family or carnation family, is a family of flowering plants. It is included in the dicotyledon order Caryophyllales in the APG III system, alongside 33 other families, including Amaranthaceae, Cactaceae and Polygonaceae...
, the pink family, characterised by its opposite and decussate leaves.
Minuartias are small plants which grow in otherwise inhospitable conditions such as on rocky ledges and in stony soil. They are found in
alpine
Alpine climate
Alpine climate is the average weather for a region above the tree line. This climate is also referred to as mountain climate or highland climate....
environments. The genus is widely distributed, being native in Asia, Europe and North America.
Many
Minuartia
species were formerly classed in the genus
Arenaria
Arenaria (plant)
Arenaria is a genus of flowering plants, within the family Caryophyllaceae.Species of this genus are among those plants commonly known as "sandworts". Several species formerly classified within Arenaria are now classed in the genera Spergularia, Eremogone and Minuartia.Species include:*Arenaria...
, and the obsolete genus
Alsine
.
Minuartia sedoides
was previously placed in
Cherleria
.
The genus was named for J. Minuart (1693–1768), a Spanish botanist and pharmacist.
Species include:
Minuartia arctica - Arctic sandwort
Minuartia austromontana - Columbian sandwort
Minuartia biflora - mountain sandwort
Minuartia bosniaca - Bosnian sandwort
Minuartia californica

Minuartia californica

Minuartia californica is a species of flowering plant in the pink family known by the common name California sandwort. It is native to valleys, foothills, and mountains in Oregon and California, where it grows in many types of habitat, including chaparral, vernal pools, and roadsides...


- California sandwort
Minuartia caroliniana - pinebarren sandwort
Minuartia cherlerioides
Minuartia cismontana

Minuartia cismontana

Minuartia cismontana is a species of flowering plant in the pink family known by the common name cismontane minuartia. It is native to Oregon and northern and central California, where it occurs in woodland and chaparral habitat, often on serpentine soils. It is similar to Minuartia californica and M...



Minuartia cumberlandensis

Minuartia cumberlandensis

Minuartia cumberlandensis is a rare species of flowering plant in the pink family known by the common names Cumberland stitchwort and Cumberland sandwort. It is endemic to the Cumberland Plateau near the Big South Fork of the Cumberland River in Tennessee and Kentucky...


- Cumberland sandwort
Minuartia dawsonensis - rock sandwort
Minuartia decumbens

Minuartia decumbens

Minuartia decumbens is a rare species of flowering plant in the pink family known by the common names The Lassics sandwort and Lassicus stitchwort. It is endemic to California, where it is known from only a single occurrence in the isolated inland mountains of the North Coast Ranges in Trinity...


- Lassicus sandwort
Minuartia dirphya

Minuartia dirphya

Minuartia dirphya is a rare species of plant in the Caryophyllaceae family. It is endemic to Mt. Dirfys on Evvia in Greece. It is restricted to the higher peaks of this single mountain on an island with many endemic plant species. Its natural habitat is Mediterranean-type shrubby vegetation. It is...



Minuartia douglasii

Minuartia douglasii

Minuartia douglasii is a species of flowering plant in the pink family known by the common name Douglas' stitchwort. It is native to the chaparral and oak woodlands in much of California, southern Oregon, and parts of Arizona. It is an annual herb growing to a maximum height of 30 centimeters with...


- Douglas' sandwort
Minuartia drummondii - Drummond's sandwort
Minuartia elegans
Minuartia filiorum - threadbranch sandwort
Minuartia gerardii
Minuartia glabra - Appalachian sandwort
Minuartia godfreyi - Godfrey's sandwort
Minuartia graminifolia (syn. Alsine rosani)
Minuartia groenlandica

Minuartia groenlandica

Minuartia groenlandica, the Greenland stitchwort or mountain stitchwort, is a rare perennial which grows low to the ground in clumps linked together at the bottom. It has three to five pairs of leaves in a linear opposite pattern along the length of the slender stem. The main stem breaks into one...


- Greenland stitchwort, mountain sandwort
Minuartia howellii

Minuartia howellii

Minuartia howellii is an uncommon species of flowering plant in the pink family known by the common names Howell's stitchwort and Howell's sandwort. It is native to the Klamath Mountains of southern Oregon and northern California, where it grows in serpentine soils in chaparral and woodland habitat...


- Howell's sandwort
Minuartia laricifolia
Minuartia macrantha - House's sandwort
Minuartia macrocarpa - longpod sandwort
Minuartia marcescens - serpentine sandwort
Minuartia michauxii - rock sandwort
Minuartia muscorum - Dixie sandwort
Minuartia nuttallii

Minuartia nuttallii

Minuartia nuttallii is a species of flowering plant in the pink family known by the common names Nuttall's sandwort and brittle sandwort. It is native to western North America from southwestern Canada to California and Nevada, where it grows in several types of habitat, including rocky and barren...


- Nuttall's sandwort
Minuartia obtusiloba

Minuartia obtusiloba

Minuartia obtusiloba is a perennial alpine herb known by the common names alpine sandwort and twinflower stitchwort. It is native to the mountains of western North America from the High Sierra of California to the Colorado Rockies north to Alaska. Its range may extend into far eastern Russia...


- twinflower sandwort
Minuartia patula - pitcher's sandwort
Minuartia pusilla

Minuartia pusilla

Minuartia pusilla is a species of flowering plant in the pink family known by the common names annual sandwort and dwarf stitchwort. It is native to western North America from British Columbia to California to Utah, where it grows in mountain forests, chaparral, and other habitat. It is a petite...


- annual sandwort
Minuartia rosei

Minuartia rosei

Minuartia rosei is an uncommon species of flowering plant in the pink family known by the common names peanut sandwort and peanut stitchwort. It is endemic to the mountain ranges of northwestern California, where it grows in serpentine soils in oak and pine woodlands and forests...


- peanut sandwort
Minuartia rossii - Ross' sandwort
Minuartia rubella

Minuartia rubella

Minuartia rubella is a species of flowering plant in the pink family known by several common names, including beautiful sandwort, Arctic sandwort, and boreal stitchwort...



Minuartia sedoides - mossy cyphel; dwarf cherleria. Confined to high mountains in Europe.
Minuartia stolonifera

Minuartia stolonifera

Minuartia stolonifera is a rare species of flowering plant in the pink family known by the common names Scott Mountain sandwort and stolon sandwort. It is endemic to Siskiyou County, California, where it is known from only two occurrences in the Scott Mountains of the Klamath Range...



Minuartia stricta

Minuartia stricta

Minuartia stricta is a species of flowering plant in the pink family known by the common names bog stitchwort and rock sandwort. It has a circumboreal distribution, occurring throughout much of the northernmost Northern Hemisphere from the lower Arctic into the alpine climates of mountainous areas...


- bog sandwort
Minuartia tenella - slender sandwort
Minuartia uniflora
Minuartia viscosa
Minuartia yukonensis - Yukon sandwort