 Minister of Munitions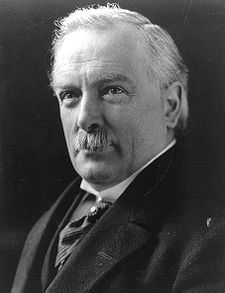 The
Minister of Munitions
was a British government position created during the
First World War
World War I
World War I , which was predominantly called the World War or the Great War from its occurrence until 1939, and the First World War or World War I thereafter, was a major war centred in Europe that began on 28 July 1914 and lasted until 11 November 1918...
to oversee and co-ordinate the production and distribution of munitions for the war effort. The position was created in response to the
Shell Crisis of 1915
Shell Crisis of 1915
The Shell Crisis of 1915 was a shortage of artillery shells on the front lines of World War I, which largely contributed to weakening public appreciation of government of the United Kingdom because it was widely perceived that the production of artillery shells for use by the British Army was...
when there was much public criticism of the shortage of
shells
Shell (projectile)
A shell is a payload-carrying projectile, which, as opposed to shot, contains an explosive or other filling, though modern usage sometimes includes large solid projectiles properly termed shot . Solid shot may contain a pyrotechnic compound if a tracer or spotting charge is used...
available.
Most Ministers appointed were senior politicians, starting with
David Lloyd George
David Lloyd George
David Lloyd George, 1st Earl Lloyd-George of Dwyfor OM, PC was a British Liberal politician and statesman...
. The position was abolished in 1921 as part of a cutback of government and as a delayed result of the end of WWI in 1918.
Ministers of Munitions, 1915–1921
Name
Entered office
Left office
David Lloyd George

David Lloyd George

David Lloyd George, 1st Earl Lloyd-George of Dwyfor OM, PC was a British Liberal politician and statesman...



25 May 1915
9 July 1916
Hon. Edwin Samuel Montagu

Edwin Samuel Montagu

Edwin Samuel Montagu PC was a British Liberal politician. He notably served as Secretary of State for India between 1917 and 1922.-Background and education:...



9 July 1916
10 December 1916
Christopher Addison

Christopher Addison, 1st Viscount Addison

Sir Christopher Addison, 1st Viscount Addison KG, PC was a British medical doctor and politician. By turns a liberal and a socialist, he served as Minister of Munitions during the first World War, and was later Minister of Health under David Lloyd George and Leader of the House of Lords under...



10 December 1916
17 July 1917
Winston Churchill

Winston Churchill

Sir Winston Leonard Spencer-Churchill, was a predominantly Conservative British politician and statesman known for his leadership of the United Kingdom during the Second World War. He is widely regarded as one of the greatest wartime leaders of the century and served as Prime Minister twice...



17 July 1917
10 January 1919
The Lord Inverforth

Andrew Weir, 1st Baron Inverforth

Andrew Weir, 1st Baron Inverforth PC created and headed the firm of Andrew Weir and Co. shipowners of Glasgow...



10 January 1919
21 March 1921
Parliamentary Secretaries to the Ministry of Munitions, 1916–1919
Name
Entered office
Left office
Sir Laming Worthington-Evans, Bt
14 December 1916
30 January 1918
F. G. Kellaway

Frederick Kellaway

Frederick George Kellaway PC , often called F. G. Kellaway, was a Liberal Party politician in the United Kingdom, and Member of Parliament for Bedford from December 1910 to 1922....



14 December 1916
1 April 1920
J. E. B. Seely

J. E. B. Seely, 1st Baron Mottistone

John Edward Bernard Seely, 1st Baron Mottistone CB, CMG, DSO, PC, TD was a British soldier and politician. He was a Conservative Member of Parliament from 1900 to 1904 and a Liberal MP from 1904 to 1922 and from 1923 to 1924...



10 July 1918
10 January 1919
John Baird

John Baird, 1st Viscount Stonehaven

John Lawrence Baird, 1st Viscount Stonehaven, GCMG, DSO, PC, JP, DL , known as Sir John Baird, Bt, between 1920 and 1925 and as The Lord Stonehaven between 1925 and 1928, was a British Conservative politician, who served as a Member of Parliament, government minister, and was later the eighth...



10 January 1919
29 April 1919
Parliamentary and Financial Secretaries to the Ministry of Munitions, 1918–1921
| Name | Entered office | Left office |
| --- | --- | --- |
| Sir Laming Worthington-Evans, Bt | 30 January 1918 | 18 July 1918 |
| James Hope | 27 January 1919 | 31 March 1921 |