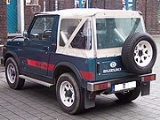 Mini SUV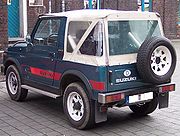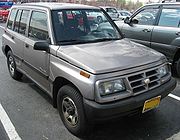 Mini SUV
is a class of small
sport utility vehicle
Sport utility vehicle
A sport utility vehicle is a generic marketing term for a vehicle similar to a station wagon, but built on a light-truck chassis. It is usually equipped with four-wheel drive for on- or off-road ability, and with some pretension or ability to be used as an off-road vehicle. Not all four-wheel...
s with a length under 4100 mm (161.4 in). This class should not be confused with
compact SUV
Compact SUV
Compact SUV is a class of small sport utility vehicles with a length roughly between . This class should not be confused with mini SUV, which refers to smaller vehicles.- Background :...
, which refers to slightly larger vehicles, from 4250 to 4600 mm (167.3 to 181.1 in).
Early mini SUVs were
off-road vehicle
Off-road vehicle
An off-road vehicle is considered to be any type of vehicle which is capable of driving on and off paved or gravel surface. It is generally characterized by having large tires with deep, open treads, a flexible suspension, or even caterpillar tracks...
s built on
body-on-frame
Body-on-frame
Body-on-frame is an automobile construction method. Mounting a separate body to a rigid frame that supports the drivetrain was the original method of building automobiles, and its use continues to this day. The original frames were made of wood , but steel ladder frames became common in the 1930s...
chassis, such as the
Jeep Wrangler
Jeep Wrangler
The Jeep Wrangler is a subcompact four-wheel drive sport utility vehicle and an off-road vehicle manufactured by American automaker Chrysler, under its Jeep marque – and now in its fourth generation. It is a successor to the famous World War II 'Jeep' vehicle by way of the Willys civilian...
and Suzuki Samurai. Earlier mini SUVs are still often used due to their off-road prowess and more manageable size on the trail (for example, a large SUV might not fit in the narrower parts of the trail). The most capable off-road vehicles built earlier were mini SUVs due to them having been built for off-roading, while the trend for larger four-door SUV since the introduction of the
Jeep Cherokee
Jeep Cherokee (SJ)
The SJ series Jeep Cherokee was a full-size SUV produced from 1974 through 1983 by the Jeep division of the American Motors Corporation...
and the
Ford Explorer
Ford Explorer
The Ford Explorer is a sport-utility vehicle sold in North America and built by the Ford Motor Company since 1990, as a replacement for the smaller but related Ford Bronco II. It is manufactured in Chicago, Illinois...
has increasingly been toward family hauling and on-road use rather than hard off-roading.
However, current mini SUVs have followed a similar trend, usually having unibody construction and few off-road capabilities, falling into the
crossover SUV
Crossover SUV
A crossover SUV is a vehicle built on a car platform and combining, in highly variable degrees, features of a sport utility vehicle with features from a passenger vehicle, especially those of a station wagon or hatchback.Using the unibody construction typical of passenger vehicles, the crossover...
category. They have substituted off-road cosmetic features, such as large black bumpers and slightly increased ground clearance.
Mini SUVs have become popular in some countries because of fashion trends: for example, wealthy young people buy them just to have a "different looking" car. An advantage over larger SUVs is the better
fuel economy
Fuel economy in automobiles
Fuel usage in automobiles refers to the fuel efficiency relationship between distance traveled by an automobile and the amount of fuel consumed....
, which is very similar to
subcompact car
Subcompact car
Subcompact car is a North American term used to describe automobiles whose class size is smaller than that of a compact car, usually not exceeding in length, but larger than a microcar...
s /
superminis
Supermini car
A supermini is a British term that describes automobiles larger than a city car but smaller than a small family car. This car class is also known as the B-segment across Europe, and as subcompact in North America....
.
In Japan, as cars under 3400 mm (133.9 in) in length are classified as
kei car

Kei car

Kei cars, K-cars, or , are a Japanese category of small vehicles, including passenger cars, vans, and pickup trucks. They are designed to comply with Japanese government tax and insurance regulations, and in most rural areas are exempted from the requirement to certify that adequate parking is...


s
and attract lower taxes; some manufacturers build these cars with off-road looks (such as the
Mitsubishi Pajero Mini
Mitsubishi Pajero Mini
The Mitsubishi Pajero Mini is a kei car produced by Mitsubishi Motors since December 1994.-Overview:Based on the platform of the Minica, the Pajero Mini was styled as a miniature version of the company's successful Pajero sport utility vehicle, in response to the SUV craze of the late 1980s and...
).
Examples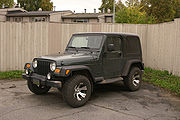 Crossover
Daihatsu Terios

Daihatsu Terios

The Daihatsu Terios is a mini SUV, first released in 1997 by the Japanese car manufacturer Daihatsu. The engines are a modified Daihatsu Charade 1.3 litre or kei car 660 cc unit, with constant four wheel drive or two wheel drive , respectively. It has 5-speed manual transmission or...



Dacia Duster

Dacia Duster

The Dacia Duster is the first crossover SUV developed by the Romanian automaker Automobile Dacia. Officially revealed on 8 December 2009, it became available in Europe from 18 March 2010.-Design:...



Ford EcoSport

Ford EcoSport

The Ford EcoSport is a mini SUV designed by the Ford-US Truck Vehicle Center and built in Brazil by Ford. The EcoSport is one of Ford's best-seller models in Brazil, Argentina, Venezuela and Mexico...



Honda Crossroad

Honda Crossroad

The Honda Crossroad refers to two specific types of SUVs made by Honda. One of them is a rebadged Land Rover Discovery Series I SUV, while the other is a completely different vehicle introduced in 2008.-Rebadged version :...



Honda HR-V

Honda HR-V

The Honda HR-V is a mini SUV produced by the Japanese automaker Honda from 1999 until 2006. The abbreviation HRV officially stands for High Rider Vehicle although sometimes referred to as Hybrid Recreation Vehicle...



Honda Z

Honda Z

Honda Z is the name of a two-door hatchback microcar automobile made by the Honda Motor Company, first from 1970 until 1974 and again between 1998 and 2003....


1998-2002
Lada Niva

Lada Niva

The Lada Niva or VAZ-2121 is the Russian word for "crop field") is an off-road vehicle built by Soviet/Russian automaker AvtoVAZ. The car is very popular in its home country. It is also popular in Canada , South America, Europe, and other regions where the terrain requires a robust and tough car...



Mini Countryman

Mini Countryman

The Mini Countryman is a crossover SUV car, and is the first such car to be launched under the Mini marque by BMW. The car was announced in January 2010, and formally launched at the 2010 Geneva Motor Show as the first Mini crossover SUV, and the first 5-door model...



Mitsubishi Pajero iO

Mitsubishi Pajero iO

The Mitsubishi Pajero iO is a mini SUV produced by Mitsubishi Motors since June 15, 1998 in three-door form, and August 24, 1998 as a five-door...



Mitsubishi Pajero Junior

Mitsubishi Pajero Junior

The Mitsubishi Pajero Junior is a mini SUV produced by Japanese automaker Mitsubishi Motors between 1995 and 1998. Based on a lengthened Minica platform, it was a larger version of the Mitsubishi Pajero Mini, though unlike that car it was too big to qualify for the kei car classification.The...



Mitsubishi Pajero Mini

Mitsubishi Pajero Mini

The Mitsubishi Pajero Mini is a kei car produced by Mitsubishi Motors since December 1994.-Overview:Based on the platform of the Minica, the Pajero Mini was styled as a miniature version of the company's successful Pajero sport utility vehicle, in response to the SUV craze of the late 1980s and...



Mitsubishi Space Runner
Nissan Juke
Subaru Impreza

Subaru Impreza

Introduced in November 1993, the Impreza was offered in either front-wheel drive or all-wheel drive versions and as a four-door sedan/saloon or five-door station wagon/estate. According to a Motor Trend article written March 1992 on page 26, the name of Subaru's new compact was, initially, to be...


- hatchback variants
Suzuki Ignis

Suzuki Ignis

The Suzuki Ignis is a subcompact car that was produced by Suzuki between 2000 and 2008, replacing the Suzuki Cultus. The Cultus retailed under various names globally, notably as the Suzuki Swift...



Fiat Sedici

Fiat Sedici

The Fiat Sedici is a mini sport utility vehicle co-developed by Fiat and Suzuki mainly for the European market.-History:It was introduced at the 2006 Geneva Motor Show, and is built at the Magyar Suzuki plant in Hungary. The expected production volume is 60,000 units per year, 1/3 of these to be...



Toyota Urban Cruiser

Toyota Urban Cruiser

The Toyota Urban Cruiser is a mini MPV that is currently produced by Japanese automaker Toyota. It was first introduced in 2008 and is still in production. It slots below the Toyota RAV4 to compete against small crossover SUVs like the Nissan Qashqai and Kia Soul, while also attracting buyers of...



Heavy duty
See also