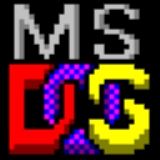 MS-DOS
MS-DOS
is an
operating system
Operating system
An operating system is a set of programs that manage computer hardware resources and provide common services for application software. The operating system is the most important type of system software in a computer system...
for x86-based personal computers. It was the most commonly used member of the
DOS
DOS
DOS, short for "Disk Operating System", is an acronym for several closely related operating systems that dominated the IBM PC compatible market between 1981 and 1995, or until about 2000 if one includes the partially DOS-based Microsoft Windows versions 95, 98, and Millennium Edition.Related...
family of operating systems, and was the main operating system for
IBM PC compatible
IBM PC compatible
IBM PC compatible computers are those generally similar to the original IBM PC, XT, and AT. Such computers used to be referred to as PC clones, or IBM clones since they almost exactly duplicated all the significant features of the PC architecture, facilitated by various manufacturers' ability to...
personal computers during the 1980s to the mid 1990s, until it was gradually superseded by operating systems offering a
graphical user interface
Graphical user interface
In computing, a graphical user interface is a type of user interface that allows users to interact with electronic devices with images rather than text commands. GUIs can be used in computers, hand-held devices such as MP3 players, portable media players or gaming devices, household appliances and...
(GUI), in particular by various generations of the
Microsoft Windows
Microsoft Windows
Microsoft Windows is a series of operating systems produced by Microsoft.Microsoft introduced an operating environment named Windows on November 20, 1985 as an add-on to MS-DOS in response to the growing interest in graphical user interfaces . Microsoft Windows came to dominate the world's personal...
operating system.
MS-DOS grew from a 1981 request by IBM for an operating system for its
IBM PC
IBM PC
The IBM Personal Computer, commonly known as the IBM PC, is the original version and progenitor of the IBM PC compatible hardware platform. It is IBM model number 5150, and was introduced on August 12, 1981...
range of personal computers.