 Metaphysical art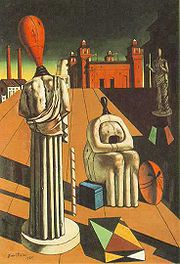 Metaphysical art
style of painting that flourished mainly between 1911 and 1920 in the works of the Italian artists
Giorgio de Chirico
Giorgio de Chirico
Giorgio de Chirico was a pre-Surrealist and then Surrealist Italian painter born in Volos, Greece, to a Genovese mother and a Sicilian father. He founded the scuola metafisica art movement...
and
Carlo Carrà
Carlo Carrà
Carlo Carrà was an Italian painter, a leading figure of the Futurist movement that flourished in Italy during the beginning of the 20th century. In addition to his many paintings, he wrote a number of books concerning art. He taught for many years in the city of Milan.-Biography:Carrà was born in...
. The movement began with Chirico, whose dreamlike works with sharp contrasts of light and shadow often had a vaguely threatening, mysterious quality. De Chirico, his younger brother
Alberto Savinio
Alberto Savinio
Alberto Savinio, real name Andrea Francesco Alberto de Chirico was an Italian writer, painter, musician, journalist, essayist, playwright, set designer and composer. He was the younger brother of 'metaphysical' painter Giorgio De Chirico...
, and Carrà formally established the school and its principles in 1917.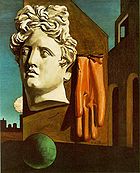 While
Futurism
Futurism
Futurism was an artistic and social movement that originated in Italy in the early 20th century.Futurism or futurist may refer to:* Afrofuturism, an African-American and African diaspora subculture* Cubo-Futurism* Ego-Futurism...
staunchly rejected the past, other modern movements identified a nostalgia for the now faded Classical grandeur of Italy as a major influence in their art. Giorgio de Chirico first developed the style that he later called Metaphysical Painting while in Milan. It was in the more sedate surroundings of
Florence
Florence
Florence is the capital city of the Italian region of Tuscany and of the province of Florence. It is the most populous city in Tuscany, with approximately 370,000 inhabitants, expanding to over 1.5 million in the metropolitan area....
, however, that he subsequently developed his emphasis on strange, eerie spaces, based upon the Italian piazza. Many of de Chirico's works from his Florence period evoke a sense of dislocation between past and present, between the individual subject and the space he or she inhabits. These works soon drew the attention of other artists such as Carlo Carrà and
Giorgio Morandi
Giorgio Morandi
Giorgio Morandi was an Italian painter and printmaker who specialized in still life. His paintings are noted for their tonal subtlety in depicting apparently simple subjects, which were limited mainly to vases, bottles, bowls, flowers, and landscapes.-Biography:Giorgio Morandi was born in Bologna...
.
In his painting
Turin Melancholy
(1915), for example, he illustrated just such a square, using unnaturally sharp contrasts of light and shadow that lend an aura of poignant but vaguely threatening mystery to the scene. The arcades in this painting, as well as the deep perspectival space and dark-toned sky, are pictorial devices typical of de Chirico's strange, evocative works. He gave his paintings enigmatic titles — such as
The Nostalgia of the Infinite
(1913–14),
The Philosopher's Conquest
(1914), and
The Soothsayer's Recompense
(1913) — that contribute to their cryptic effect. Other Metaphysical painters included
Filippo de Pisis
Filippo De Pisis
Filippo De Pisis was an Italian painter.-Biography:Filippo de Pisis was an Italian painter-poet who was born Luigi Filippo Tibertelli in Ferrara....
, and
Mario Sironi
Mario Sironi
Mario Sironi was an Italian modernist artist who was active as a painter, sculptor, illustrator, and designer. His typically somber paintings are characterized by massive, immobile forms.-Biography:...
.
In 1917, in the midst of the First World War, Carrà and de Chirico spent time in Ferarra where they further developed the Metaphysical Painting style that was later to attract the attention of the French Surrealists.
The Metaphysical school proved short-lived; it came to an end about 1920 because of dissension between de Chirico and Carrà over who had founded the group.
Sources
Onians, John. Atlas of world art. Laurence King Publishing, 2004. p. 288. Web. 07 Oct. 2011.
"Metaphysical painting." Encyclopædia Britannica

Encyclopædia Britannica

The Encyclopædia Britannica , published by Encyclopædia Britannica, Inc., is a general knowledge English-language encyclopaedia that is available in print, as a DVD, and on the Internet. It is written and continuously updated by about 100 full-time editors and more than 4,000 expert...


. 2011. Web. 07 Oct. 2011.