 Merseburg Cathedral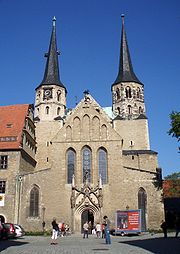 Merseburg Cathedral
is a
cathedral
Cathedral
A cathedral is a Christian church that contains the seat of a bishop...
in
Merseburg
Merseburg
Merseburg is a town in the south of the German state of Saxony-Anhalt on the river Saale, approx. 14 km south of Halle . It is the capital of the Saalekreis district. It had a diocese founded by Archbishop Adalbert of Magdeburg....
,
Germany
Germany
Germany , officially the Federal Republic of Germany , is a federal parliamentary republic in Europe. The country consists of 16 states while the capital and largest city is Berlin. Germany covers an area of 357,021 km2 and has a largely temperate seasonal climate...
. Construction on the
Gothic
Gothic architecture
Gothic architecture is a style of architecture that flourished during the high and late medieval period. It evolved from Romanesque architecture and was succeeded by Renaissance architecture....
cathedral was begun by Bishop
Thietmar of Merseburg
Thietmar of Merseburg
Thietmar of Merseburg was a German chronicler who was also bishop of Merseburg.-Life:...
in 1015. It was consecrated in 1021 in the presence of
Henry II
Henry II, Holy Roman Emperor
Henry II , also referred to as Saint Henry, Obl.S.B., was the fifth and last Holy Roman Emperor of the Ottonian dynasty, from his coronation in Rome in 1014 until his death a decade later. He was crowned King of the Germans in 1002 and King of Italy in 1004...
. The cathedral was renovated in the
Renaissance
Renaissance architecture
Renaissance architecture is the architecture of the period between the early 15th and early 17th centuries in different regions of Europe, demonstrating a conscious revival and development of certain elements of ancient Greek and Roman thought and material culture. Stylistically, Renaissance...
style from 1510-17. It is considered an artistic and historical highlight in southern
Saxony-Anhalt
Saxony-Anhalt
Saxony-Anhalt is a landlocked state of Germany. Its capital is Magdeburg and it is surrounded by the German states of Lower Saxony, Brandenburg, Saxony, and Thuringia.Saxony-Anhalt covers an area of...
. Since the
Reformation
Protestant Reformation
The Protestant Reformation was a 16th-century split within Western Christianity initiated by Martin Luther, John Calvin and other early Protestants. The efforts of the self-described "reformers", who objected to the doctrines, rituals and ecclesiastical structure of the Roman Catholic Church, led...
it hasn't been the seat of a bishop anymore. The church belongs now to the
Evangelical Church in Germany
Evangelical Church in Germany
The Evangelical Church in Germany is a federation of 22 Lutheran, Unified and Reformed Protestant regional church bodies in Germany. The EKD is not a church in a theological understanding because of the denominational differences. However, the member churches share full pulpit and altar...
.
Merseburg Cathedral is known in musical circles for its large romantic
organ
Pipe organ
The pipe organ is a musical instrument that produces sound by driving pressurized air through pipes selected via a keyboard. Because each organ pipe produces a single pitch, the pipes are provided in sets called ranks, each of which has a common timbre and volume throughout the keyboard compass...
, built by
Friedrich Ladegast
Friedrich Ladegast
Friedrich Ladegast was a famous German organ builder.Ladegast was born in Hochhermsdorf , Saxony, to a carpenter and cabinet-maker. He worked first for his brother Christlieb, an organ builder at Geringswalde, and built his first two organs at the age of twenty...
.