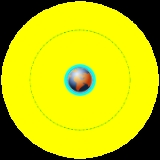 Medium Earth Orbit

Medium Earth orbit
, sometimes called
intermediate circular orbit (ICO)
, is the region of space around the Earth above
low Earth orbit
Low Earth orbit
A low Earth orbit is generally defined as an orbit within the locus extending from the Earth's surface up to an altitude of 2,000 km...
(altitude of 2000 kilometres (1,243 mi)) and below
geostationary orbit
Geostationary orbit
A geostationary orbit is a geosynchronous orbit directly above the Earth's equator , with a period equal to the Earth's rotational period and an orbital eccentricity of approximately zero. An object in a geostationary orbit appears motionless, at a fixed position in the sky, to ground observers...
(altitude of 35786 kilometres (22,236 mi)).
The most common use for
satellite
Satellite
In the context of spaceflight, a satellite is an object which has been placed into orbit by human endeavour. Such objects are sometimes called artificial satellites to distinguish them from natural satellites such as the Moon....
s in this region is for navigation, such as the
GPS
Global Positioning System
The Global Positioning System is a space-based global navigation satellite system that provides location and time information in all weather, anywhere on or near the Earth, where there is an unobstructed line of sight to four or more GPS satellites...
(with an altitude of 20200 kilometres (12,552 mi)),
Glonass
GLONASS
GLONASS , acronym for Globalnaya navigatsionnaya sputnikovaya sistema or Global Navigation Satellite System, is a radio-based satellite navigation system operated for the Russian government by the Russian Space Forces...
(with an altitude of 19100 kilometres (11,868 mi)) and
Galileo
Galileo positioning system
Galileo is a global navigation satellite system currently being built by the European Union and European Space Agency . The €20 billion project is named after the famous Italian astronomer Galileo Galilei...
(with an altitude of 23222 kilometres (14,430 mi)) constellations. Communications satellites that cover the North and South Pole are also put in MEO.
The
orbital period
Orbital period
The orbital period is the time taken for a given object to make one complete orbit about another object.When mentioned without further qualification in astronomy this refers to the sidereal period of an astronomical object, which is calculated with respect to the stars.There are several kinds of...
s of MEO satellites range from about 2 to 24 hours.
Telstar
Telstar
Telstar is the name of various communications satellites, including the first such satellite to relay television signals.The first two Telstar satellites were experimental and nearly identical. Telstar 1 was launched on top of a Thor-Delta rocket on July 10, 1962...
, one of the first and most famous experimental satellites, orbits in MEO.
The orbit has a moderate number of satellites.
See also
Low Earth orbit

Low Earth orbit

A low Earth orbit is generally defined as an orbit within the locus extending from the Earth's surface up to an altitude of 2,000 km...


(LEO)
High Earth orbit

High Earth orbit

A High Earth Orbit is a geocentric orbit whose apogee lies above that of a geosynchronous orbit .Highly Elliptical Orbits are a subset of High Earth Orbits.-Examples of satellites in High Earth Orbit:...



Highly elliptical orbit

Highly Elliptical Orbit

A highly elliptical orbit is an elliptic orbit with a low-altitude perigee and a high-altitude apogee. It is a type of high Earth orbit....


(HEO)
Geostationary Earth orbit

Geostationary orbit

A geostationary orbit is a geosynchronous orbit directly above the Earth's equator , with a period equal to the Earth's rotational period and an orbital eccentricity of approximately zero. An object in a geostationary orbit appears motionless, at a fixed position in the sky, to ground observers...


(GEO)
Geosynchronous orbit

Geosynchronous orbit

A geosynchronous orbit is an orbit around the Earth with an orbital period that matches the Earth's sidereal rotation period...


(GSO)