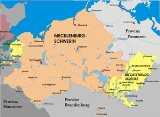 Mecklenburg
Mecklenburg
is a historical region in northern
Germany
Germany
Germany , officially the Federal Republic of Germany , is a federal parliamentary republic in Europe. The country consists of 16 states while the capital and largest city is Berlin. Germany covers an area of 357,021 km2 and has a largely temperate seasonal climate...
comprising the western and larger part of the federal-state Mecklenburg-Vorpommern. The largest cities of the region are
Rostock
Rostock
Rostock -Early history:In the 11th century Polabian Slavs founded a settlement at the Warnow river called Roztoc ; the name Rostock is derived from that designation. The Danish king Valdemar I set the town aflame in 1161.Afterwards the place was settled by German traders...
,
Schwerin
Schwerin
Schwerin is the capital and second-largest city of the northern German state of Mecklenburg-Vorpommern. The population, as of end of 2009, was 95,041.-History:...
, and
Neubrandenburg
Neubrandenburg
Neubrandenburg is a city in Mecklenburg-Vorpommern, Germany. It is located in the southeastern part of the state, on the shore of a lake called the Tollensesee ....
.
The name Mecklenburg derives from a castle named "Mikilenburg" (
Old Saxon
Old Saxon
Old Saxon, also known as Old Low German, is the earliest recorded form of Low German, documented from the 8th century until the 12th century, when it evolved into Middle Low German. It was spoken on the north-west coast of Germany and in the Netherlands by Saxon peoples...
: "big castle", thus the Grecised name variant
Megalopolis
used in
Medieval Latin
Medieval Latin
Medieval Latin was the form of Latin used in the Middle Ages, primarily as a medium of scholarly exchange and as the liturgical language of the medieval Roman Catholic Church, but also as a language of science, literature, law, and administration. Despite the clerical origin of many of its authors,...
sources), located between the cities of Schwerin and
Wismar
Wismar
Wismar , is a small port and Hanseatic League town in northern Germany on the Baltic Sea, in the state of Mecklenburg-Vorpommern,about 45 km due east of Lübeck, and 30 km due north of Schwerin. Its natural harbour, located in the Bay of Wismar is well-protected by a promontory. The...
.