Matalan
Matalan
is a
British
United Kingdom
The United Kingdom of Great Britain and Northern IrelandIn the United Kingdom and Dependencies, other languages have been officially recognised as legitimate autochthonous languages under the European Charter for Regional or Minority Languages...
retailer that specialises in shoes and clothes. It was founded by John Hargreaves in 1985. It currently has 200 stores across the UK. The 200th store opened on 22 September 2006 in
Croydon
Croydon
Croydon is a town in South London, England, located within the London Borough of Croydon to which it gives its name. It is situated south of Charing Cross...
. The current Chairman is John Mills and the current Chief Executive at Matalan is Darren Blackhurst.
On 25 October 2009, it was announced that various parties were interested acquiring Matalan but that any deal would most likely do through early 2010.
John Hargreaves put a £1.5billion price tag on the Matalan brand name and with the closest offer, £1.3billion, being rejected any buyout looked unlikely and with no new offers Matalan has now looked at investments into the brand.
Stores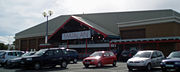 Matalans stores average out at a size of roughly 30000 square feet (2,787.1 m²), emphasising the space strategy that the company employs. The majority of Matalans stores are based in out of town locations, based upon a concept that John Hargreaves discovered was successful in
America
United States
The United States of America is a federal constitutional republic comprising fifty states and a federal district...
, and then decided to launch it in Preston in 1985. Each store is typically divided into four departments, Women's, Men's, Kids' and Homeware. In May 2007, Matalans launched a new 'Partyshop' department at its Preston store named 'M Party'. This has now extended to almost ten stores across the country including three in west Scotland. During 2008, M Party was rolled out to a further 55 stores within the company. In January 2011 this department had been disbanded as it is not as viable as once thought.
In December 2007, the company made the decision to roll out a new store format, following a successful trial and an increase in pre-tax profits. This included new innovations to Matalans such as mannequins and more stylish fixtures and fittings.
In 2010 the potential buy over of Matalans fell through after the buy-out companies interested could not meet the £1.5 billion price tag placed on the company by owner John Hargreaves . An offer of £1.3 billion was rumoured to have been rejected. Following the breakdown in any buyout, plans were made by Hargreaves to invest more money into the Matalans brand. As well as investment into the current stores in the UK plans are in place to open a further 5/6 stores in Scotland and plans are also in place about the possibility of opening Matalans stores outside of the UK for the first time.
Matalan Mobiles
Matalan ventured into the mobile phone industry after seeing its success with its other departments. Launched in September 2008, it currently has a fully functioning e-commerce site, and a dedicated call center in Manchester promoting mobile phone deals.
Its underlying philosophy remains the same, providing value for money where others can't. This is reflected in low cost mobile phone deals, rewards like money off vouchers to spend in store, and cash back deals.
Matalan card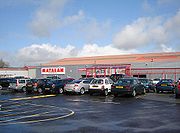 Matalan has a card system that it employs within its stores. The card was originally used so that only certain people could shop at the store, similar to the
Makro
Makro
Makro is a Dutch chain of Warehouse clubs, also called cash and carries. The first one opened in 1968 in Amsterdam. In the following years more stores opened in the Netherlands and in several other countries within Europe. In the 1970s and 1980s Makro extended its business to the Americas and...
membership card. However as the years went on they changed the system so that anyone could join and get a Matalan card for £1. The membership card was needed to process items through the tills because there was no way of buying items without a card. Then around 2003 Matalan removed the £1 charge for the card. The card is now no longer needed to process transactions, however employees are encouraged to make as few sales as possible without the card. The card acts as an incentive to customers by offering them:
cardholder discounts and exclusive offers;
the use of the card also enables a hard receipt to be stored on the store computer system, allowing refunds without the receipt.
vouchers by e-mail OR post, including one on the cardholder's birthday;
a number of partner offers;
mailer updates on new products and offers.
In 2006, Matalan trialed a reward scheme using points on the Matalan card in
Scottish
Scotland
Scotland is a country that is part of the United Kingdom. Occupying the northern third of the island of Great Britain, it shares a border with England to the south and is bounded by the North Sea to the east, the Atlantic Ocean to the north and west, and the North Channel and Irish Sea to the...
stores. At the same time, a keyfob was introduced as an alternative to the card, similar to
Tesco
Tesco
Tesco plc is a global grocery and general merchandise retailer headquartered in Cheshunt, United Kingdom. It is the third-largest retailer in the world measured by revenues and the second-largest measured by profits...
Clubcard. However Matalan decided not to roll out this scheme to the rest of the stores, and concentrate on offering more to the customer in store.
M Cafe
During 2007, Matalan began to trial an in-store
cafe
Café
A café , also spelled cafe, in most countries refers to an establishment which focuses on serving coffee, like an American coffeehouse. In the United States, it may refer to an informal restaurant, offering a range of hot meals and made-to-order sandwiches...
concept to attract more customers into stores. M Cafe's menu was based around healthy options, selling food and drinks with little or no sugar. The cafe itself was based around the shape of a coffee bean, with dark brown and stainless steel fittings creating a contemporary setting.
However, the cafes failed to fulfill their intended purpose and were disbanded. The space at the trial stores,
Stockport
Stockport
Stockport is a town in Greater Manchester, England. It lies on elevated ground southeast of Manchester city centre, at the point where the rivers Goyt and Tame join and create the River Mersey. Stockport is the largest settlement in the metropolitan borough of the same name...
and
Southport
Southport
Southport is a seaside town in the Metropolitan Borough of Sefton in Merseyside, England. During the 2001 census Southport was recorded as having a population of 90,336, making it the eleventh most populous settlement in North West England...
, have now been turned into hearing aid centres where customers can also get free hearing tests.
Concessions
In addition to their traditional stock management, Matalan operate a number of concessionary product offers in store. These include:
Jewellery
- provided for ladies, mens, and kids by firm DCK.
Books
- traditionally located within the homeware department near the tills. Stocked by Webb.
Shop-in-shop strategy
Since Matalan relaunched the brand in 2006, there had been a number of attempts to add more diversity to the traditionally single minded approach to product branding. Much of this was achieved by creating 'shop-in-shop' layouts across the stores. These include:
Et Vous
- High quality ladieswear brand.
Soon
- Relaunch of an old Matalan ladieswear brand in 2007. Product mainly for older market.
Sports Shop
- Establishment of an area in store for ladies, mens, and kids selling high quality branded sportswear. Brands available include Fila, Umbro, PGA Tour and Everlast.
Be Beau
- Catwalk inspired fashion brand, launched in 2009.
24/7
- Quality men's casualwear designed by Jeff Banks.
Lee Cooper
- Men's casual fashion, relaunched in 2009 with many new lines for the Autumn/Winter seasons.
Influence
- Stylish and affordable designer home accessories from big household names including Laurence Llewelyn-Bowen, Colin McAllister and Justin Ryan, Anthea Turner, Antony Worrall Thompson, Gino D'Acampo, Linda Barker, Martine McCutcheon, Jane Asher and James Tanner, launched in 2009.
Expansion
As the UK economic downturn took hold in late 2008, value retailers such as Matalan began to benefit from the more cost-aware spending of the UK consumer base, as well as the demise of rivals such as Woolworths and Ethel Austin. This in addition to a strategy of store refurbishment, stock and marketing revision, and debt repayment led to an increased wealth within the company and a steady increase in sales. Increased revenue allowed Matalan to begin expanding again, and opening new stores for the first time in three years. The long term ambition is to expand Matalan's store portfolio to 300 stores in the UK, beginning in 2009 with stores opening in Elgin (Scotland), Colindale (London), and Cheetham Hill (Manchester).
As well as expansion in the UK, Matalan has announced plans to open stores outside the UK for the first ever time. Over the next year, Matalan will be opening fifteen new stores in the middle east in locations including
Jordan
Jordan
Jordan , officially the Hashemite Kingdom of Jordan , Al-Mamlaka al-Urduniyya al-Hashemiyya) is a kingdom on the East Bank of the River Jordan. The country borders Saudi Arabia to the east and south-east, Iraq to the north-east, Syria to the north and the West Bank and Israel to the west, sharing...
and the
United Arab Emirates
United Arab Emirates
The United Arab Emirates, abbreviated as the UAE, or shortened to "the Emirates", is a state situated in the southeast of the Arabian Peninsula in Western Asia on the Persian Gulf, bordering Oman, and Saudi Arabia, and sharing sea borders with Iraq, Kuwait, Bahrain, Qatar, and Iran.The UAE is a...
.
Clearance stores
In order to make sure that new season ranges are given full attention upon launch, Matalan converted a small selection of its stores into clearance outlets. These stores are stocked through stock uplifts from regular branches, where old stock is taken in mass (often the culmination of 2 or more sale periods) and crossdocked to clearance branches. Matalan dustbin stores are generally selected from branches that are nearing the end of their lease or are located in an area which is commercially viable for a store of a clearance nature. At current, Matalan has clearance stores in Blythswood (Renfrew, near Glasgow Airport), Newport, Wood Green (London), Wolverhampton, and Sunderland. There are also stores in Portadown and Swindon, however these are both due to close with employees losing their jobs despite the profits they have helped secure in recent years.
Distribution
Matalan stores have goods distributed to them from three distribution centres:
Skelmersdale
- based adjacent to the head office buildings, the Skelmersdale DC delivers to stores primarily in the north of the UK. The centre is made up of two buildings, one of which crossdocks goods directly to stores. The SDC is also the base of Matalan's logistical operation.
Corby
- the most recently opened depot, supplying stores in the south of the UK. Corby DC is owned by Matalan, but is operationally run by logistical contractor Wincanton.
Knowsley
- The smallest of the three centres. Primarily for distributing bulk goods. Knowsley also houses a small office complex.
Because Matalan's logistical operation is run by Wincanton, goods are also relayed through Wincanton's depot in Scotland, to ease pressure on Skelmersdale and allow Scottish stores to receive goods more quickly. In the earlier years of Matalan, a distribution centre was also situated in Leyland, not far from the head office in Preston. However, as the company rapidly expanded in size around the turn of the millennium, Leyland was closed and the distribution centre was moved to Skelmersdale along with the head office.
External links