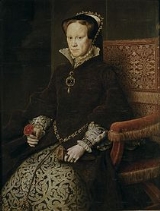 Mary I of England
Mary I
was
queen regnant
Queen regnant
A queen regnant is a female monarch who reigns in her own right, in contrast to a queen consort, who is the wife of a reigning king. An empress regnant is a female monarch who reigns in her own right over an empire....
of
England
Kingdom of England
The Kingdom of England was, from 927 to 1707, a sovereign state to the northwest of continental Europe. At its height, the Kingdom of England spanned the southern two-thirds of the island of Great Britain and several smaller outlying islands; what today comprises the legal jurisdiction of England...
and
Ireland
Kingdom of Ireland
The Kingdom of Ireland refers to the country of Ireland in the period between the proclamation of Henry VIII as King of Ireland by the Crown of Ireland Act 1542 and the Act of Union in 1800. It replaced the Lordship of Ireland, which had been created in 1171...
from July 1553 until her death.
She was the only surviving child born of the ill-fated marriage of
Henry VIII
Henry VIII of England
Henry VIII was King of England from 21 April 1509 until his death. He was Lord, and later King, of Ireland, as well as continuing the nominal claim by the English monarchs to the Kingdom of France...
and his first wife
Catherine of Aragon
Catherine of Aragon
Catherine of Aragon , also known as Katherine or Katharine, was Queen consort of England as the first wife of King Henry VIII of England and Princess of Wales as the wife to Arthur, Prince of Wales...
. Her younger half-brother,
Edward VI
Edward VI of England
Edward VI was the King of England and Ireland from 28 January 1547 until his death. He was crowned on 20 February at the age of nine. The son of Henry VIII and Jane Seymour, Edward was the third monarch of the Tudor dynasty and England's first monarch who was raised as a Protestant...
, succeeded Henry in 1547. By 1553, Edward was mortally ill and because of religious differences between them, he attempted to remove Mary from the line of succession. On his death, their cousin
Lady Jane Grey
Lady Jane Grey
Lady Jane Grey , also known as The Nine Days' Queen, was an English noblewoman who was de facto monarch of England from 10 July until 19 July 1553 and was subsequently executed...
was at first proclaimed queen.