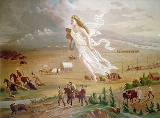 Manifest Destiny
Manifest Destiny
was the 19th century American belief that the
United States
United States
The United States of America is a federal constitutional republic comprising fifty states and a federal district...
was destined to expand across the continent. It was used by Democrat-Republicans in the 1840s to justify the
war with Mexico
Mexican–American War
The Mexican–American War, also known as the First American Intervention, the Mexican War, or the U.S.–Mexican War, was an armed conflict between the United States and Mexico from 1846 to 1848 in the wake of the 1845 U.S...
; the concept was denounced by
Whigs
Whig Party (United States)
The Whig Party was a political party of the United States during the era of Jacksonian democracy. Considered integral to the Second Party System and operating from the early 1830s to the mid-1850s, the party was formed in opposition to the policies of President Andrew Jackson and his Democratic...
, and fell into disuse after the mid-19th century.
Advocates of Manifest Destiny believed that expansion was not only wise but that it was readily apparent (manifest) and inexorable (destiny).
The concept of American expansion is much older, but
John L. O'Sullivan
John L. O'Sullivan
John Louis O'Sullivan was an American columnist and editor who used the term "Manifest Destiny" in 1845 to promote the annexation of Texas and the Oregon Country to the United States. O'Sullivan was an influential political writer and advocate for the Democratic Party at that time, but he faded...
coined the exact term "Manifest Destiny" in the July/August 1845 issue of the
United States Magazine and Democratic Review
in an article titled "Annexation." It was primarily used by Democrats to support the expansion plans of the
Polk
James K. Polk
James Knox Polk was the 11th President of the United States . Polk was born in Mecklenburg County, North Carolina. He later lived in and represented Tennessee. A Democrat, Polk served as the 17th Speaker of the House of Representatives and the 12th Governor of Tennessee...
Administration, but the idea of expansion faced opposition from Whigs like
Henry Clay
Henry Clay
Henry Clay, Sr. , was a lawyer, politician and skilled orator who represented Kentucky separately in both the Senate and in the House of Representatives...
,
Daniel Webster
Daniel Webster
Daniel Webster was a leading American statesman and senator from Massachusetts during the period leading up to the Civil War. He first rose to regional prominence through his defense of New England shipping interests...
, and
Abraham Lincoln
Abraham Lincoln
Abraham Lincoln was the 16th President of the United States, serving from March 1861 until his assassination in April 1865. He successfully led his country through a great constitutional, military and moral crisis – the American Civil War – preserving the Union, while ending slavery, and...
who wanted to deepen the economy rather than broaden its expanse.