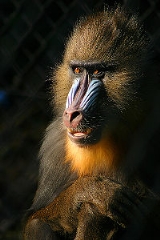 Mandrillus
Mandrillus
is the
genus
Genus
In biology, a genus is a low-level taxonomic rank used in the biological classification of living and fossil organisms, which is an example of definition by genus and differentia...
of the
mandrill
Mandrill
The mandrill is a primate of the Old World monkey family, closely related to the baboons and even more closely to the drill. Both the mandrill and the drill were once classified as baboons in genus Papio, but recent research has determined they should be separated into their own genus, Mandrillus...
and its close relative the
drill
Drill (mammal)
The Drill is a primate of the family Cercopithecidae , closely related to the Baboons and even more closely to the Mandrill.-Description:...
. These two species are closely related to the
baboon
Baboon
Baboons are African and Arabian Old World monkeys belonging to the genus Papio, part of the subfamily Cercopithecinae. There are five species, which are some of the largest non-hominoid members of the primate order; only the mandrill and the drill are larger...
s, and until recently were lumped together as a single species of baboon. Both
Mandrillus
species have long furrows on either side of their elongated snouts. The adult male mandrill's furrows are blue, while the furrows of the drill are black. Both species are
terrestrial
Terrestrial animal
Terrestrial animals are animals that live predominantly or entirely on land , as compared with aquatic animals, which live predominantly or entirely in the water , or amphibians, which rely on a combination of aquatic and terrestrial habitats...
, living on the ground of the
rainforest
Rainforest
Rainforests are forests characterized by high rainfall, with definitions based on a minimum normal annual rainfall of 1750-2000 mm...
s and occasionally grasslands of
Central Africa
Central Africa
Central Africa is a core region of the African continent which includes Burundi, the Central African Republic, Chad, the Democratic Republic of the Congo, and Rwanda....
.
External links