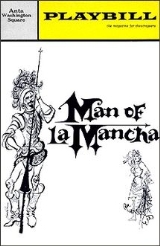 Man of La Mancha
Man of La Mancha
is a musical with a book by
Dale Wasserman
Dale Wasserman
Dale Wasserman was an American playwright. -Early life:Dale Wasserman was born in Rhinelander, Wisconsin, and was orphaned at the age of nine. He lived in a state orphanage and with an older brother in South Dakota before he "hit the rails". He later said:-Career:Wasserman worked in various...
, lyrics by
Joe Darion
Joe Darion
Joe Darion, was an American musical theatre lyricist, most famous for Man of La Mancha.Darion was born in New York City and died in Lebanon, New Hampshire.-External links:* at the Internet Broadway Database...
and music by
Mitch Leigh
Mitch Leigh
Mitch Leigh is an American musical theatre composer and theatrical producer best known for the musical Man Of La Mancha.-Biography:Leigh was born in Brooklyn, New York) as Irwin Michnick...
. It is adapted from Wasserman's non-musical 1959
teleplay
Teleplay
A teleplay is a television play, a comedy or drama written or adapted for television. The term surfaced during the 1950s with wide usage to distinguish a television plays from stage plays for the theater and screenplays written for films...
I, Don Quixote
I, Don Quixote
I, Don Quixote is a non-musical play written for television, and broadcast on the CBS anthology series DuPont Show of the Month on the evening of November 9, 1959. Written by Dale Wasserman, the play was converted by him ca. 1964 into the libretto for the stage musical Man of La Mancha, with songs...
, which was in turn inspired by
Miguel de Cervantes
Miguel de Cervantes
Miguel de Cervantes Saavedra was a Spanish novelist, poet, and playwright. His magnum opus, Don Quixote, considered the first modern novel, is a classic of Western literature, and is regarded amongst the best works of fiction ever written...
's seventeenth century masterpiece
Don Quixote
. It tells the story of the "mad" knight, Don Quixote, as a play within a play, performed by Cervantes and his fellow prisoners as he awaits a hearing with the
Spanish Inquisition
Spanish Inquisition
The Tribunal of the Holy Office of the Inquisition , commonly known as the Spanish Inquisition , was a tribunal established in 1480 by Catholic Monarchs Ferdinand II of Aragon and Isabella I of Castile. It was intended to maintain Catholic orthodoxy in their kingdoms, and to replace the Medieval...
.
The original 1965
Broadway
Broadway theatre
Broadway theatre, commonly called simply Broadway, refers to theatrical performances presented in one of the 40 professional theatres with 500 or more seats located in the Theatre District centered along Broadway, and in Lincoln Center, in Manhattan in New York City...
production ran for 2,328 performances and won five
Tony Award
Tony Award
The Antoinette Perry Award for Excellence in Theatre, more commonly known as a Tony Award, recognizes achievement in live Broadway theatre. The awards are presented by the American Theatre Wing and The Broadway League at an annual ceremony in New York City. The awards are given for Broadway...
s, including Best Musical.
I am Don Quixote! The Man of La Mancha!

I come in a world of iron to make a world of gold.

This is my quest — To follow that star No matter how hopeless no matter how far. To fight for the right Without question or pause To be willing to march into Hell For a heavenly cause.

"The Impossible Dream (The Quest)"
And the world will be better for this That one man scorned and covered with scars Still strove with his last dance of courage To reach the unreachable star.

"The Impossible Dream (The Quest)"