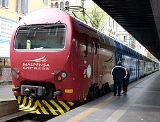 Malpensa Express
The
Malpensa Express
is an airport rail service linking the city of
Milan
Milan
Milan is the second-largest city in Italy and the capital city of the region of Lombardy and of the province of Milan. The city proper has a population of about 1.3 million, while its urban area, roughly coinciding with its administrative province and the bordering Province of Monza and Brianza ,...
with
Malpensa Airport
Malpensa Airport
Milano Malpensa Airport "City of Milan" , former "Aeroporto Città di Milano" is Milan's largest airport. It is located 39.97 km northwest of central Milan, Italy...
, in the
region
Regions of Italy
The regions of Italy are the first-level administrative divisions of the state, constituting its first NUTS administrative level. There are twenty regions, of which five are constitutionally given a broader amount of autonomy granted by special statutes....
of
Lombardy
Lombardy
Lombardy is one of the 20 regions of Italy. The capital is Milan. One-sixth of Italy's population lives in Lombardy and about one fifth of Italy's GDP is produced in this region, making it the most populous and richest region in the country and one of the richest in the whole of Europe...
,
northern Italy
Northern Italy
Northern Italy is a wide cultural, historical and geographical definition, without any administrative usage, used to indicate the northern part of the Italian state, also referred as Settentrione or Alta Italia...
.
Some Malpensa Express services, operated by
LeNORD
LeNORD
' is the subsidiary of the FNM Group responsible for operating passenger train services in northern Italy....
, run between the
Malpensa Aeroporto
Malpensa Aeroporto railway station
Malpensa Aeroporto railway station, or Malpensa Airport railway station , is sited within the Malpensa Airport in Ferno, Varese, northern Italy. Opened in 1999, the station is the western terminus of the Busto Arsizio–Malpensa Airport railway...
and Milano Cadorna railway stations. Other Malpensa Express services, to and from Milano Centrale railway station, are operated by
Trenitalia
Trenitalia
Trenitalia is the primary train operator in Italy. Trenitalia is owned by Ferrovie dello Stato, itself owned by the Italian Government. It was created in 2000 following the EU directive on the deregulation of rail transport.-Passenger transport:...
.
A joint effort by both companies provides connections with every other major railway station in the Milan metropolitan area.
First operated in 1999, the Malpensa Express originally ran only between Malpensa Aeroporto and Cadorna.
A friend is a person with whom I may be sincere. Before him, I may think aloud.

Ralph Waldo Emerson, in "Friendship" in Essays, First series (1841)
Faithful are the wounds of a friend, But deceitful are the kisses of an enemy.

The Bible, Proverbs 27:6 (NASB)
A friendship that can be ended didn't ever start.

Mellin de Saint-Gelais, Oeuvres poétiques
A friend in need is a friend indeed.

Scots proverb, as published in Beauties of Allan Ramsay: Being a Selection of the Most Admired Pieces of that Celebrated Author, viz. The Gentle Shepherd; Christ's Kirk on the Green; The Monk, and the Miller's Wife; with his valuable collection of Scots Proverbs (1815), "Scots Proverbs" Ch. 1; also quoted in Pure Morning|Pure Morning, a song by Placebo|Placebo.
A friend loves at all times, and kinsfolk are born to share adversity.

The Bible, Proverbs 17:17 (NRSV)
A man of many companions may come to ruin, but there is a friend who sticks closer than a brother.

Proverbs 18:24, The Bible (New International Version)
It is amazing how you can surround yourself with so many people you can call friends, and yet actually only have one or two real ones.

Jerry Grant Blakeney
Each friend represents a world in us, a world possibly not born until they arrive, and it is only by this meeting that a new world is born.

Anaïs Nin, Diary entry, March 1937
A faithful friend is a sturdy shelter;he who finds one finds a treasure.A faithful friend is beyond price,no sum can balance his worth.

Sirach 6:14-15 (The New American Bible)
Friendship is not for merriment but for stern reproach when friends go astray.

Tiruvalluvar, Tirukkural: 784