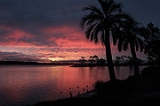 Maldonado, Uruguay
Maldonado
is the capital of
Maldonado Department
Maldonado Department
The Maldonado Department , with an area of and 140,192 inhabitants, is located to the southeast of Uruguay. Its capital is Maldonado.-Geography and climate:...
of
Uruguay
Uruguay
Uruguay ,officially the Oriental Republic of Uruguay,sometimes the Eastern Republic of Uruguay; ) is a country in the southeastern part of South America. It is home to some 3.5 million people, of whom 1.8 million live in the capital Montevideo and its metropolitan area...
. It is located on
Route 39
Route 39 (Uruguay)
Route 39 is a national route of Uruguay. It connects Aiguá to Punta del Este on the coast. This road passes through the Maldonado Department and the city of Maldonado.-References:...
and shares borders with
Punta del Este
Punta del Este
Punta del Este is a resort town on the Atlantic Coast in the Maldonado Department of southeastern Uruguay. It is located on the intersection of Route 10 with Route 39, directly southeast of the department capital Maldonado and about east of Montevideo...
to the south, Pinares - Las Delicias to the south and to the east and suburb
La Sonrisa
La Sonrisa
La Sonrisa is a suburb of Maldonado. It borders the suburbs Cerro Pelado to the north and Villa Delia to the northwest, while the urban limits of the city lie to its south and to its east...
to the north. Together they all for a unified metropolitan area. East of the city flows the stream Arroyo Maldonado. The next city to the north is
San Carlos
San Carlos, Uruguay
San Carlos is a city in the Maldonado Department of southern Uruguay. It is located on Route 39, south of its intersection with Route 9 and about north of the center of the department capital city of Maldonado. Its status was elevated to "City" category on 18 December 1929 by decree Ley No. 8.559...
, only 13 kilometres (8.1 mi) away on Route 39.
History
Maldonado was founded in 1755 at the initiative of the Governor of Montevideo Joaquin de Viana. It was firmly established by the arrival of 104 permanent settlers in 1757. Its original name was
Maldonado
, but, years later, its name was changed to
San Fernando de Maldonado
, in honor of King
Ferdinand VI of Spain
Ferdinand VI of Spain
Ferdinand VI , called the Learnt, was King of Spain from 9 July 1746 until his death. He was the fourth son of the previous monarch Philip V and his first wife Maria Luisa of Savoy...
.
Population
In 2004, it had a population of 54,603.
| | |
| --- | --- |
| 1963 | 15,372 |
| 1975 | 22,762 |
| 1985 | 33,535 |
| 1996 | 48,936 |
| 2004 | 54,603 |
Source:
Instituto Nacional de Estadística de Uruguay
Main sights
Remarkable sights in Maldonado include:
San Fernando de Maldonado Cathedral, a neoclassic cathedral begun in 1801 and completed in 1895;
Cuartel de Dragones (The Dragoons' Barracks), a Spanish garrison begun in 1771 and completed in 1797;
Torre del Vigia (meaning "tower of vigilance" or, more simply, "watchtower"), built in 1800 under the direction of Rafael Pérez del Puerto, its function was to inform the authorities of the entrance in Buenos Aires of the approach of any ship to the Río de la Plata;
El Puente de la Barra, a stressed ribbon bridge

Stressed ribbon bridge

A stressed ribbon bridge is a tension structure . The suspension cables are embedded in the deck which follows a catenary arc between supports. Unlike the simple span the ribbon is stressed in compression, which adds to the stiffness of the structure...


, where the roadbed swoops up, down, and back up and down once more, demonstrating an exceptional economy of material;
Casapueblo

Casapueblo

Casapueblo is the house of noted Uruguayan artist Carlos Páez Vilaró located in Punta Ballena near Punta del Este, Uruguay. It is a homage to the artist's son Carlitos Paez, one of the sixteen survivors of the crash of Uruguayan Air Force Flight 571...


hotel
External links