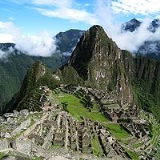 Machu Picchu
Machu Picchu
(ˈmatʃu ˈpitʃu, ˈmɑtʃu ˈpixtʃu, "Old Peak") is a
pre-Columbian
Pre-Columbian
The pre-Columbian era incorporates all period subdivisions in the history and prehistory of the Americas before the appearance of significant European influences on the American continents, spanning the time of the original settlement in the Upper Paleolithic period to European colonization during...
15th-century
Inca
Inca Empire
The Inca Empire, or Inka Empire , was the largest empire in pre-Columbian America. The administrative, political and military center of the empire was located in Cusco in modern-day Peru. The Inca civilization arose from the highlands of Peru sometime in the early 13th century...
site located 2430 metres (7,972.4 ft)
above sea level
Above mean sea level
The term above mean sea level refers to the elevation or altitude of any object, relative to the average sea level datum. AMSL is used extensively in radio by engineers to determine the coverage area a station will be able to reach...
. It is situated on a mountain ridge above the Urubamba Valley in
Peru
Peru
Peru , officially the Republic of Peru , is a country in western South America. It is bordered on the north by Ecuador and Colombia, on the east by Brazil, on the southeast by Bolivia, on the south by Chile, and on the west by the Pacific Ocean....
, which is 80 kilometres (49.7 mi) northwest of
Cusco
Cusco
Cusco , often spelled Cuzco , is a city in southeastern Peru, near the Urubamba Valley of the Andes mountain range. It is the capital of the Cusco Region as well as the Cuzco Province. In 2007, the city had a population of 358,935 which was triple the figure of 20 years ago...
and through which the
Urubamba River
Urubamba River
The Urubamba River is a river in Peru. A partially navigable headwater of the Amazon River, it rises in the Andes to the south-east of Cuzco near the Puno Region border, where it is called the Vilcanota River . In the Sacred Valley, between Písac and Ollantaytambo, it is also called the Wilcamayu...
flows. Most archaeologists believe that Machu Picchu was built as an estate for the Inca emperor
Pachacuti
(1438–1472).