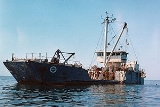 MV Retriever
Motor Vessel Retriever was a World War II-era tank landing craft transferred to
NASA
NASA
The National Aeronautics and Space Administration is the agency of the United States government that is responsible for the nation's civilian space program and for aeronautics and aerospace research...
from the
U.S. Navy
United States Navy
The United States Navy is the naval warfare service branch of the United States Armed Forces and one of the seven uniformed services of the United States. The U.S. Navy is the largest in the world; its battle fleet tonnage is greater than that of the next 13 largest navies combined. The U.S...
. It was used to train
United States
United States
The United States of America is a federal constitutional republic comprising fifty states and a federal district...
astronaut
Astronaut
An astronaut or cosmonaut is a person trained by a human spaceflight program to command, pilot, or serve as a crew member of a spacecraft....
s for post-
splashdown
Splashdown (spacecraft landing)
Splashdown is the method of landing a spacecraft by parachute in a body of water. It was used by American manned spacecraft prior to the Space Shuttle program. It is also possible for the Russian Soyuz spacecraft and Chinese Shenzhou spacecraft to land in water, though this is only a contingency...
ocean recovery operations and water egress from their command modules during the
Gemini
Project Gemini
Project Gemini was the second human spaceflight program of NASA, the civilian space agency of the United States government. Project Gemini was conducted between projects Mercury and Apollo, with ten manned flights occurring in 1965 and 1966....
and Apollo programs from 1963 into the early 1970s. It operated primarily in Galveston Bay, Texas and the
Gulf of Mexico
Gulf of Mexico
The Gulf of Mexico is a partially landlocked ocean basin largely surrounded by the North American continent and the island of Cuba. It is bounded on the northeast, north and northwest by the Gulf Coast of the United States, on the southwest and south by Mexico, and on the southeast by Cuba. In...
.
MV Retriever was one of 500 Mk V LCTs built (numbered, not named). The sides of the vessel's midsection were cut down, a new bridge built and a hoist added for NASA use. It was under the jurisdiction of the Manned Spacecraft Center's Landing and Recovery Division, and its Captain was Dino E. Bernardi, USN.