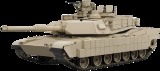 M1 Abrams
The
M1 Abrams
is a third-generation
main battle tank
Main battle tank
A main battle tank , also known as a battle tank or universal tank, is a tank that fills the heavy direct fire role of many modern armies. They were originally conceived to replace the light, medium, heavy and super-heavy tanks. Development was spurred onwards in the Cold War with the development...
produced in the
United States
United States
The United States of America is a federal constitutional republic comprising fifty states and a federal district...
. It is named after
General
General
A general officer is an officer of high military rank, usually in the army, and in some nations, the air force. The term is widely used by many nations of the world, and when a country uses a different term, there is an equivalent title given....
Creighton Abrams
Creighton Abrams
Creighton Williams Abrams Jr. was a general in the United States Army who commanded military operations in the Vietnam War from 1968–72 which saw U.S. troop strength in Vietnam fall from a peak of 543,000 to 49,000. He served as Chief of Staff of the United States Army from 1972 until shortly...
, former Army
Chief of Staff
Chief of Staff of the United States Army
The Chief of Staff of the Army is a statutory office held by a four-star general in the United States Army, and is the most senior uniformed officer assigned to serve in the Department of the Army, and as such is the principal military advisor and a deputy to the Secretary of the Army; and is in...
and Commander of US military forces in
Vietnam
Vietnam War
The Vietnam War was a Cold War-era military conflict that occurred in Vietnam, Laos, and Cambodia from 1 November 1955 to the fall of Saigon on 30 April 1975. This war followed the First Indochina War and was fought between North Vietnam, supported by its communist allies, and the government of...
from 1968 to 1972. The M1 is a well armed, heavily armored, and highly mobile tank designed for modern
armored ground warfare
Armoured warfare
Armoured warfare or tank warfare is the use of armoured fighting vehicles in modern warfare. It is a major component of modern methods of war....
. Notable features of the tank include the use of a powerful
gas turbine
Gas turbine
A gas turbine, also called a combustion turbine, is a type of internal combustion engine. It has an upstream rotating compressor coupled to a downstream turbine, and a combustion chamber in-between....
engine (fueled with JP8 jet fuel), the adoption of sophisticated composite armor, and separate ammunition storage in a blow-out compartment for crew safety.