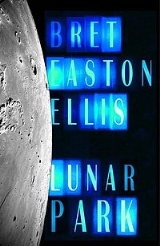 Lunar Park
Lunar Park
is a novel by
Bret Easton Ellis
Bret Easton Ellis
Bret Easton Ellis is an American novelist and short story writer. His works have been translated into 27 different languages. He was regarded as one of the so-called literary Brat Pack, which also included Tama Janowitz and Jay McInerney...
with elements of faux autobiography and pastiche. It was released by
Knopf
Alfred A. Knopf
Alfred A. Knopf, Inc. is a New York publishing house, founded by Alfred A. Knopf, Sr. in 1915. It was acquired by Random House in 1960 and is now part of the Knopf Doubleday Publishing Group at Random House. The publishing house is known for its borzoi trademark , which was designed by co-founder...
on August 16, 2005. It is notable for being the first book written by Ellis to use
past tense
Past tense
The past tense is a grammatical tense that places an action or situation in the past of the current moment , or prior to some specified time that may be in the speaker's past, present, or future...
narrative
Narrative
A narrative is a constructive format that describes a sequence of non-fictional or fictional events. The word derives from the Latin verb narrare, "to recount", and is related to the adjective gnarus, "knowing" or "skilled"...
.
The novel begins with an inflated and parodic but reasonably accurate portrayal of Ellis' early fame. It details incidents of his wild drug use and his publicly humiliating book tours to promote
Glamorama
Glamorama
Glamorama is a novel by American writer Bret Easton Ellis. It was published by Alfred A. Knopf in 1998. Unlike Ellis' previous novels, Glamorama is set in and satirizes the 1990s, specifically celebrity culture and consumerism...
.