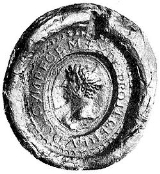 Louis the German
Louis
the German
(806 – 28 August 876), also known as
Louis II
or
Louis the Bavarian
, was a grandson of
Charlemagne
Charlemagne
Charlemagne was King of the Franks from 768 and Emperor of the Romans from 800 to his death in 814. He expanded the Frankish kingdom into an empire that incorporated much of Western and Central Europe. During his reign, he conquered Italy and was crowned by Pope Leo III on 25 December 800...
and the third son of the succeeding Frankish Emperor
Louis the Pious
Louis the Pious
Louis the Pious , also called the Fair, and the Debonaire, was the King of Aquitaine from 781. He was also King of the Franks and co-Emperor with his father, Charlemagne, from 813...
and his first wife,
Ermengarde of Hesbaye
Ermengarde of Hesbaye
Ermengarde of Hesbaye was Queen of the Franks and Holy Roman Empress as the wife of Emperor Louis I. She was Frankish, the daughter of Ingeram, count of Hesbaye, and Hedwig of Bavaria...
.
He received the appellation 'Germanicus' shortly after his death in recognition of the fact that the bulk of his territory had been in the former
Germania
Germania
Germania was the Greek and Roman geographical term for the geographical regions inhabited by mainly by peoples considered to be Germani. It was most often used to refer especially to the east of the Rhine and north of the Danube...
.
Louis II was made the King of
Bavaria
Bavaria
Bavaria, formally the Free State of Bavaria is a state of Germany, located in the southeast of Germany. With an area of , it is the largest state by area, forming almost 20% of the total land area of Germany...
from 817 following the Emperor Charlemagne's practice of bestowing a local kingdom on a family member who then served as one of his lieutenants and the local governor.