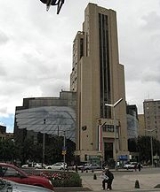 Lottery
A lottery is a form of
gambling
Gambling
Gambling is the wagering of money or something of material value on an event with an uncertain outcome with the primary intent of winning additional money and/or material goods...
which involves the drawing of lots for a prize.
Lottery is outlawed by some governments, while others endorse it to the extent of organizing a national or state lottery. It is common to find some degree of regulation of lottery by governments. At the beginning of the 20th century, most forms of gambling, including lotteries and
sweepstakes
Sweepstakes
The United States consumer sales promotion known as a sweepstake has become associated with marketing promotions targeted toward both generating enthusiasm and providing incentive reactions among customers by enticing consumers to submit free entries into drawings of chance...
, were illegal in many countries, including the U.S.A.