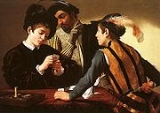 Gambling
Gambling
is the wagering of
money
Money
Money is any object or record that is generally accepted as payment for goods and services and repayment of debts in a given country or socio-economic context. The main functions of money are distinguished as: a medium of exchange; a unit of account; a store of value; and, occasionally in the past,...
or something of material
value
Value (economics)
An economic value is the worth of a good or service as determined by the market.The economic value of a good or service has puzzled economists since the beginning of the discipline. First, economists tried to estimate the value of a good to an individual alone, and extend that definition to goods...
(referred to as "the stakes") on an
event
Event (probability theory)
In probability theory, an event is a set of outcomes to which a probability is assigned. Typically, when the sample space is finite, any subset of the sample space is an event...
with an uncertain outcome with the primary intent of winning additional money and/or material goods. Typically, the outcome of the wager is evident within a short period.
The term
gaming
in this context typically refers to instances in which the activity has been specifically permitted by
law
Law
Law is a system of rules and guidelines which are enforced through social institutions to govern behavior, wherever possible. It shapes politics, economics and society in numerous ways and serves as a social mediator of relations between people. Contract law regulates everything from buying a bus...
.
Gambling is risk-taking. It might be said the owner of a casino gambles, takes risks, but he has the odds in his favour, so that's intelligent gambling. If I wanted to gamble, I'd buy the casino.

John Paul Getty|John Paul Getty. From his interview with Alan Whicker, as quoted in his book, Within Whicker's World (1982)
When you're betting and you win, naturally you have that satisfaction, and the profit.

George Soros, From an interview with Niall Ferguson, in the Channel 4 television series, The Ascent of Money, broadcast on 22nd December 2008
That the chance of gain is naturally over-valued, we may learn from the universal success of lotteries.

Adam Smith, The Wealth of Nations (1776)