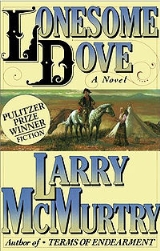 Lonesome Dove
Lonesome Dove
is a 1985
Pulitzer Prize
Pulitzer Prize
The Pulitzer Prize is a U.S. award for achievements in newspaper and online journalism, literature and musical composition. It was established by American publisher Joseph Pulitzer and is administered by Columbia University in New York City...
–winning
western
Western (genre)
The Western is a genre of various visual arts, such as film, television, radio, literature, painting and others. Westerns are devoted to telling stories set primarily in the latter half of the 19th century in the American Old West, hence the name. Some Westerns are set as early as the Battle of...
novel written by
Larry McMurtry
Larry McMurtry
Larry Jeff McMurtry is an American novelist, essayist, bookseller and screenwriter whose work is predominantly set in either the old West or in contemporary Texas...
. It is the first published book of the
Lonesome Dove series
Lonesome Dove series
The Lonesome Dove series refers to a series of four western novels written by Larry McMurtry and the four television mini-series based upon them.-Novels:# Lonesome Dove # Streets of Laredo # Dead Man's Walk...
, but the third installment in the series chronologically. The story focuses on the relationship of several retired
Texas Rangers
Texas Ranger Division
The Texas Ranger Division, commonly called the Texas Rangers, is a law enforcement agency with statewide jurisdiction in Texas, and is based in Austin, Texas...
and their adventures driving a cattle herd from
Texas
Texas
Texas is the second largest U.S. state by both area and population, and the largest state by area in the contiguous United States.The name, based on the Caddo word "Tejas" meaning "friends" or "allies", was applied by the Spanish to the Caddo themselves and to the region of their settlement in...
to
Montana
Montana
Montana is a state in the Western United States. The western third of Montana contains numerous mountain ranges. Smaller, "island ranges" are found in the central third of the state, for a total of 77 named ranges of the Rocky Mountains. This geographical fact is reflected in the state's name,...
.
McMurtry originally developed the tale in 1972 for a
feature film
Feature film
In the film industry, a feature film is a film production made for initial distribution in theaters and being the main attraction of the screening, rather than a short film screened before it; a full length movie...
entitled
The Streets of Laredo
(a title later used for the sequel), which would have been directed by
Peter Bogdanovich
Peter Bogdanovich
Peter Bogdanovich is an American film historian, director, writer, actor, producer, and critic. He was part of the wave of "New Hollywood" directors, which included William Friedkin, Brian De Palma, George Lucas, Martin Scorsese, Michael Cimino, and Francis Ford Coppola...
and would have starred
James Stewart
James Stewart (actor)
James Maitland Stewart was an American film and stage actor, known for his distinctive voice and his everyman persona. Over the course of his career, he starred in many films widely considered classics and was nominated for five Academy Awards, winning one in competition and receiving one Lifetime...
as Augustus McCrae,
John Wayne
John Wayne
Marion Mitchell Morrison , better known by his stage name John Wayne, was an American film actor, director and producer. He epitomized rugged masculinity and became an enduring American icon. He is famous for his distinctive calm voice, walk, and height...
as W.F.