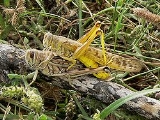 Locust
Locusts
are the
swarm
Swarm
Swarm behaviour, or swarming, is a collective behaviour exhibited by animals of similar size which aggregate together, perhaps milling about the same spot or perhaps moving en masse or migrating in some direction. As a term, swarming is applied particularly to insects, but can also be applied to...
ing phase of short-horned
grasshopper
Grasshopper
The grasshopper is an insect of the suborder Caelifera in the order Orthoptera. To distinguish it from bush crickets or katydids, it is sometimes referred to as the short-horned grasshopper...
s of the family
Acrididae
Acrididae
The Acrididae are the predominant family of grasshoppers, comprising some 10,000 of the 11,000 species of the entire suborder Caelifera. The Acrididae are best known because all locusts are of the Acrididae. The subfamily Oedipodinae is sometimes classified as a distinct family Oedipodidae in the...
. These are species that can breed rapidly under suitable conditions and subsequently become gregarious and migratory. They form bands as
nymphs
Nymph (biology)
In biology, a nymph is the immature form of some invertebrates, particularly insects, which undergoes gradual metamorphosis before reaching its adult stage. Unlike a typical larva, a nymph's overall form already resembles that of the adult. In addition, while a nymph moults it never enters a...
and swarms as adults—both of which can travel great distances, rapidly stripping fields and greatly damaging crops.
The origin and apparent
extinction
Extinction
In biology and ecology, extinction is the end of an organism or of a group of organisms , normally a species. The moment of extinction is generally considered to be the death of the last individual of the species, although the capacity to breed and recover may have been lost before this point...
of certain species of locust – some of which reached 6 inches (15.2 cm) in length – are unclear.
Locusts are an
edible insect
Entomophagy
Entomophagy is the consumption of insects as food. Insects are eaten by many animals, but the term is generally used to refer to human consumption of insects; animals that eat insects are known as insectivores...
and are considered a delicacy in some countries and throughout history.
Though the female and the male look alike, they can be distinguished by looking at the end of their abdomens.