 List of Margraves of Saluzzo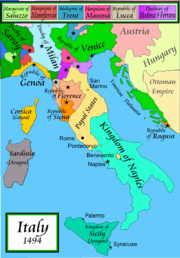 The
marquesses
of Saluzzo
were the medieval feudal rulers city of
Saluzzo
Saluzzo
Saluzzo is a town and former principality in the province of Cuneo, Piedmont region, Italy.The city of Saluzzo is built on a hill overlooking a vast, well-cultivated plain. Iron, lead, silver, marble, slate etc...
(
Piedmont
Piedmont
Piedmont is one of the 20 regions of Italy. It has an area of 25,402 square kilometres and a population of about 4.4 million. The capital of Piedmont is Turin. The main local language is Piedmontese. Occitan is also spoken by a minority in the Occitan Valleys situated in the Provinces of...
) and its countryside from 1175 to 1549. Originally counts, the family received in
feudum
the city from the margrave of Turin, Ulric Manfred. It passed to the margrave of Susa, of the
del Vasto
Adelaide del Vasto
Adelaide del Vasto was the third wife of Roger I of Sicily and mother of Roger II of Sicily, as well as Queen consort of Jerusalem due to her later marriage to Baldwin I of Jerusalem, as his third wife.-Family:She was the daughter of Manfred del Vasto Adelaide del Vasto (Adelasia, Azalaïs) (c....
family of
Savona
Savona
Savona is a seaport and comune in the northern Italian region of Liguria, capital of the Province of Savona, in the Riviera di Ponente on the Mediterranean Sea....
, and, in 1175, it was raised to margravial status by the Emperor Frederick I. In 1549, it was annexed to
France
France
The French Republic , The French Republic , The French Republic , (commonly known as France , is a unitary semi-presidential republic in Western Europe with several overseas territories and islands located on other continents and in the Indian, Pacific, and Atlantic oceans. Metropolitan France...
during the
Italian Wars
Italian Wars
The Italian Wars, often referred to as the Great Italian Wars or the Great Wars of Italy and sometimes as the Habsburg–Valois Wars, were a series of conflicts from 1494 to 1559 that involved, at various times, most of the city-states of Italy, the Papal States, most of the major states of Western...
.
Manfred I

Manfred I of Saluzzo

Manfred I was the first marquess of Saluzzo, serving in that capacity from 1125 until his death. He was the eldest son of Boniface del Vasto, the margrave of Western Liguria, of a noble stock which had ruled the region between Savona and Ventimiglia for generations...


(1125–1175)
Manfred II

Manfred II of Saluzzo

Manfred II was the second marquess of Saluzzo from his father's death in 1175 to his own. He was the son of Manfred I and Eleanor. He placed the capital of the margravate definitively in Saluzzo....


(1175–1215)
Manfred III

Manfred III of Saluzzo

Manfred III was the third marquess of Saluzzo, from 1215 to his death. He was the son of Boniface of Saluzzo and Maria di Torres of Sassari . Since his father died in 1212, he succeeded his grandfather Manfred II as marquess on the latter's death in 1215. His paternal grandmother Azalaïs or...


(1215–1244)
Thomas I (1244–1296)
Manfred IV

Manfred IV of Saluzzo

Manfred IV was the fifth marquess of Saluzzo from 1296, the son and successor of Thomas I.Manfred forced the commune of Saluzzo to sign a contract regulating the relations between the city, its podestà, and the marquess.Manfred also continued his father's extension of the margravial territory,...


(1296–1330)

Manfred V

Manfred V of Saluzzo

Manfred V was marquess of Saluzzo from 1330 and 1332, and later usurper from 1341-1342.He was the second son of Manfred IV of Saluzzo and first by his second wife, Isabella Doria. The influence of his mother at court caused his father to appoint him to succeed him as sixth marquess of Saluzzo...


, civil war with his brother until 1332
Frederick I

Frederick I of Saluzzo

Frederick I was Marquess of Saluzzo from 1330 until his death.He was the eldest son of Manfred IV of Saluzzo by his first wife Beatrice of Sicily. His maternal grandparents were Manfred of Sicily and Helena Angelina Doukaina....


, civil war with his brother until 1332

Frederick I

Frederick I of Saluzzo

Frederick I was Marquess of Saluzzo from 1330 until his death.He was the eldest son of Manfred IV of Saluzzo by his first wife Beatrice of Sicily. His maternal grandparents were Manfred of Sicily and Helena Angelina Doukaina....


(1332–1336)
Thomas II

Thomas II of Saluzzo

Thomas II was Marquess of Saluzzo from 1336 to his death. He succeeded his father, Frederick I.His mother Margarete de La Tour du Pin, a daughter of Humbert I de La Tour du Pin, Dauphin de Viennois....


(1336–1357)
Frederick II (1357–1396)
Thomas III

Thomas III of Saluzzo

-Biography:He was born in Saluzzo in north-western Italy to Frederick II del Vasto and Beatrice of Geneva. His maternal grandfather was Hugh of Geneva, Lord of Gex, Anthon and Varey....


(1396–1416)
Ludovico I

Ludovico I of Saluzzo

Ludovico I del Vasto was Marquess of Saluzzo from 1416 until his death.The son of Marquess Thomas III, he held the Marquisate of Saluzzo for much of the 15th century, under its period of greatest splendour...


(1416–1475)
Ludovico II

Ludovico II of Saluzzo

Ludovico II del Vasto was marquess of Saluzzo from 1475 until his death. Before his accession ar marquis he held the title of Count of Carmagnola....


(1475–1504)
Michele Antonio (1504–1528)
Gian Ludovico (1528–1529, d.1563), deposed
Francesco Ludovico I (1529–1537)
Gian Gabriele (1537–1548)