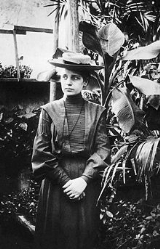 Lise Meitner
Lise Meitner
FRS was an
Austria
Austria
Austria , officially the Republic of Austria , is a landlocked country of roughly 8.4 million people in Central Europe. It is bordered by the Czech Republic and Germany to the north, Slovakia and Hungary to the east, Slovenia and Italy to the south, and Switzerland and Liechtenstein to the...
n-born, later
Swedish
Sweden
Sweden , officially the Kingdom of Sweden , is a Nordic country on the Scandinavian Peninsula in Northern Europe. Sweden borders with Norway and Finland and is connected to Denmark by a bridge-tunnel across the Öresund....
,
physicist
Physics
Physics is a natural science that involves the study of matter and its motion through spacetime, along with related concepts such as energy and force. More broadly, it is the general analysis of nature, conducted in order to understand how the universe behaves.Physics is one of the oldest academic...
who worked on radioactivity and
nuclear physics
Nuclear physics
Nuclear physics is the field of physics that studies the building blocks and interactions of atomic nuclei. The most commonly known applications of nuclear physics are nuclear power generation and nuclear weapons technology, but the research has provided application in many fields, including those...
. Meitner was part of the team that discovered
nuclear fission
Nuclear fission
In nuclear physics and nuclear chemistry, nuclear fission is a nuclear reaction in which the nucleus of an atom splits into smaller parts , often producing free neutrons and photons , and releasing a tremendous amount of energy...
, an achievement for which her colleague
Otto Hahn
Otto Hahn
Otto Hahn FRS was a German chemist and Nobel laureate, a pioneer in the fields of radioactivity and radiochemistry. He is regarded as "the father of nuclear chemistry". Hahn was a courageous opposer of Jewish persecution by the Nazis and after World War II he became a passionate campaigner...
was awarded the
Nobel Prize
Nobel Prize
The Nobel Prizes are annual international awards bestowed by Scandinavian committees in recognition of cultural and scientific advances. The will of the Swedish chemist Alfred Nobel, the inventor of dynamite, established the prizes in 1895...
. Meitner is often mentioned as one of the most glaring examples of women's scientific achievement overlooked by the Nobel committee. A 1997
Physics Today
study concluded that Meitner's omission was "a rare instance in which personal negative opinions apparently led to the exclusion of a deserving scientist" from the Nobel.