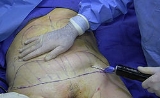 Liposuction
Liposuction
, also known as
lipoplasty
("fat modeling"),
liposculpture
suction lipectomy
("suction-assisted fat removal") or simply
lipo
is a
cosmetic surgery
Plastic surgery
Plastic surgery is a medical specialty concerned with the correction or restoration of form and function. Though cosmetic or aesthetic surgery is the best-known kind of plastic surgery, most plastic surgery is not cosmetic: plastic surgery includes many types of reconstructive surgery, hand...
operation that removes
fat
Fat
Fats consist of a wide group of compounds that are generally soluble in organic solvents and generally insoluble in water. Chemically, fats are triglycerides, triesters of glycerol and any of several fatty acids. Fats may be either solid or liquid at room temperature, depending on their structure...
from many different sites on the human body. Areas affected can range from the
abdomen
Abdomen
In vertebrates such as mammals the abdomen constitutes the part of the body between the thorax and pelvis. The region enclosed by the abdomen is termed the abdominal cavity...
,
thigh
Thigh
In humans the thigh is the area between the pelvis and the knee. Anatomically, it is part of the lower limb.The single bone in the thigh is called the femur...
s and buttocks, to the
neck
Neck
The neck is the part of the body, on many terrestrial or secondarily aquatic vertebrates, that distinguishes the head from the torso or trunk. The adjective signifying "of the neck" is cervical .-Boner anatomy: The cervical spine:The cervical portion of the human spine comprises seven boney...
, backs of the arms and elsewhere.
Several factors limit the amount of fat that can be safely removed in one session.